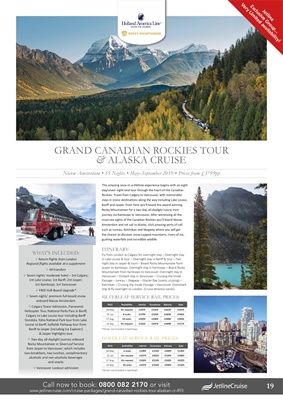 ITINERARY:
Fly from London to Calgary for overnight stay - Overnight stay
in Lake Louise & tour - Overnight stay in Banff & tour - Two
night stay in Jasper & tours - Board Rocky Mountaineer from
Jasper to Kamloops. Overnight stay in Kamloops - Board Rocky
Mountaineer from Kamloops to Vancouver. Overnight stay in
Vancouver - Embark ship in Vancouver - Cruising the Inside
Passage - Juneau - Skagway - Glacier Bay (scenic cruising) -
Ketchikan - Cruising the Inside Passage - Vancouver. Disembark
ship & fly overnight to London. (Cruise itinerary varies).
SILVERLEAF SERVICE RAIL PRICES:
2019 Availability Interior Oceanview Balcony Suite
18 May On request £3979 £4169 £4659 £5229
15 Jun 8 seats £3799 £4239 £4859 £5469
17 Aug 10 seats £4299 £4469 £4889 £5449
14 Sep On request £4229 £4479 £4899 £5179
*Dinner not included in Kamloops.
GOLDLEAF SERVICE RAIL PRICES:
2019 Availability Interior Oceanview Balcony Suite
18 May 6 seats £3999 £4199 £4699 £5269
15 Jun On request £4279 £4629 £5259 £5869
17 Aug On request £5029 £5199 £5659 £6229
14 Sep 10 seats £4279 £4529 £4949 £5229
*Dinner not included in Kamloops.
WHAT'S INCLUDED:
✥ Return flights from London
Regional flights available at a supplement
✥ All transfers
✥ Seven nights' moderate hotel - 1nt Calgary;
1nt Lake Louise; 1nt Banff; 2nt Jasper;
1nt Kamloops; 1nt Vancouver
✥ FREE Half-Board Upgrade*
✥ Seven nights' premium full-board cruise
onboard Nieuw Amsterdam
✥ Calgary Tower Admission, Panoramic
Helicopter Tour, National Parks Pass in Banff,
Calgary to Lake Louise tour including Banff
Gondola, Yoho National Park tour from Lake
Louise to Banff, Icefields Parkway tour from
Banff to Jasper (including Ice Explorer)
& Jasper Highlights tour
✥ Two day, all-daylight journey onboard
Rocky Mountaineer in SilverLeaf Service
from Jasper to Vancouver; which includes
two breakfasts, two lunches, complimentary
alcoholic and non-alcoholic beverages
and snacks
✥ Vancouver Lookout admission
This amazing once-in-a-lifetime experience begins with an eight
day/seven night land tour through the heart of the Canadian
Rockies. Travel from Calgary to Vancouver, with memorable
stays in iconic destinations along the way including Lake Louise,
Banff and Jasper. From here you'll board the award-winning
Rocky Mountaineer for a two day, all daylight luxury train
journey via Kamloops to Vancouver. After witnessing all the
must-see sights of the Canadian Rockies you'll board Nieuw
Amsterdam and set sail to Alaska. Visit amazing ports of call
such as Juneau, Ketchikan and Skagway where you will get
the chance to discover snow-capped mountains, rivers of ice,
gushing waterfalls and incredible wildlife.
GRAND CANADIAN ROCKIES TOUR
& ALASKA CRUISE
Nieuw Amsterdam • 15 Nights • May-September 2019 • Prices from £3799pp
Jetline
Exclusive Group…
Very Limited availability!
19
Call now to book: 0800 082 2170 or visit
www.jetlinecruise.com/cruise-packages/grand-canadian-rockies-tour-alaskan-cr-493