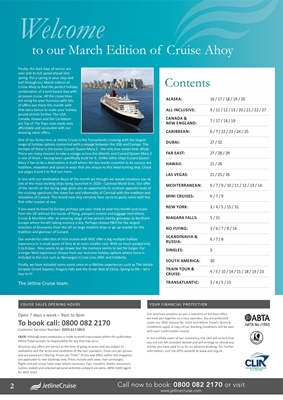 Open 7 days a week - 9am to 9pm
To book call: 0800 082 2170
Customer Services Number: 0203 617 5815
E&OE: Although every endeavour is made to avoid inaccuracies within this publication
Jetline Travel accepts no responsibility for any that may occur.
All prices and offers are correct at the time of going to press and are subject to
availability and the terms and conditions of the tour operators. Prices are per person
and are based on 2 sharing. Prices are "From". Prices and offers within this magazine
are applicable to new bookings only. Prices include port taxes, fuel surcharges,
flights and pre cruise hotel stays where necessary. Tips, transfers, drinks, excursions
(unless stated) and selected personal activities onboard are extra. ABTA J1693 agent
for ATOL 6153.
CRUISE SALES OPENING HOURS
Our brochure presents to you a selection of the best offers
we have put together as a tour operator. You are protected
under our ATOL licence No: 6153 and Jetline Travel's Terms &
Conditions apply. A copy of our Booking Conditions will be sent
with your confirmation invoice.
In the unlikely event of our insolvency, the CAA will ensure that
you are not left stranded abroad and will arrange to refund any
money you have paid to us for an advance booking. For further
information, visit the ATOL website at www.atol.org.uk.
YOUR FINANCIAL PROTECTION
ALASKA: 16 / 17 / 18 / 19 / 20
ALL INCLUSIVE: 9 / 11 / 12 / 13 / 20 / 21 / 22 / 27
CANADA &
NEW ENGLAND:
7 / 17 / 18 / 19
CARIBBEAN: 6 / 7 / 22 / 23 / 24 / 25
DUBAI: 27 / 32
FAR EAST: 27 / 28 / 29
HAWAII: 21 / 26
LAS VEGAS: 21 / 25 / 26
MEDITERRANEAN: 6 / 7 / 9 / 10 / 11 / 12 / 13 / 14
MINI CRUISES: 6 / 7 / 9
NEW YORK: 3 / 4 / 5 / 15 / 31
NIAGARA FALLS: 5 / 31
NO FLYING: 3 / 6 / 7 / 8 / 14
SCANDINAVIA &
RUSSIA:
6 / 7 / 8
SINGLES: 5
SOUTH AMERICA: 30
TRAIN TOUR &
CRUISE:
4 / 5 / 10 / 14 / 15 / 18 / 19 / 23
TRANSATLANTIC: 3 / 4 / 5 / 15
Contents
Finally, the dark days of winter are
over and its full speed ahead into
spring. Put a spring in your step and
leaf through our March edition of
Cruise Ahoy to find the perfect holiday
combination of a land-based stay with
an ocean cruise. All the cruise lines
are vying for your business with lots
of offers out there this month with
that extra bonus to make your holiday
pound stretch further. The USA,
Canada, Hawaii and the Caribbean
are Top of The Pops now made very
affordable and accessible with our
amazing value offers.
One of our fortes here at Jetline Cruise is the Transatlantic crossing with the largest
range of holiday options connected with a voyage between the USA and Europe. The
linchpin of these is the iconic Cunard Queen Mary 2 - the only true ocean-liner afloat.
There are many reasons to take a voyage across the Atlantic and Cunard Queen Mary 2
is one of them - having been specifically built for it. Unlike other ships Cunard Queen
Mary 2 has to be a destination in itself where the key words essential to its success are
tradition, relaxation and space in ways that are unique to this head turning ship. Check
out pages 4 and 5 to find out more.
In line with our destination focus of the month we thought we would introduce you to
one of the most exciting ships being launched in 2020 - Carnival Mardi Gras. Our offer
of the month on the facing page gives you an opportunity to contrast opposite ends of
the cruising spectrum; the sheer fun and informality of Carnival with the tradition and
relaxation of Cunard. This brand-new ship certainly lives up to its party name with the
first roller coaster at sea.
If you want to travel to Europe perhaps put your mind at ease this month and cruise
from the UK without the hassle of flying, passport control and luggage restrictions.
Cruise & Maritime offer an amazing range of low-priced cheeky getaways to Northern
Europe where breath-taking scenery is key. Perhaps choose P&O for the largest
selection of itineraries from the UK on large modern ships or go up-market for the
tradition and glamour of Cunard.
Our wonderful collection of mini cruises with MSC offer a big multiple holiday
experience in a small space of time at an even smaller cost. With so much packed into
5 to 8 days - time seems to go slower but the memory seems to last for longer. For
a longer Med experience choose from our inclusive holiday options where more is
included in the cost such as Norwegian Cruise Line, MSC and Celebrity.
Finally, we have included some iconic once-in-a-lifetime experiences such as The Venice
Simplon Orient Express, Niagara Falls and the Great Wall of China. Spring to life - let's
hop to it!
The Jetline Cruise team.
to our March Edition of Cruise Ahoy
Welcome
2 Call now to book: 0800 082 2170 or visit