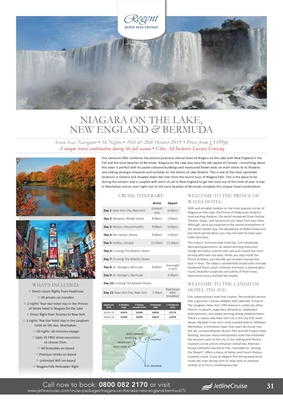 Our exclusive offer combines the picture postcard colonial town of Niagara on the Lake with New England in the
Fall and the coral beaches of Bermuda. Niagara on the Lake was once the old capital of Canada - everything about
this town is perfect with its pastel coloured buildings and manicured flower beds on main-street to its theatres
and setting amongst vineyards and orchards on the shores of Lake Ontario. This is one of the most upmarket
locations in Ontario and situated down the river from the tourist buzz of Niagara Falls. This is the place to be
during the autumn and is coupled with ports of call in New England to get the most out of this time of year. A stay
in Manhattan and an over-night visit to the coral beaches of Bermuda complete this unique travel combination.
NIAGARA ON THE LAKE,
NEW ENGLAND & BERMUDA
Seven Seas Navigator • 16 Nights • 10th & 20th October 2019 • Prices from £5399pp
A unique travel combination during the fall season • Ultra All-Inclusive Luxury Cruising
WHAT'S INCLUDED:
✥ Direct return flights from Heathrow
✥ All private car transfers
✥ 2 nights' four-star hotel stay in the Princes
of Wales hotel in Niagara On the Lake
✥ Direct flight from Toronto to New York
✥ 3 nights' five-star hotel stay in the Langham
hotel on 5th Ave. Manhattan.
✥ 10 nights' all-inclusive voyage
✥ Upto 35 FREE shore excursions
to choose from.
✥ All Gratuities on-board
✥ Premium drinks on-board
✥ Unlimited WiFi on-board
✥ Niagara Falls Helicopter flight
WELCOME TO THE PRINCE OF
WALES HOTEL:
With and enviable location on the most popular corner of
Niagara-on-the-Lake, the Prince of Wales puts Ontario's
most exciting theatres, the world renowned Shaw Festival
Theatre, shops, and restaurants just steps from your door.
Although, once you experience the serene atmosphere of
the Secret Garden Spa, the decadence of Noble restaurant,
and lavish period décor, you may not want to leave your
hotel sanctuary.
This historic Victorian-style hotel has 110 individually
decorated guestrooms, an award-winning restaurant,
lounge and patio, a world-class spa and a lavish tea room
serving afternoon tea daily. When you step inside the
Prince of Wales, you feel like you've been transported
back in time. The lobby is wonderfully ornate with intricate
hardwood floors, plush Victorian furniture, a stained-glass
mural, beautiful sculptures and plenty of fresh roses.
Experience luxury and feel like royalty.
WELCOME TO THE LANGHAM
HOTEL 5TH AVE:
Chic contemporary style that inspires. Personalised service
that is genuine. Culinary delights that captivate. A stay at
The Langham, New York, Fifth Avenue is unlike any other.
Historic museums, legendary attractions, celebrated
entertainment, and award-winning dining establishments.
There's a reason why New York City is the city that never
sleeps. Nestled in the city's most coveted district, Midtown
Manhattan, a limestone tower that soars 60 stories into
the sky. Located between Bryant Park and the Empire State
Building, discover sharp metropolitan style that embodies
the dynamic spirit of the city. A chic setting with Riviera
inspired cuisine and an artisanal cocktail bar, Altamara
Group's Michelin-starred Ai Fiori, translated to "among
the flowers", offers a menu of Italian and French Rivierainspired
cuisine. Enjoy an elegant fine dining experience
inside the main dining room or relax with an artisanal
cocktail at Ai Fiori's contemporary bar.
CRUISE ITINERARY:
Arrive Depart
Day 1: New York City, New York
Embark
ship
6:00pm
Day 2: Newport, Rhode Island 8:00am 5:00pm
Day 3: Boston, Massachusetts 8:00am 6:00pm
Day 4: Bar Harbor, Maine 8:00am 5:00pm
Day 5: Halifax, Canada 11:00am 11:00pm
Day 6: Cruising The Atlantic Ocean
Day 7: Cruising The Atlantic Ocean
Day 8: St. George's, Bermuda 8:00am Overnight
in port
Day 9: St. George's, Bermuda 3:00pm
Day 10: Cruising The Atlantic Ocean
Day 11: New York City, New York 7:00am Disembark
after
breakfast
Departure
Date
H Window
Suite
F Deluxe
veranda Suite
D Concierge
Suite
C Penthouse
Suite
10 Oct 19 £5679 £6599 £6939 £7179
20 Oct 19 £5399 £6299 £6679 £7079
•
••
••
•
NEW YORK
HALIFAX
BAR HARBOR
ST. GEORGE
BOSTON
NEWPORT
31
Call now to book: 0800 082 2170 or visit
www.jetlinecruise.com/cruise-packages/niagara-on-the-lake-new-england-bermu-675