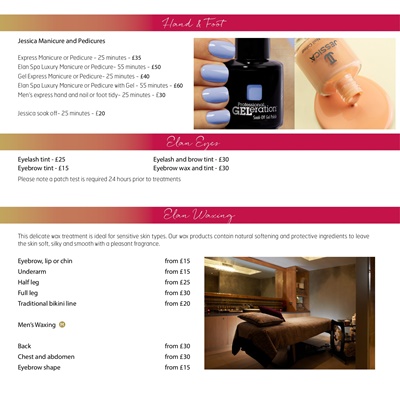 Cancellation Policy: Please note we operate a 48 hour cancellation policy. Cancellation with less than 48 hours notice will unfortunately
result in full payment required.
Medical: Please be aware some of our treatments are not suitable for guests with certain medical conditions, please bring this to our
attention prior to your arrival: pregnancy, high/low blood pressure, thyroid, allergies, diabetes, epilepsy, heart conditions, recent operations
or cancer.
Age Restriction: All treatment guests must be at least 16 years of age.
Treatment Times: All treatment time shown includes consultation and prescription with the therapist. Please arrive 10 minutes before your
appointment, any late arrivals may result in cancellation and full payment required.
Treatments
Terms and Conditions