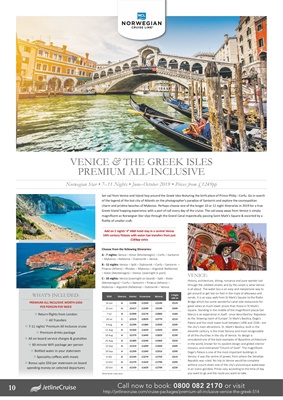 VENICE & THE GREEK ISLES
PREMIUM ALL-INCLUSIVE
Norwegian Star • 7-11 Nights • June-October 2019 • Prices from £1249pp
WHAT'S INCLUDED:
PREMIUM ALL INCLUSIVE WORTH £650
PER PERSON PER WEEK
✥ Return flights from London
✥ All Transfers
✥ 7-11 nights' Premium All Inclusive cruise
✥ Premium drinks package
✥ All on-board service charges & gratuities
✥ 60 minute WiFi package per person
✥ Bottled water in your stateroom
✥ Speciality coffees with meals
✥ Bonus upto $50 per stateroom on board
spending money on selected departures
Set sail from Venice and Island hop around the Greek Isles featuring the birth place of Prince Philip - Corfu. Go in search
of the legend of the lost city of Atlantis on the photographer's paradise of Santorini and explore the cosmopolitan
charm and pristine beaches of Mykonos. Perhaps choose one of the longer 10 or 11 night itineraries in 2019 for a true
Greek Island hopping experience with a port of call every day of the cruise. The sail-away away from Venice is simply
magnificent as Norwegian Star slips through the Grand Canal majestically passing Saint Mark's Square & escorted by a
flotilla of smaller craft.
Add on 2 nights' 4* B&B hotel stay in a central Venice
14th century Palazzo with water taxi transfers from just
£189pp extra
Choose from the following Itineraries:
A - 7 nights: Venice - Kotor (Montenegro) - Corfu - Santorini
- Mykonos - Kefalonia - Dubrovnik - Venice.
B - 11 nights: Venice - Split - Dubrovnik - Corfu - Santorini -
Piraeus (Athens) - Rhodes - Mykonos - Argostoli (Kefalonia)
- Kotor (Montenegro) - Venice. (overnight in port).
C - 10 nights: Venice (overnight on board) - Split - Kotor
(Montenegro) - Corfu - Santorini - Piraeus (Athens) -
Mykonos - Argostoli (Kefalonia) - Dubrovnik - Venice.
2019 Itinerary Interior Oceanview Balcony
2 Night
add on
16 Jun A £1498 £1549 £2149 £319
23 Jun A £1417 £1599 £2199 £349
7 Jul B £1999 £2179 £2989 £189
18 Jul C £1919 £2029 £2779 £219
4 Aug A £1299 £1389 £1939 £249
11 Aug A £1269 £1429 £1929 £259
18 Aug A £1379 £1449 £1829 £199
25 Aug A £1489 £1549 £1969 £259
15 Sep A £1319 £1499 £1949 £309
29 Sep A £1299 £1349 £1916 £299
6 Oct A £1249 £1279 £1759 £319
13 Oct A £1279 £1429 £1799 £299
20 Oct A £1339 £1429 £1799 £239
Itineraries may vary
VENICE:
History, architecture, dining, romance and pure wander lust
through the cobbled streets and by the canals is what Venice
is all about. The water bus is an easy and inexpensive way to
get around or get lost on foot in the maze of alleyways and
canals. It is an easy walk from St Mark's Square to the Rialto
Bridge which has some wonderful canal side restaurants for
great views at much lower prices than those in St Mark's
Square. Standing in the middle of the magnificent piazza San
Marco is an experience in itself - once described by: Napoleon
as the 'drawing room of Europe'. St Mark's Basilica, Doge's
Palace and the clock tower built between 1496 and 1506 - are
the city's main attractions. St. Mark's Basilica, built in the
eleventh century, is the most famous and most recognizable
of all the churches in the city of Venice. Its design is
considered one of the best examples of Byzantine architecture
in the world, known for its opulent design and gilded interior
mosaics, and nicknamed "Church of Gold". The magnificent
Doge's Palace is one of the most important buildings in
Venice; it was the centre of power, from where the Venetian
Republic was ruled. No trip to Venice would be complete
without a punt down one of the city's picturesque waterways
in an iconic gondola. Prices vary according to the time of day
you want to go and the route you want to take.
10 Call now to book: 0800 082 2170 or visit
http://jetlinecruise.com/cruise-packages/premium-all-inclusive-venice-the-greek-514