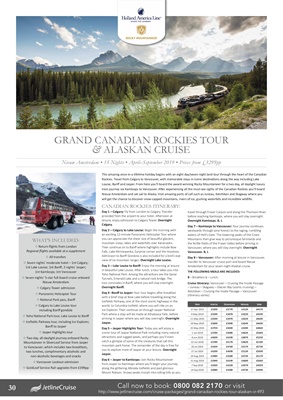 travel through Fraser Canyon and along the Thomson River
before reaching Kamloops, where you will stay overnight.
Overnight Kamloops. B, L
Day 7 - Kamloops to Vancouver: Your journey continues
westwards through pine forests to the raging, rumbling
waters of Hell's Gate. The towering peaks of the Coast
Mountains then give way to picturesque farmlands and
the fertile fields of the Fraser Valley before arriving in
Vancouver, where you will stay overnight. Overnight
Vancouver. B, L
Day 8 - Vancouver: After morning at leisure in Vancouver,
transfer to Vancouver cruise port and board Nieuw
Amsterdam for your seven night Alaskan cruise.
THE FOLLOWING MEALS ARE INCLUDED:
B - Breakfast; L - Lunch;
Cruise itinerary: Vancouver - Cruising the Inside Passage
- Juneau - Skagway - Glacier Bay (scenic cruising) -
Ketchikan - Cruising the Inside Passage - Vancouver
(itinerary varies)
CANADIAN ROCKIES ITINERARY:
Day 1 - Calgary: Fly from London to Calgary. Transfer
provided from the airport to your hotel. Afternoon at
leisure, enjoy admission to Calgary Tower. Overnight
Calgary.
Day 2 - Calgary to Lake Louise: Begin the morning with
an exciting 12-minute Panoramic Helicopter Tour where
you can appreciate the sheer size of beautiful glaciers,
mountain vistas, lakes and waterfalls over Kananaskis.
Then continue on to Banff where highlights include Bow
Falls, Lake Minnewanka, Surprise corner and the Hoodoos.
Admission to Banff Gondola is also included for a bird's-eye
view of six mountain ranges. Overnight Lake Louise.
Day 3 - Lake Louise to Banff: Enjoy the morning at leisure
in beautiful Lake Louise. After lunch, a tour takes you into
Yoho National Park. Among the attractions are the Spiral
Tunnels, Emerald Lake and a natural rock bridge. The
tour concludes in Banff, where you will stay overnight.
Overnight Banff.
Day 4 -Banff to Jasper: Your tour begins after breakfast
with a brief stop at Bow Lake before travelling along the
Icefields Parkway, one of the most scenic highways in the
world, to Columbia Icefield, where you will ride on an
Ice Explorer. Then continue on through Jasper National
Park where a stop will be made at Athabasca Falls, before
arriving in Jasper where you will stay overnight. Overnight
Jasper.
Day 5 - Jasper Highlights Tour: Today you will enjoy a
scenic tour of Jasper National Park including many natural
attractions and rugged peaks, and perhaps you'll even
catch a glimpse of some of the creatures that call this
mountain park home. The remainder of the day is free for
you to explore more of Jasper at your leisure. Overnight
Jasper.
Day 6 - Jasper to Kamloops: Join Rocky Mountaineer
from Jasper to Kamloops where you'll begin your journey
along the glittering Albreda Icefields and past glorious
Mount Robson. Snowy peaks morph into rolling hills as you
WHAT'S INCLUDED:
✥ Return flights from London
Regional flights available at a supplement
✥ All transfers
✥ Seven nights' moderate hotel - 1nt Calgary;
1nt Lake Louise; 1nt Banff; 2 nights' Jasper;
1nt Kamloops; 1nt Vancouver
✥ Seven nights' 5-star full-board cruise onboard
Nieuw Amsterdam
✥ Calgary Tower admission
✥ Panoramic Helicopter Tour
✥ National Park pass, Banff
✥ Calgary to Lake Louise tour
including Banff gondola
✥ Yoho National Park tour, Lake Louise to Banff
✥ Icefields Parkway tour, including Ice Explorer,
Banff to Jasper
✥ Jasper Highlights tour
✥ Two day, all-daylight journey onboard Rocky
Mountaineer in SilverLeaf Service from Jasper
to Vancouver; which includes two breakfasts,
two lunches, complimentary alcoholic and
non-alcoholic beverages and snacks
✥ Vancouver Lookout admission
✥ GoldLeaf Service Rail upgrades from £399pp
This amazing once-in-a-lifetime holiday begins with an eight day/seven night land tour through the heart of the Canadian
Rockies. Travel from Calgary to Vancouver, with memorable stays in iconic destinations along the way including Lake
Louise, Banff and Jasper. From here you'll board the award-winning Rocky Mountaineer for a two day, all daylight luxury
train journey via Kamloops to Vancouver. After experiencing all the must-see sights of the Canadian Rockies you'll board
Nieuw Amsterdam and set sail to Alaska. Visit amazing ports of call such as Juneau, Ketchikan and Skagway where you
will get the chance to discover snow-capped mountains, rivers of ice, gushing waterfalls and incredible wildlife.
GRAND CANADIAN ROCKIES TOUR
& ALASKAN CRUISE
Nieuw Amsterdam • 15 Nights • April-September 2019 • Prices from £3299pp
Date Interior Oceanview Balcony Suite
27 Apr 2019 £3299 £3779 £4129 £4579
4 May 2019 £3599 £3879 £4229 £4599
11 May 2019 £3599 £3979 £4229 £4699
18 May 2019 £3699 £3999 £4249 £4699
25 May 2019 £3759 £4049 £4399 £4869
1 Jun 2019 £3789 £4089 £4629 £5069
8 Jun 2019 £4039 £4339 £4879 £5259
22 Jun 2019 £3789 £4179 £4629 £5189
20 Jul 2019 £4329 £4769 £5179 £5739
27 Jul 2019 £4299 £4699 £5139 £5699
24 Aug 2019 £3989 £4289 £4729 £5179
31 Aug 2019 £3949 £4249 £4689 £5069
7 Sep 2019 £3929 £4229 £4579 £4929
14 Sep 2019 £4089 £4389 £4739 £4999
30 Call now to book: 0800 082 2170 or visit
http://www.jetlinecruise.com/cruise-packages/grand-canadian-rockies-tour-alaskan-cr-493