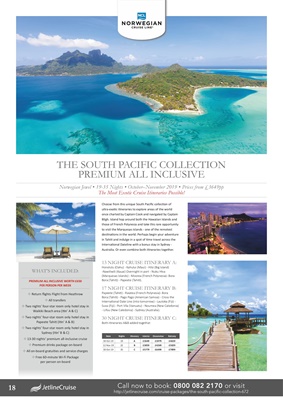 THE SOUTH PACIFIC COLLECTION
PREMIUM ALL INCLUSIVE
Norwegian Jewel • 19-35 Nights • October-November 2019 • Prices from £3649pp
The Most Exotic Cruise Itineraries Possible!
13 NIGHT CRUISE ITINERARY A:
Honolulu (Oahu) - Kahului (Maui) - Hilo (Big Island)
-Nawiliwili (Kauai) Overnight in port - Nuku HIva
(Marquesas Islands) - Moorea (French Polynesia)- Bora
Bora (Tahiti) - Papeete (Tahiti).
17 NIGHT CRUISE ITINERARY B:
Papeete (Tahiti) - Raiatea (French Polynesia)- Bora
Bora (Tahiti) - Pago Pago (American Samoa) - Cross the
International Date Line (into tomorrow) - Lautoka (Fiji) -
Suva (Fiji) - Port Vila (Vanuatu) - Noumea (New Caledonia)
- Lifou (New Caledonia) - Sydney (Australia).
30 NIGHT CRUISE ITINERARY C:
Both itineraries A&B added together.
Choose from this unique South Pacific collection of
ultra-exotic itineraries to explore areas of the world
once charted by Captain Cook and navigated by Captain
Bligh. Island hop around both the Hawaiian Islands and
those of French Polynesia and take this rare opportunity
to visit the Marquesas islands - one of the remotest
destinations in the world. Perhaps begin your adventure
in Tahiti and indulge in a spot of time travel across the
International Dateline with a bonus stay in Sydney -
Australia. Or even combine both itineraries together.
WHAT'S INCLUDED:
PREMIUM ALL INCLUSIVE WORTH £650
PER PERSON PER WEEK
✥ Return flights Flight from Heathrow
✥ All transfers
✥ Two nights' four-star room only hotel stay in
Waikiki Beach area (Itin' A & C)
✥ Two nights' four-star room only hotel stay in
Papeete Tahiti (Itin' A & B)
✥ Two nights' four-star room only hotel stay in
Sydney (Itin' B & C)
✥ 13-30 nights' premium all-inclusive cruise
✥ Premium drinks package on-board
✥ All on-board gratuities and service charges
✥ Free 60-minute Wi-Fi Package
per person on-board
Date Nights Itinerary Interior Oceanview Balcony
30 Oct 19 19 A £3649 £3979 £4639
12 Nov 19 22 B £3859 £4269 £5029
30 Oct 19 35 C £5779 £6499 £7899
18 Call now to book: 0800 082 2170 or visit
http://jetlinecruise.com/cruise-packages/the-south-pacific-collection-672