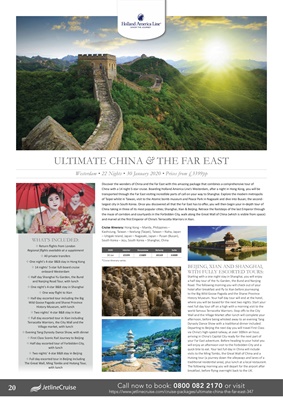 Cruise itinerary: Hong Kong - Manila, Philippines -
Kaohsiung, Taiwan - Keelung (Taipei), Taiwan - Naha, Japan
- Ishigaki Island, Japan - Nagasaki, Japan - Pusan (Busan),
South Korea - Jeju, South Korea - Shanghai, China
ULTIMATE CHINA & THE FAR EAST
Westerdam • 22 Nights • 30 January 2020 • Prices from £3399pp
WHAT'S INCLUDED:
✥ Return flights from London
Regional flights available at a supplement
✥ All private transfers
✥ One night's 4-star B&B stay in Hong Kong
✥ 14 nights' 5-star full-board cruise
onboard Westerdam
✥ Half day Shanghai Yu Garden, the Bund
and Nanjing Road Tour, with lunch
✥ One night's 4-star B&B stay in Shanghai
✥ One way flight to Xian
✥ Half day escorted tour including the Big
Wild Goose Pagoda and Shanxi Province
History Museum, with lunch
✥ Two nights' 4-star B&B stay in Xian
✥ Full day escorted tour in Xian including
Terracotta Warriors, the City Wall and the
Village market, with lunch
✥ Evening Tang Dynasty Dance Show, with dinner
✥ First Class Scenic Rail Journey to Beijing
✥ Half day escorted tour of Forbidden City,
with lunch
✥ Two nights' 4-star B&B stay in Beijing
✥ Full day escorted tour in Beijing including
The Great Wall, Ming Tombs and Hutong Tour,
with lunch
2020 Interior Oceanview Balcony Suite
30 Jan £3399 £3689 £4169 £4889
*Cruise itinerary varies.
Discover the wonders of China and the Far East with this amazing package that combines a comprehensive tour of
China with a 14 night 5-star cruise. Boarding Holland America Line's Westerdam, after a night in Hong Kong, you will be
transported through the Far East visiting incredible ports of call on your way to Shanghai. Explore the modern metropolis
of Taipei whilst in Taiwan, visit to the Atomic bomb museum and Peace Park in Nagasaki and dive into Busan; the secondlargest
city in South Korea. Once you discovered all that the Far East has to offer, you will then begin your in-depth tour of
China taking in three of its most popular cities; Shanghai, Xian & Beijing. Retrace the footsteps of the last Emperor through
the maze of corridors and courtyards in the Forbidden City, walk along the Great Wall of China (which is visible from space)
and marvel at the first Emperor of China's Terracotta Warriors in Xian.
BEIJING, XIAN AND SHANGHAI,
WITH FULLY ESCORTED TOURS:
Starting with a one night stay in Shanghai, you will enjoy
a half day tour of the Yu Garden, the Bund and Nanjing
Road. The following morning you will check out of your
hotel after breakfast and fly to Xian before journeying
to the Big Wild Goose Pagoda and the Shanxi Province
History Museum. Your half day tour will end at the hotel,
where you will be based for the next two nights. Start your
next full day tour off on a high with a morning visit to the
world famous Terracotta Warriors. Stop offs to the City
Wall and the Village Market after lunch will complete your
afternoon, before being whisked away to an evening Tang
Dynasty Dance Show with a traditional dinner included.
Departing to Beijing the next day you will travel First Class
via China's high-speed railway, at over 300km an hour,
arriving in China's Capital City ready for the next part of
your Far East adventure. Before heading to your hotel you
will enjoy an afternoon visit to the Forbidden City and a
quick bite to eat. Your last full day in China will include
visits to the Ming Tombs, the Great Wall of China and a
Hutong tour (a journey down the alleyways and lanes of a
traditional residential area), plus lunch at a local restaurant.
The following morning you will depart for the airport after
breakfast, before flying overnight back to the UK.
20 Call now to book: 0800 082 2170 or visit
https://www.jetlinecruise.com/cruise-packages/ultimate-china-the-far-east-347