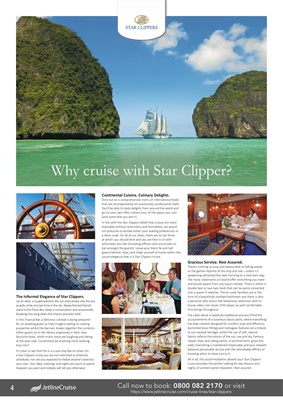 Why cruise with Star Clipper?
Continental Cuisine. Culinary Delights.
Dine out on a comprehensive menu of international foods
that are all prepared by our passionate, professional chefs.
You'll be able to taste delights from around the world and
go on your own little culinary tour of the places you visit
(and some that you don't).
In line with the Star Clippers belief that cruises are more
enjoyable without restrictions and formalities, we would
not presume to dictate either your seating preferences or
a dress code. On all of our ships, there are no set times
at which you should dine and you are free to sit with
whomever you like (including officers who are known to
eat amongst the guests). Leave your black tie and ball
gowns behind, relax, and make yourself at home within the
casual elegance that is a Star Clippers cruise.
The Informal Elegance of Star Clippers.
Up on deck, a couple watches the sun drop slowly into the sea
as gulls circle one last time in the sky. Newly formed friends
stand in the Piano Bar; deep in conversation and occasionally
breaking into song when the chance presents itself.
In the Tropical Bar, a delicious cocktail is being prepared
for an awaiting guest as they imagine tasting its cooling
properties whilst the barman shakes together the contents.
Other guests sit in the library, engrossed in their new
favourite book, whilst many more are laughing and joking
at the pool side. Could there be anything more relaxing
than this?
It's clear to see that this is a cruise ship like no other. On
a Star Clippers cruise you are not restricted to enforced
schedules, nor are you expected to follow anyone's lead but
your own. Your days, evenings and nights are yours to spend
however you wish and nobody will tell you otherwise.
Gracious Service. Rest Assured.
There's nothing so easy and pleasurable as falling asleep
to the gentle rhythms of the ship and sea - unless it's
awakening refreshed the next morning to a new-born day.
The many staterooms on board offer everything you need
and would expect from any luxury retreat. There is either a
double bed or two twin beds that can be easily converted
into a queen if need be. The en-suite facilities are in the
form of a beautifully marbled bathroom and there is also
a personal safe, direct-dial telephone, television with inhouse video,
hair-dryer, DVD player, as well comfortable
furnishings throughout.
The cabin décor is tastefully traditional and you'll find the
accoutrements of a luxurious classic yacht, where everything
has been cleverly designed for comfort, ease and efficiency.
Burnished brass fittings and mahogany features are a tribute
to our nautical heritage, whilst the use of soft, natural
fabrics reflects the colours of the sun, sea and sky. Famous
clipper ships and sailing yachts, in pictorial form, grace the
walls. Everything is maintained impeccably and your steward
balances personable service with the remarkable affinity of
knowing when to leave you to it.
All in all, the accommodation aboard your Star Clippers
cruise provides the perfect setting for day dreams and
nights of uninterrupted relaxation. Rest assured.
4 Call now to book: 0800 082 2170 or visit