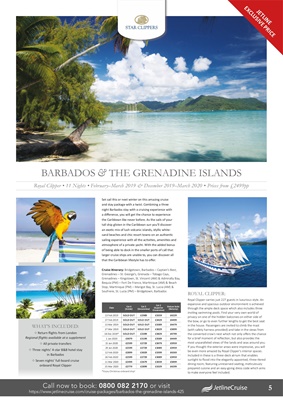 BARBADOS & THE GRENADINE ISLANDS
Royal Clipper • 11 Nights • February-March 2019 & December 2019-March 2020 • Prices from £2499pp
WHAT'S INCLUDED:
✥ Return flights from London
Regional flights available at a supplement
✥ All private transfers
✥ Three nights' 4-star B&B hotel stay
in Barbados
✥ Seven nights' full-board cruise
onboard Royal Clipper
Set sail this or next winter on this amazing cruise
and stay package with a twist. Combining a three
night Barbados stay with a cruising experience with
a difference, you will get the chance to experience
the Caribbean like never before. As the sails of your
tall ship glisten in the Caribbean sun you'll discover
an exotic mix of lush volcanic islands, idyllic whitesand beaches
and chic resort towns on an authentic
sailing experience with all the activities, amenities and
atmosphere of a private yacht. With the added bonus
of being able to dock in the smaller ports of call that
larger cruise ships are unable to, you can discover all
that the Caribbean lifestyle has to offer.
JETLINE
EXCLUSIVE PRICE
ROYAL CLIPPER:
Royal Clipper carries just 227 guests in luxurious style. An
expansive and spacious outdoor environment is achieved
through the ample deck space which also includes three
inviting swimming pools. Find your very own world of
privacy on one of the hidden balconies on either side of
the bow, or go to even further lengths to get the best seat
in the house. Passengers are invited to climb the mast
(with safety harness provided) and take in the views from
the converted crow's nest which not only offers the chance
for a brief moment of reflection, but also provides the
most unparalleled views of the lands and seas around you.
If you thought the exterior areas were impressive, you will
be even more amazed by Royal Clipper's interior spaces.
Included in these is a three-deck atrium that enables
sunlight to flood into the elegantly appointed, three-tiered
dining room; featuring unreserved seating, meticulously
prepared cuisine and an easy-going dress code which aims
to make everyone feel included.
Cruise itinerary: Bridgetown, Barbados - Captain's Best,
Grenadines - St. George's, Grenada - Tobago Cays,
Grenadines - Kingstown, St. Vincent (AM) & Admiralty Bay,
Bequia (PM) - Fort De France, Martinique (AM) & Beach
Stop, Martinique (PM) - Marigot Bay, St. Lucia (AM) &
Soufriere, St. Lucia (PM) - Bridgetown, Barbados
Date Cat 6
(Inside)
Cat 5
(Oceanview)
Cat 2
(Superior
Oceanview)
Deluxe Suite
(Balcony)
13 Feb 2019 SOLD OUT £2989 £3359 £4229
27 Feb 2019 SOLD OUT SOLD OUT £3429 £4499
13 Mar 2019 SOLD OUT SOLD OUT £3389 £4479
27 Mar 2019 SOLD OUT SOLD OUT £3029 £3899
18 Dec 2019* SOLD OUT £3399 £3829 £4799
1 Jan 2020 £3079 £3199 £3589 £4449
15 Jan 2020 £2599 £2729 £3079 £3959
29 Jan 2020 £2599 £2729 £3089 £3959
12 Feb 2020 £2899 £3029 £3399 £4269
26 Feb 2020 £2599 £2729 £3089 £3959
11 Mar 2020 £2499 £2679 £3039 £3899
25 Mar 2020 £2779 £2899 £3329 £4299
*Enjoy Christmas onboard ship!
5
Call now to book: 0800 082 2170 or visit
https://www.jetlinecruise.com/cruise-packages/barbados-the-grenadine-islands-425