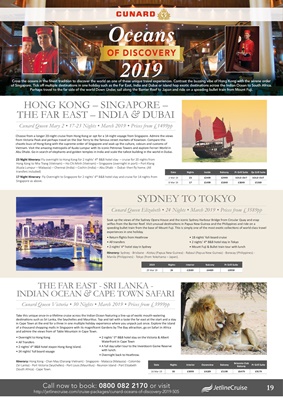 Take this unique once-in-a-lifetime cruise across the Indian Ocean featuring a line-up of exotic mouth-watering
destinations such as Sri Lanka, the Seychelles and Mauritius. Top and tail with a taste the far east at the start and a stay
in Cape Town at the end for a three in one multiple holiday experience where you unpack just once. Explore the island
of a thousand shopping malls in Singapore with its magnificent Gardens by The Bay attraction, go on Safari in Africa
and admire the views from of Table Mountain in Cape Town.
Cross the oceans in the finest tradition to discover the world on one of these unique travel experiences. Contrast the buzzing vibe of Hong Kong with the serene order
of Singapore. Tick off multiple destinations in one holiday such as the Far East, India and Dubai or island hop exotic destinations across the Indian Ocean to South Africa.
Perhaps travel to the far side of the world Down Under, sail along the Barrier Reef to Japan and ride on a speeding bullet train from Mount Fuji.
Oceans
2019
OF DISCOVERY
THE FAR EAST - SRI LANKA -
INDIAN OCEAN & CAPE TOWN SAFARI
Cunard Queen Victoria • 30 Nights • March 2019 • Prices from £3999pp
Date Nights Interior Oceanview Balcony
Brtannia Club
Balcony
Pr Grill Suite
16 Mar 19 30 £3999 £4189 £5199 £6479 £9179
Itinerary: Hong Kong - Chan May (Danang-Vietnam) - Singapore - Malacca (Malaysia) - Colombo
(Sri Lanka) - Port Victoria (Seychelles) - Port Louis (Mauritius) - Reunion Island - Port Elizabeth
(South Africa) - Cape Town.
Choose from a longer 20-night cruise from Hong Kong or opt for a 14-night voyage from Singapore. Admire the views
from Victoria Peak and perhaps travel on the Star Ferry to the famous street markets of Kowloon. Compare this
chaotic buzz of Hong Kong with the supreme order of Singapore and soak up the culture, colours and customs of
Vietnam. Visit the amazing metropolis of Kuala Lumpur with its iconic Petronas Towers and explore Ferrari World in
Abu Dhabi. Go in search of elephants and golden temples in India and scale the tallest building in the world in Dubai.
HONG KONG - SINGAPORE -
THE FAR EAST - INDIA & DUBAI
Cunard Queen Mary 2 • 17-23 Nights • March 2019 • Prices from £1499pp
Date Nights Inside Balcony Pr Grill Suite Qu Grill Suite
2 Mar 19 23 £2499 £2999 SOLD OUT SOLD OUT
8 Mar 19 17 £1499 £1849 £3849 £5369
23 Night Itinerary: Fly overnight to Hong Kong for 2 nights' 4* B&B hotel stay - cruise for 20 nights from
Hong Kong to Nha Trang (Vietnam) - Ho Chi Minh (Vietnam) - Singapore (overnight in port) - Port Klang
(Kuala Lumpur - Malaysia) - Chennai (India) - Cochin (India) - Abu Dhabi - Dubai- then fly home. (All
transfers included)
17 Night Itinerary: Fly Overnight to Singapore for 2 nights' 4* B&B hotel stay and cruise for 14 nights from
Singapore as above.
Soak up the views of the Sydney Opera House and the iconic Sydney Harbour Bridge from Circular Quay and snap
selfies from the Barrier Reef. Visit unusual destinations in Papua New Guinea and the Philippines and ride on a
speeding bullet train from the base of Mount Fuji. This is simply one of the most exotic collections of world class travel
experiences in one holiday.
• Return flights from Heathrow
• All transfers
• 2 nights' 4* hotel stay in Sydney
• 18 nights' full-board cruise
• 2 nights' 4* B&B hotel stay in Tokyo
• Mount Fuji & Bullet train tour with lunch
SYDNEY TO TOKYO
Cunard Queen Elizabeth • 24 Nights • March 2019 • Prices from £3589pp
2019 Nights Interior Balcony Pr Grill Suite
29 Mar 19 24 £3589 £4489 £8959
Itinerary: Sydney - Brisbane - Alotau (Papua New Guinea) - Rabaul (Papua New Guinea) - Boracay (Philippines) -
Manila (Philippines) - Tokyo (from Yokohama - Japan).
• Overnight to Hong Kong
• All Transfers
• 2 nights' 4* B&B hotel stayon Hong Kong Island.
• 24 nights' full board voyage
• 2 nights' 5* B&B hotel stay on the Victoria & Albert
Waterfront in Cape Town
• A full day safari tour to the Inverdoorn Game Reserve
with lunch.
• Overnight back to Heathrow.
19
Call now to book: 0800 082 2170 or visit
http://jetlinecruise.com/cruise-packages/cunard-oceans-of-discovery-2019-505