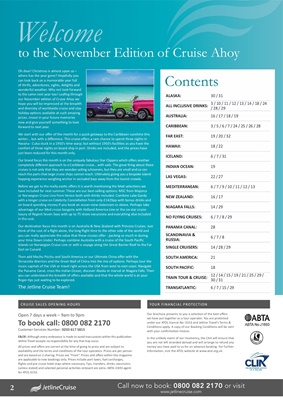 Open 7 days a week - 9am to 9pm
To book call: 0800 082 2170
Customer Services Number: 0203 617 5815
E&OE: Although every endeavour is made to avoid inaccuracies within this publication
Jetline Travel accepts no responsibility for any that may occur.
All prices and offers are correct at the time of going to press and are subject to
availability and the terms and conditions of the tour operators. Prices are per person
and are based on 2 sharing. Prices are "From". Prices and offers within this magazine
are applicable to new bookings only. Prices include port taxes, fuel surcharges,
flights and pre cruise hotel stays where necessary. Tips, transfers, drinks, excursions
(unless stated) and selected personal activities onboard are extra. ABTA J1693 agent
for ATOL 6153.
CRUISE SALES OPENING HOURS
Our brochure presents to you a selection of the best offers
we have put together as a tour operator. You are protected
under our ATOL licence No: 6153 and Jetline Travel's Terms &
Conditions apply. A copy of our Booking Conditions will be sent
with your confirmation invoice.
In the unlikely event of our insolvency, the CAA will ensure that
you are not left stranded abroad and will arrange to refund any
money you have paid to us for an advance booking. For further
information, visit the ATOL website at www.atol.org.uk.
YOUR FINANCIAL PROTECTION
ALASKA: 30 / 31
ALL INCLUSIVE DRINKS: 3 / 10 / 11 / 12 / 13 / 14 / 18 / 24
/ 28 / 29
AUSTRALIA: 16 / 17 / 18 / 19
CARIBBEAN: 3 / 5 / 6 / 7 / 24 / 25 / 26 / 28
FAR EAST: 19 / 20 / 32
HAWAII: 18 / 22
ICELAND: 6 / 7 / 31
INDIAN OCEAN: 19
LAS VEGAS: 22 / 27
MEDITERRANEAN: 6 / 7 / 9 / 10 / 11 / 12 / 13
NEW ZEALAND: 16 / 17
NIAGARA FALLS: 14 / 29
NO FLYING CRUISES: 6 / 7 / 8 / 29
PANAMA CANAL: 28
SCANDINAVIA &
RUSSIA:
6 / 7 / 8
SINGLE CRUISERS: 14 / 28 / 29
SOUTH AMERICA: 21
SOUTH PACIFIC: 18
TRAIN TOUR & CRUISE: 12 / 14 / 15 / 19 / 21 / 25 / 29 /
30 / 31
TRANSATLANTIC: 6 / 7 / 15 / 29
Contents
Oh dear! Christmas is almost upon us -
where has the year gone? Hopefully you
can look back on a memorable year full
of thrills, adventures, sights, delights and
wonderful weather. Why not look forward
to the same next year too! Leafing through
our November edition of Cruise Ahoy we
hope you will be impressed at the breadth
and diversity of worldwide cruise and stay
holiday options available at such amazing
prices. Invest in your future memories
now and give yourself something to look
forward to next year.
We start with our offer of the month for a quick getaway to the Caribbean sunshine this
winter… but with a difference. This cruise offers a rare chance to spend three nights in
Havana - Cuba stuck in a 1950's time warp; but without 1950's facilities as you have the
comfort of three nights on board ship in port. Drinks are included, and the prices have
just been reduced for this month only.
Our brand focus this month is on the uniquely fabulous Star Clippers which offers another
completely different approach to a Caribbean cruise… with sails. The great thing about these
cruises is not only that they are wooden sailing schooners, but they are small and so can
reach the parts that large cruise ships cannot reach. Ultimately giving you a bespoke islandhopping experience
weighing anchor in secluded bays away from the tourist crowds.
Before we get to the really exotic offers it is worth mentioning the Med selections we
have included for next summer. These are our best-selling options: MSC from Majorca
or Norwegian Cruise Line from Venice both with drinks included. Combine Lake Garda
with a longer cruise on Celebrity Constellation from only £1429pp with bonus drinks and
on-board spending money if you book an ocean-view stateroom or above. Perhaps take
advantage of our Med cruise bargains with Holland America Line or the six-star cruise
luxury of Regent Seven Seas with up to 75 shore excursions and everything else included
in the cost.
Our destination focus this month is on Australia & New Zealand with Princess Cruises. Just
think of the cost of a flight alone, the long flight time to the other side of the world and
you can really appreciate the value that these cruises offer - packing so much in during
your time Down Under. Perhaps combine Australia with a cruise of the South Pacific
Islands on Norwegian Cruise Line or with a voyage along the Great Barrier Reef to the Far
East on Cunard.
Then add Machu Picchu and South America or our Ultimate China offer with the
Terracotta Warriors and the Great Wall of China into the mix of options. Perhaps tour the
music capitals of the USA or travel right across the USA from west to east coast. Navigate
the Panama Canal, cross the Indian Ocean, discover Alaska or marvel at Niagara Falls. Then
you can understand the breadth of offers available and that the whole world is at your
finger-tips just waiting to be explored.
The Jetline Cruise Team!
Welcometo the November Edition of Cruise Ahoy
2 Call now to book: 0800 082 2170 or visit
www.