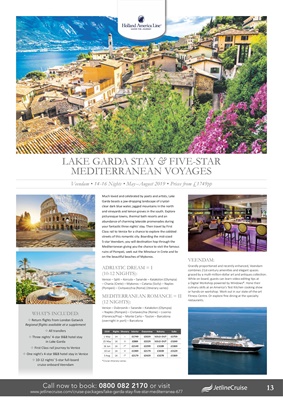 LAKE GARDA STAY & FIVE-STAR
MEDITERRANEAN VOYAGES
Veendam • 14-16 Nights • May-August 2019 • Prices from £1749pp
WHAT'S INCLUDED:
✥ Return flights from London Gatwick
Regional flights available at a supplement
✥ All transfers
✥ Three nights' 4-star B&B hotel stay
in Lake Garda
✥ First Class rail journey to Venice
✥ One night's 4-star B&B hotel stay in Venice
✥ 10-12 nights' 5-star full-board
cruise onboard Veendam
Much loved and celebrated by poets and artists, Lake
Garda boasts a jaw-dropping landscape of crystalclear dark blue
water, jagged mountains in the north
and vineyards and lemon groves in the south. Explore
picturesque towns, thermal bath resorts and an
abundance of charming lakeside promenades during
your fantastic three nights' stay. Then travel by First
Class rail to Venice for a chance to explore the cobbled
streets of this romantic city. Boarding the mid-sized
5-star Veendam, you will destination hop through the
Mediterranean giving you the chance to visit the famous
ruins of Pompeii, seek out the Minotaur in Crete and lie
on the beautiful beaches of Mykonos.
ADRIATIC DREAM = I
(10-12 NIGHTS):
Venice - Split - Korcula - Sarande - Katakolon (Olympia)
- Chania (Crete) - Mykonos - Catania (Sicily) - Naples
(Pompeii) - Civitavecchia (Rome) (itinerary varies)
MEDITERRANEAN ROMANCE = II
(12 NIGHTS):
Venice - Dubrovnik - Sarande - Katakolon (Olympia)
- Naples (Pompeii) - Civitavecchia (Rome) - Livorno
(Florence/Pisa) - Monte Carlo - Toulon - Barcelona
(overnight in port) - Barcelona
2019 Nights Itinerary Interior Oceanview Balcony Suite
1 May 14 I £1749 £2029 SOLD OUT £2759
23 May 16 II £2069 £2229 SOLD OUT £3249
16 Jun 16 I* £2149 £2299 £3289 £3369
10 Jul 16 II £1989 £2179 £3039 £3129
3 Aug 16 I* £2179 £2429 £3279 £3369
*Cruise itinerary varies.
VEENDAM:
Grandly proportioned and recently enhanced, Veendam
combines 21st-century amenities and elegant spaces
graced by a multi-million-dollar art and antiques collection.
While on board, guests can learn video-editing tips at
a Digital Workshop powered by Windows®. Hone their
culinary skills at an America's Test Kitchen cooking show
or hands-on workshop. Work out in our state-of-the-art
Fitness Centre. Or explore fine dining at the specialty
restaurants.
13
Call now to book: 0800 082 2170 or visit
www.jetlinecruise.com/cruise-packages/lake-garda-stay-five-star-mediterranea-677