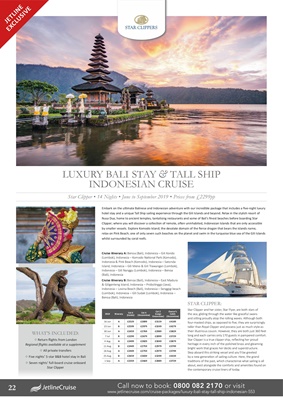 LUXURY BALI STAY & TALL SHIP
INDONESIAN CRUISE
Star Clipper • 14 Nights • June to September 2019 • Prices from £2299pp
WHAT'S INCLUDED:
✥ Return flights from London
Regional flights available at a supplement
✥ All private transfers
✥ Five nights' 5-star B&B hotel stay in Bali
✥ Seven nights' full-board cruise onboard
Star Clipper
Embark on the ultimate Balinese and Indonesian adventure with our incredible package that includes a five-night luxury
hotel stay and a unique Tall Ship sailing experience through the Gili Islands and beyond. Relax in the stylish resort of
Nusa Dua, home to ancient temples, tantalising restaurants and some of Bali's finest beaches before boarding Star
Clipper; where you will discover a collection of remote, often uninhabited, Indonesian Islands that are only accessible
by smaller vessels. Explore Komodo Island; the desolate domain of the fierce dragon that bears the islands name,
relax on Pink Beach; one of only seven such beaches on the planet and swim in the turquoise blue sea of the Gili Islands
whilst surrounded by coral reefs.
STAR CLIPPER:
Star Clipper and her sister, Star Flyer, are both stars of
the sea; gliding through the water like graceful swans
and sitting proudly atop the rolling waves. Although both
four-masted ships, as opposed to five, they are surprisingly
taller than Royal Clipper and possess just as much style as
their illustrious cousin. However, they are both just 360 feet
long and each carries only 170 guests in pampered comfort.
Star Clipper is a true clipper ship, reflecting her proud
heritage in every inch of the polished brass and gleaming
bright work that graces her decks and superstructure.
Step aboard this striking vessel and you'll be greeted
by a new generation of sailing culture. Here, the grand
traditions of the past, which characterise what sailing is all
about, exist alongside the comforts and amenities found on
the contemporary cruise liners of today.
JETLINE
EXCLUSIVE
Cruise itinerary A: Benoa (Bali), Indonesia - Gili Kondo
(Lombok), Indonesia - Komodo National Park (Komodo),
Indonesia & Pink Beach (Komodo), Indonesia - Satonda
Island, Indonesia - Gili Meno & Gili Trawangan (Lombok),
Indonesia - Gili Nanggu (Lombok), Indonesia - Benoa
(Bali), Indonesia
Cruise itinerary B: Benoa (Bali), Indonesia - East Madura
& Giligenteng Island, Indonesia - Probolinggo (Java),
Indonesia - Lovina Beach (Bali), Indonesia - Senggigi beach
(Lombok), Indonesia - Gili Sudak (Lombok), Indonesia -
Benoa (Bali), Indonesia
2019 Itinerary Cat 6
(Inside)
Cat 4
(Oceanview)
Cat 2
(Large
Oceanview)
Owner's
Cabin
(Oceanview)
16 Jun A £2529 £2899 £3159 £4189
23 Jun B £2599 £2979 £3249 £4279
30 Jun A £2459 £2769 £2989 £3829
7 Jul B £2299 £2679 £2899 £3729
4 Aug A £2499 £2829 £3049 £3879
11 Aug B £2449 £2759 £2979 £3799
18 Aug A £2449 £2759 £2979 £3799
25 Aug B £2659 £3039 £3299 £4339
1 Sep A £2359 £2669 £2889 £3729
22 Call now to book: 0800 082 2170 or visit
www.jetlinecruise.com/cruise-packages/luxury-bali-stay-tall-ship-indonesian-553