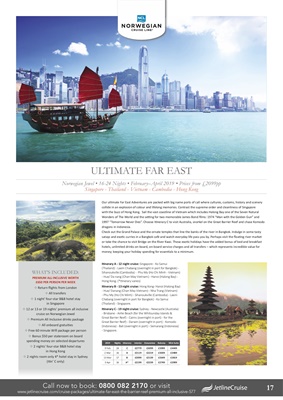 Itinerary A - 12 night cruise: Singapore - Ko Samui
(Thailand) - Laem Chabang (overnight in port for Bangkok) -
Sihanoukville (Cambodia) - Phu My (Ho Chi Minh - Vietnam)
- Hue/ Da nang (Chan May Vietnam) - Hanoi (Halong Bay) -
Hong Kong. (*Itinerary varies)
Itinerary B - 13 night cruise: Hong Kong- Hanoi (Halong Bay)
- Hue/ Danang (Chan May Vietnam) - Nha Trang (Vietnam)
- Phu My (Ho Chi Minh) - Sihanoukville (Cambodia) - Laem
Chabang (overnight in port for Bangkok) - Ko Samui
(Thailand) - Singapore.
Itinerary C - 19 night cruise: Sydney - Newcastle (Australia)
- Brisbane - Airlie Beach (for the Whitsunday Islands &
Great Barrier Reef) - Cairns (overnight in port) - for the
Great Barrier Reef) - Darwin (overnight in port) - Komodo
(Indonesia) - Bali (overnight in port) - Semarang (Indonesia)
- Singapore.
ULTIMATE FAR EAST
Norwegian Jewel • 16-24 Nights • February-April 2019 • Prices from £2099pp
Singapore - Thailand - Vietnam - Cambodia - Hong Kong
WHAT'S INCLUDED:
PREMIUM ALL INCLUSIVE WORTH
£650 PER PERSON PER WEEK
✥ Return flights from London
✥ All transfers
✥ 1 night' four-star B&B hotel stay
in Singapore
✥ 12 or 13 or 19 nights' premium all inclusive
cruise on Norwegian Jewel
✥ Premium All Inclusive drinks package
✥ All onboard gratuities
✥ Free 60 minute Wifi package per person
✥ Bonus $50 per stateroom on board
spending money on selected departures
✥ 2 nights' four-star B&B hotel stay
in Hong Kong
✥ 2 nights room only 4* hotel stay in Sydney
(Itin' C only)
Our ultimate Far East Adventures are packed with big name ports of call where cultures, customs, history and scenery
collide in an explosion of colour and lifelong memories. Contrast the supreme order and cleanliness of Singapore
with the buzz of Hong Kong. Sail the vast coastline of Vietnam which includes Halong Bay one of the Seven Natural
Wonders of The World and the setting for two memorable James Bond films: 1974 "Man with the Golden Gun" and
1997 "Tomorrow Never Dies". Choose Itinerary C to visit Australia, snorkel on the Great Barrier Reef and chase Komodo
dragons in Indonesia.
Check out the Grand Palace and the ornate temples that line the banks of the river in Bangkok. Indulge in some tasty
satays and exotic curries in a Bangkok café and watch everyday life pass you by. Perhaps visit the floating river market
or take the chance to visit Bridge on the River Kwai. These exotic holidays have the added bonus of bed and breakfast
hotels, unlimited drinks on-board, on-board service charges and all transfers - which represents incredible value for
money; keeping your holiday spending for essentials to a minimum.
2019 Nights Itinerary Interior Oceanview Balcony Mini Suite
9 Feb 24 C £2779 £3099 £3999 £4449
2 Mar 16 A £2119 £2219 £3039 £3489
13 Mar 17 B £2099 £2139 £2649 £2819
3 Apr 16 A* £2199 £2239 £2749 £2999
17
Call now to book: 0800 082 2170 or visit
www.jetlinecruise.com/cruise-packages/ultimate-far-east-the-barrier-reef-premium-all-inclusive-577