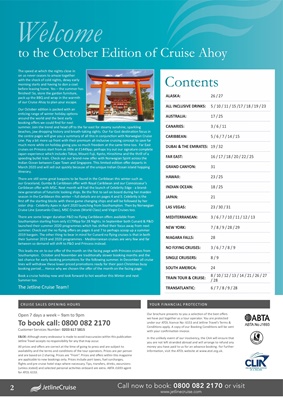 Open 7 days a week - 9am to 9pm
To book call: 0800 082 2170
Customer Services Number: 0203 617 5815
E&OE: Although every endeavour is made to avoid inaccuracies within this publication
Jetline Travel accepts no responsibility for any that may occur.
All prices and offers are correct at the time of going to press and are subject to
availability and the terms and conditions of the tour operators. Prices are per person
and are based on 2 sharing. Prices are "From". Prices and offers within this magazine
are applicable to new bookings only. Prices include port taxes, fuel surcharges,
flights and pre cruise hotel stays where necessary. Tips, transfers, drinks, excursions
(unless stated) and selected personal activities onboard are extra. ABTA J1693 agent
for ATOL 6153.
CRUISE SALES OPENING HOURS
Our brochure presents to you a selection of the best offers
we have put together as a tour operator. You are protected
under our ATOL licence No: 6153 and Jetline Travel's Terms &
Conditions apply. A copy of our Booking Conditions will be sent
with your confirmation invoice.
In the unlikely event of our insolvency, the CAA will ensure that
you are not left stranded abroad and will arrange to refund any
money you have paid to us for an advance booking. For further
information, visit the ATOL website at www.atol.org.uk.
YOUR FINANCIAL PROTECTION
ALASKA: 26 / 27
ALL INCLUSIVE DRINKS: 5 / 10 / 11 / 15 /17 / 18 / 19 / 23
AUSTRALIA: 17 / 25
CANARIES: 3 / 6 / 11
CARIBBEAN: 5 / 6 / 7 / 14 / 15
DUBAI & THE EMIRATES: 19 / 32
FAR EAST: 16 / 17 / 18 / 20 / 22 / 25
GRAND CANYON: 31
HAWAII: 23 / 25
INDIAN OCEAN: 18 / 25
JAPAN: 21
LAS VEGAS: 23 / 30 / 31
MEDITERRANEAN: 3 / 6 / 7 / 10 / 11 / 12 / 13
NEW YORK: 7 / 8 / 9 / 28 / 29
NIAGARA FALLS: 28
NO FLYING CRUISES: 3 / 6 / 7 / 8 / 9
SINGLE CRUISERS: 8 / 9
SOUTH AMERICA: 24
TRAIN TOUR & CRUISE:
8 / 10 / 12 / 13 / 14 / 21 / 26 / 27
/ 28
TRANSATLANTIC: 6 / 7 / 8 / 9 / 28
Contents
The speed at which the nights close in
on us never ceases to amaze together
with the shock of cold nights, dewy early
morning starts and having to don a coat
before leaving home. Yes - the summer has
finished! So, store the garden furniture,
pack up the BBQ and wrap in the warmth
of our Cruise Ahoy to plan your escape.
Our October edition is packed with an
enticing range of winter holiday options
around the world and the best early
booking offers we could find for next
summer. Join the trend and head off to the far east for steamy sunshine, sparkling
beaches, jaw-dropping history and breath-taking sights. Our Far East destination focus in
the centre pages will give you a summary of all this in conjunction with Norwegian Cruise
Line. Pay a bit more up front with their premium all-inclusive cruising concept to save far
much more while on holiday giving you so much freedom at the same time too. Far East
cruises on Princess start from as little at £1449pp; perhaps try out our signature complete
Japan experience which includes Tokyo, Mount Fuji, Kyoto, Hiroshima and the thrill of a
speeding bullet train. Check out our brand-new offer with Norwegian Spirit across the
Indian Ocean between Cape Town and Singapore. This limited-edition offer departs in
March 2020 and will sell out quickly because of the unique Indian Ocean island hopping
itinerary.
There are still some great bargains to be found in the Caribbean this winter such as
our Graceland, Gumbo & Caribbean offer with Royal Caribbean and our Connoisseur's
Caribbean offer with MSC. Next month will hail the launch of Celebrity Edge - a brandnew
generation of futuristic looking ships. Be the first to sail on board during her maiden
season in the Caribbean this winter - full details are on pages 4 and 5. Celebrity is the
first off the starting blocks with these game changing ships and will be followed by her
sister ship - Celebrity Apex in April 2020 launching from Southampton. Then by Norwegian
Cruise Line (Leonardo Class), MSC Cruises (World Class) and Virgin Cruises too.
There are some longer duration P&O no flying Caribbean offers available from
Southampton starting from only £1799pp for 28 Nights. In September both Cunard & P&O
launched their summer 2020 programmes which has shifted their focus away from next
summer. Check out the no flying offers on pages 6 and 7 to perhaps scoop up a summer
2019 bargain. The other thing to bear in mind for Cunard no flying cruises is that in both
their Summer 2019 and 2020 programmes - Mediterranean cruises are very few and far
between so demand will shift to P&O and Princess instead.
This leads me on to our offer of the month on the facing page with Princess cruises from
Southampton. October and November are traditionally slower booking months and the
last chance for early booking promotions for the following summer. In December all cruise
lines will withdraw these lower priced promotions ready for their post-Christmas busy
booking period…. Hence why we chosen the offer of the month on the facing page.
Book a cruise holiday now and look forward to hot weather this Winter and next
Summer too.
The Jetline Cruise Team!
Welcometo the October Edition of Cruise Ahoy
2 Call now to book: 0800 082 2170 or visit