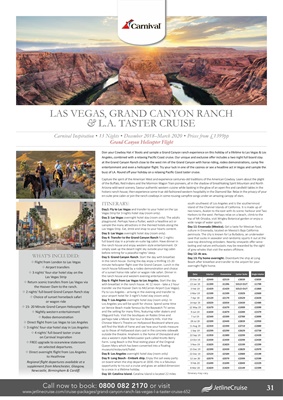 south southwest of Los Angeles and is the southernmost
island of the Channel Islands of California. It is made up of
two towns, Avalon to the east with its scenic harbour and Two
Harbors to the west. Perhaps relax on a beach, climb to the
top of Mt Orizaba, visit Wrigley Botanical garden or enjoy a
wide range of water sports.
Day 11: Ensenada (Mexico). Get a taste for Mexican food,
culture in Ensenada, located on Mexico's Baja California
peninsula. The city is known for La Bufadora, an underwater
cave that sucks in seawater and randomly squirts it out at the
cave top drenching onlookers. Nearby vineyards offer winetasting
and nature enthusiasts may be rewarded by the sight
of grey whales that visit the waters offshore.
Day 12: At sea.
Day 13: Fly home overnight. Disembark the ship at Long
Beach after breakfast and transfer to the airport for your
overnight flight home.
ITINERARY:
Day1: Fly to Las Vegas and transfer to your hotel on the Las
Vegas Strip for 3 nights hotel stay (room only).
Day 2: Las Vegas overnight hotel stay (room only). The adults
playground. Perhaps have a flutter, watch a headline act or
sample the many attractions in the themed hotels along the
Las Vegas Strip. Eat, drink and shop to your hearts content.
Day 3: Las Vegas overnight hotel stay (room only).
Day 4: Transfer to the Grand Canyon Ranch for 2 nights
full board stay in a private en-suite log cabin. Have dinner in
the ranch house and enjoy western style entertainment. Or
simply soak up the desert night sky outside your log cabin
before retiring for a peaceful nights' sleep.
Day 5: Grand Canyon Ranch. Start the day with breakfast
in the ranch house. During the day enjoy a thrilling 15-20
minute helicopter flight over the Grand Canyon. Lunch in the
ranch house followed by a rodeo demonstration and choice
of a sunset horse ride safari or wagon ride safari. Dinner in
the ranch house and western evening entertainment.
Day 6: Flight from Las Vegas to Los Angeles. Start the day
with breakfast in the ranch house. At 12 noon - take a 2 hour
transfer via the Hoover Dam to McCarren Airport (Las Vegas).
Fly to Los Angeles - arriving in the evening and transfer to
your airport hotel for 3 night's hotel stay (room only)
Day 7: Los Angeles overnight hotel stay (room only). In
Los Angeles you will be spoilt for choice. Spend some time
on Venice Beach made famous by the Baywatch TV series
and the setting for many films, featuring roller skaters and
lifeguard huts. Visit the boutiques on Rodeo Drive and
perhaps take a Movie Star tour in Beverly Hills. Visit the
Chinese Mann's Theatre on Hollywood Boulevard where you
will find the Walk of Fame and see how your hands measure
up to those of Hollywood stars cast in the concrete sidewalk
outside the theatre. Anaheim is the home of Disneyland and
also a western style Rollercoaster park called Knotts Berry
Farm. Long Beach is the final resting place of the Original
Queen Mary which has been converted into a floating
museum/restaurant/hotel.
Day 8: Los Angeles overnight hotel stay (room only)
Day 9: Long Beach - Embark ship. Enjoy the sail-away party
on board when the ship departs at 1830. this is a fabulous
opportunity to try out a cruise and gives an added dimension
to a once in a lifetime holiday.
Day 10: Catalina Island. Catalina Island is located 22 miles
WHAT'S INCLUDED:
✥ Flight from London to Las Vegas
✥ Airport transfers
✥ 3 nights' four-star hotel stay on the
Las Vegas Strip
✥ Return scenic transfers from Las Vegas via
the Hoover Dam to the ranch.
✥ 2 nights' full-board Grand Canyon Ranch stay
✥ Choice of sunset horseback safari
or wagon ride
✥ 15- 20 Minute Grand Canyon Helicopter flight
✥ Nightly western entertainment
✥ Rodeo demonstration
✥ Direct flight from Las Vegas to Los Angeles
✥ 3 nights' four-star hotel stay in Los Angeles
✥ 4 nights' full-board taster cruise
on Carnival Inspiration
✥ FREE upgrade to oceanview stateroom
on selected departures.
✥ Direct overnight flight from Los Angeles
to Heathrow
Regional flight departures available at a
supplement from Manchester, Glasgow,
Newcastle, Birmingham & Cardiff.
Don your Cowboy Hat n' Boots and sample a Grand Canyon ranch experience on this holiday of a lifetime to Las Vegas & Los
Angeles, combined with a relaxing Pacific Coast cruise. Our unique and exclusive offer includes a two night full board stay
at the Grand Canyon Ranch close to the west rim of the Grand Canyon with horse riding, rodeo demonstrations, camp fire
entertainment and even a helicopter flight. Try your luck in one of the casinos or see a headline act in Vegas and sample the
buzz of LA. Round off your holiday on a relaxing Pacific Coast taster cruise.
LAS VEGAS, GRAND CANYON RANCH
& L.A. TASTER CRUISE
Carnival Inspiration • 13 Nights • December 2018-March 2020 • Prices from £1399pp
Grand Canyon Helicopter Flight
Date Interior Oceanview Junior Suite Single interior
23 Dec 18 £2449 £2519 £3039 £3059
13 Jan 19 £1399 £1396 SOLD OUT £1799
3 Feb 19 £1429 £1429 SOLD OUT £1869
3 Mar 19 £1599 £1599 £1929 £2069
7 Apr 19 £2129 £2179 £2529 £2659
14 Apr 19 £2029 £2059 £2439 £2489
12 May 19 £1679 £1679 £1999 £2099
9 Jun 19 £1839 £1879 £2289 £2379
7 Jul 19 £2349 £2399 £2789 £2899
28 Jul 19 £2399 £2449 £2839 £2959
11 Aug 19 £2359 £2399 £2719 £2889
1 Sep 19 £2299 £2299 £2629 £2739
22 Sep 19 £1959 £1989 £2299 £2439
13 Oct 19 £1939 £1939 £2299 £2439
3 Nov 19 £1829 £1829 £2199 £2299
15 Dec 19 £2399 £2439 £2829 £2979
22 Dec 19 £2529 £2589 £2989 £3199
12 Jan 20 £2079 £2079 £2399 £2599
9 Feb 20 £1699 £1699 £2049 £2229
8 Mar 20 £1829 £1829 £2149 £2399
Itinerary may vary.
Capture the spirit of the American West and experience centuries-old traditions of the American Cowboy. Learn about the plight
of the Buffalo, Red Indians and the Mormon Wagon Train pioneers, all in the shadow of breathtaking Spirit Mountain and North
Arizona wild-west scenery. Savour authentic western cuisine while basking in the glow of an open fire and candlelit tables in the
historic ranch house; then experience some true old-fashioned western hospitality in the Diamond Bar. Relax in the privacy of your
en-suite pine cabin or join the ranch cowboys in some rousing campfire songs under an amazing canopy of stars.
31
Call now to book: 0800 082 2170 or visit
www.jetlinecruise.com/cruise-packages/grand-canyon-ranch-las-vegas-l-a-taster-cruise-652