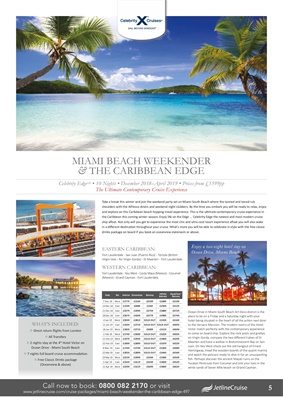 MIAMI BEACH WEEKENDER
& THE CARIBBEAN EDGE
Celebrity EdgeSM • 10 Nights • December 2018-April 2019 • Prices from £1599pp
The Ultimate Contemporary Cruise Experience
WHAT'S INCLUDED:
✥ Direct return flights from London
✥ All Transfers
✥ 2 nights stay at the 4* Hotel Victor on
Ocean Drive - Miami South Beach
✥ 7 nights full board cruise accommodation
✥ Free Classic Drinks package
(Oceanview & above)
Take a break this winter and join the weekend party set on Miami South Beach where the tanned and toned rub
shoulders with the Alfresco diners and weekend night clubbers. By the time you embark you will be ready to relax, enjoy
and explore on this Caribbean beach hopping travel experience. This is the ultimate contemporary cruise experience in
the Caribbean this coming winter season. Enjoy life on the Edge ... Celebrity Edge the newest and most modern cruise
ship afloat. Not only will you get to experience the most chic and ultra cool resort experience afloat you will also wake
in a different destination throughout your cruise. What's more you will be able to celebrate in style with the free classic
drinks package on board if you book an oceanview stateroom or above.
EASTERN CARIBBEAN:
Fort Lauderdale - San Juan (Puerto Rico) - Tortola (British
Virgin Isles - for Virgin Gorda) - St Maarten - Fort Lauderdale.
WESTERN CARIBBEAN:
Fort Lauderdale - Key West - Costa Maya (Mexico) - Cozumel
(Mexico) - Grand Cayman - Fort Lauderdale.
Ocean Drive in Miami South Beach Art Deco district is the
place to be on a Friday and a Saturday night with your
hotel being situated in the heart of all the action next door
to the Versace Mansion. The modern rooms of the Hotel
Victor match perfectly with the contemporary experience
to come on board ship. Explore the rock pools and grottos
on Virgin Gorda, compare the two different halves of St
Maarten and have a wallow in Bioluminescent Bay on San
Juan. On Key West check out the old hangout of Ernest
Hemingway, tread the wooden boards of the quaint marina
and watch the pelicans ready to dive in for an unsuspecting
fish. Perhaps discover the ancient Mayan ruins on the
Yucatan Peninsula from Cozumel and sink your toes in the
white sands of Seven Mile beach on Grand Cayman.
Date Itin Interior Oceanview Balcony Infinity
Balcony
AquaClass®
Balcony
7 Dec 18 West £1779 £2169 £2599 £2689 £3199
14 Dec 18 East £1599 £2089 £2569 £2569 £3129
21 Dec 18 East £2379 £2999 £3759 £3889 £4729
28 Dec 18 East £2679 £4349 £4779 £4989 £5749
4 Jan 19 West £2039 £2819 SOLD OUT £3339 £4169
11 Jan 19 East £1929 £2719 SOLD OUT SOLD OUT £4059
18 Jan 19 West £1859 £2719 £3089 £3119 £4049
1 Feb 19 West £1749 £2689 SOLD OUT £3229 £4059
15 Feb 19 West £1979 £2939 SOLD OUT £3469 £4299
22 Feb 19 East £1899 £2899 SOLD OUT £3379 £4229
8 Mar 19 East £1769 £2749 SOLD OUT £3269 £4089
22 Mar 19 East £2059 £2899 SOLD OUT £3449 £4349
29 Mar 19 West £2159 £2999 £3349 £3589 £4549
5 Apr 19 East £2329 £3119 £3549 £3699 £4529
12 Apr 19 West £2399 £3119 £3699 £3849 £4629
Enjoy a two night hotel stay on
Ocean Drive, Miami Beach
5
Call now to book: 0800 082 2170 or visit
www.jetlinecruise.com/cruise-packages/miami-beach-weekender-the-caribbean-edge-497