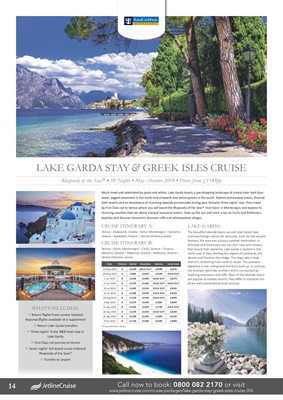 LAKE GARDA STAY & GREEK ISLES CRUISE
Rhapsody of the Seas® • 10 Nights • May-October 2019 • Prices from £1149pp
WHAT'S INCLUDED:
✥ Return flights from London Gatwick
Regional flights available at a supplement
✥ Return Lake Garda transfers
✥ Three nights' 4-star B&B hotel stay in
Lake Garda
✥ First Class rail journey to Venice
✥ Seven nights' full-board cruise onboard
Rhapsody of the Seas®
✥ Transfer to airport
Much loved and celebrated by poets and artists, Lake Garda boasts a jaw-dropping landscape of crystal-clear dark blue
water, jagged mountains in the north and vineyards and lemon groves in the south. Explore picturesque towns, thermal
bath resorts and an abundance of charming lakeside promenades during your fantastic three nights' stay. Then travel
by First Class rail to Venice where you will board the Rhapsody of the Seas®. Visit Kotor in Montenegro and explore its
stunning coastline that sits above tranquil turquoise waters. Soak up the sun and catch a tan on Corfu and Kefalonia's
beaches and discover Santorini's dramatic cliffs and whitewashed villages.
CRUISE ITINERARY A:
Venice - Dubrovnik, Croatia - Kotor, Montenegro - Santorini,
Greece - Katakolon, Greece - Venice (itinerary varies)
CRUISE ITINERARY B:
Venice - Kotor, Montenegro - Corfu, Greece - Piraeus
(Athens), Greece - Mykonos, Greece - Kefalonia, Greece -
Venice (itinerary varies)
Date Itinerary Interior Oceanview Balcony Junior-Suite
15 May 2019 A £1299 SOLD OUT £2099 £2239
29 May 2019 A £1269 £1429 £2129 SOLD OUT
5 Jun 2019 B £1239 £1389 SOLD OUT £2279
12 Jun 2019 A £1279 £1429 SOLD OUT SOLD OUT
24 Jul 2019 A £1429 £1549 SOLD OUT £2349
31 Jul 2019 B £1369 £1499 SOLD OUT £2229
28 Aug 2019 B £1229 £1349 SOLD OUT £1999
4 Sep 2019 A £1279 £1439 £1829 £2349
11 Sep 2019 B £1259 £1399 £1799 SOLD OUT
18 Sep 2019 A £1239 £1369 SOLD OUT £2189
25 Sep 2019 B £1189 £1299 £1699 £2149
9 Oct 2019 B £1149 £1289 £1699 £1889
*Cruise itinerary varies.
LAKE GARDA:
The beautiful lakeside towns around Lake Garda have
charmed foreign visitors for centuries. Even for the ancient
Romans, the area was a luxury summer destination; in
Sirmione and Desenzano you can visit ruins and mosaics
that record their presence. Lake Garda is located in the
north-east of Italy, dividing the regions of Lombardy, the
Veneto and Trentino Alto-Adige. The large lake is long
and slim, stretching from north to south. The southern
lakeshore is low, rolling land and fairly built-up. In contrast,
the dramatic fjord-like northern end is surrounded by
towering mountains and cliffs. Most of the lakeside towns
are popular as holiday resorts; they differ in character but
all are well-connected by boat services.
14 Call now to book: 0800 082 2170 or visit
www.jetlinecruise.com/cruise-packages/lake-garda-stay-greek-isles-cruise-354