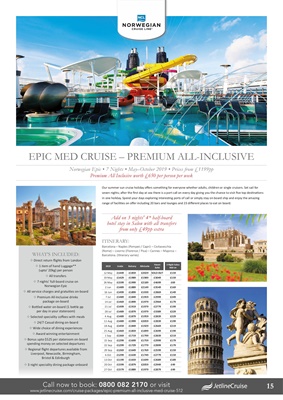 WHAT'S INCLUDED:
✥ Direct return flights from London
✥ 1 item of hand Luggage**
(upto' 20kg) per person
✥ All transfers
✥ 7 nights' full-board cruise on
Norwegian Epic
✥ All service charges and gratuities on-board
✥ Premium All-Inclusive drinks
package on-board
✥ Bottled water on-board (1 bottle pp
per day in your stateroom)
✥ Selected speciality coffees with meals
✥ 24/7 Casual dining on-board
✥ Wide choice of dining experiences
✥ Award winning entertainment
✥ Bonus upto $525 per stateroom on-board
spending money on selected departures
✥ Regional flight departures available from
Liverpool, Newcastle, Birmingham,
Bristol & Edinburgh
✥ 3 night speciality dining package onboard
Our summer sun cruise holiday offers something for everyone whether adults, children or single cruisers. Set sail for
seven nights; after the first day at sea there is a port call on every day giving you the chance to visit five top destinations
in one holiday. Spend your days exploring interesting ports of call or simply stay on board ship and enjoy the amazing
range of facilities on offer including 20 bars and lounges and 23 different places to eat on board.
ITINERARY:
Barcelona - Naples (Pompeii / Capri) - Civitavecchia
(Rome) - Livorno (Florence / Pisa) - Cannes - Majorca -
Barcelona. (Itinerary varies)
EPIC MED CRUISE - PREMIUM ALL-INCLUSIVE
Norwegian Epic • 7 Nights • May-October 2019 • Prices from £1199pp
Premium All Inclusive worth £650 per person per week
2019 Inside Balcony Minisuite
Haven
Suite
3 Night Salou
Add on
12 May £1449 £1859 £2029 SOLD OUT £159
19 May £1429 £1989 £1989 £3049 £159
26 May £1599 £1999 £2189 £4699 £69
2 Jun £1489 £1889 £2149 £3549 £169
16 Jun £1499 £1899 £1939 £2869 £149
7 Jul £1489 £1849 £1959 £2999 £249
14 Jul £1469 £1899 £1979 £2964 £179
21 Jul £1499 £1919 £1979 £2779 £199
28 Jul £1489 £1879 £1979 £3389 £229
4 Aug £1489 £1879 £1959 £2839 £229
11 Aug £1489 £1999 £2059 £2839 £199
18 Aug £1459 £1849 £1929 £2669 £219
25 Aug £1469 £1859 £1899 £2699 £199
1 Sep £1369 £1719 £1799 £2839 £219
15 Sep £1299 £1699 £1759 £2999 £179
22 Sep £1299 £1729 £1779 £2899 £179
29 Sep £1269 £1649 £1769 £2599 £159
6 Oct £1299 £1639 £1749 £2779 £159
13 Oct £1199 £1659 £1699 £2689 £189
20 Oct £1599 £1879 £2059 £2949 £49
27 Oct £1579 £1889 £1979 £2879 £49
Add on 3 nights' 4* half-board
hotel stay in Salou with all transfers
from only £49pp extra
15
Call now to book: 0800 082 2170 or visit
www.jetlinecruise.com/cruise-packages/epic-premium-all-inclusive-med-cruise-512