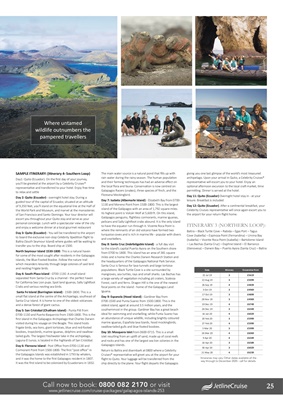 Date Itinerary Oceanview from
25 Jul 19 3 £5619
22 Aug 19 3 £5099
26 Sep 19 4 £4839
3 Oct 19 3 £4969
17 Oct 19 3 £4899
28 Nov 19 3 £4969
19 Dec 19 4 £6749
26 Dec 19 3 £6349
16 Jan 20 4 £6029
20 Feb 20 3 £5999
27 Feb 20 4 £5999
5 Mar 20 3 £5999
26 Mar 20 4 £6069
9 Apr 20 4 £6349
16 Apr 20 3 £6589
30 Apr 20 3 £6029
21 May 20 4 £6239
Itineraries may vary. Other dates available all the
way through to December 2020 - call for details.
SAMPLE ITINERARY: (Itinerary 4- Southern Loop)
Day1: Quito (Ecuador). On the first day of your journey,
you'll be greeted at the airport by a Celebrity Cruises®
representative and transferred to your hotel. Enjoy free time
to relax and settle
Day 2: Quito (Ecuador) - overnight hotel stay. During a
guided tour of the capital of Ecuador, situated at an altitude
of 9,350 feet, you'll stand on the equatorial line at the Half of
the World Park and Museum, and marvel at the monasteries
of San Francisco and Santo Domingo. Your tour director will
escort you throughout your Quito stay and serve as your
personal concierge. Lunch with a spectacular view of the city
and enjoy a welcome dinner at a local gourmet restaurant
Day 3: Quito (Ecuador) - You will be transfered to the airport
to board the exclusive non-stop Celebrity Xpedition flight to
Baltra (South Seymour Island) where guides will be waiting to
transfer you to the ship. Board ship at 1500.
North Seymour Island 1530-1800. This is a natural haven
for some of the most sought after residents in the Galapagos
Islands, the Blue-Footed Boobie. Follow the nature trail
which meanders leisurely through large colonies of said bird
and nesting Frigate birds.
Day 4: South Plaza Island - 0700-1130. A small island
separated from Santa Cruz by a channel - the perfect haven
for California Sea Lion pups. Spot land iguanas, Sally Lightfoot
Crabs and various nesting sea birds.
Santa Fe Island (Barrington island) - 1500-1800. This is a
small flat island at the centre of the Archipelago, southeast of
Santa Cruz Island. It is home to one of the oldest volcanoes
and a dense forest of giant cactus.
Day 5: San Cristobal (Chatham island) - Punta Pitt from
0700-1130 and Puerto Baquerzio from 1500-1800. This is the
first island in the Galapagos Archipelago that Charles Darwin
visited during his voyage on the Beagle. This island hosts
frigate birds, sea lions, giant tortoises, blue and red-footed
boobies, tropicbirds, marine iguanas, dolphins and swallowtailed
gulls. The largest freshwater lake in the archipelago,
Laguna El Junco, is located in the highlands of San Cristóbal.
Day 6: Floreana Island - Post Office from 0700-1130 and
Cormorant Point from 1500-1800. The first "post office" in
the Galapagos Islands was established in 1793 by whalers,
and it was the home to the first Galapagos resident in 1807.
It was the first island to be colonized by Ecuadorians in 1832.
The main water source is a natural pond that fills up with
rain water during the rainy season. The human population
and their farming techniques has had an adverse effect on
the local flora and fauna. Conservation is now centred on
Galapagos Racers (snakes), three species of finch, and the
Floreana Mockingbird.
Day 7: Isabela (Albemarle Island) - Elizabeth Bay from 0700-
1130 and Moreno Point from 1500-1800. This is the largest
island of the Galápagos with an area of 1,792 square miles.
Its highest point is Volcán Wolf at 5,600 ft. On this island,
Galápagos penguins, flightless cormorants, marine iguanas,
pelicans and Sally Lightfoot crabs abound. It is the only island
to have the equator run through it. Vicente Roca Point is
where the remnants of an old volcano have formed two
turquoise coves and is rich in marine life - popular with divers
and snorkellers.
Day 8: Santa Cruz (Indefatigable Island) - a full day visit
to the island's capital Puerto Ayora on the Southern shore
from 0700 to 1800. This island has an area of 381 square
miles and is home the Charles Darwin Research Station and
the headquarters of the Galápagos National Park Service.
Santa Cruz is famous for lava tunnels and large tortoise
populations. Black Turtle Cove is a site surrounded by
mangroves, sea turtles, rays and small sharks. Las Bachas has
a large variety of vegetation including pit craters, Scalesia
Forest, cacti and ferns. Dragon Hill is the one of the newest
focal points on the island - home of the Galapagos Land
Iguana.
Day 9: Espanola (Hood Island) - Gardiner Bay from
0700-1500 and Punta Suarez from 1500-1800. This is the
oldest island, aged at around 3.5 million years, and the
southernmost in the group. Gardiner Bay has a great beach
ideal for swimming and snorkelling; while Punta Suarez has
an abundance of unique wildlife, including brightly coloured
marine iguanas, Española lava lizards, hood mockingbirds,
swallow-tailed gulls and blue-footed boobies.
Day 10: Mosquera Islet from 0600-0715. This is a small
islet resulting from an uplift of sand, made up of coral reefs
and rocks and has one of the largest sea lion colonies in the
Galapagos Islands.
Return to Baltra and disembark at 0800 where a Celebrity
Cruises® representative will greet you at the airport for your
flight to Quito. Your luggage will be transferred from the
ship directly to the plane. Your flight departs the Galapagos
giving you one last glimpse of the world's most treasured
archipelago. Upon your arrival in Quito, a Celebrity Cruises®
representative will escort you to your hotel. Enjoy an
optional afternoon excursion to the local craft market, time
permitting. Dinner is served at the hotel.
Day 11: Quito (Ecuador) Overnight hotel stay in - at your
leisure. Breakfast is included
Day 12: Quito (Ecuador). After a continental breakfast, your
Celebrity Cruises representative will once again escort you to
the airport for your return flight home.
ITINERARY 3 (NORTHERN LOOP):
Baltra - Black Turtle Cove - Rabida - Egas Port - Tagus
Cove (Isabella) - Espinoza Point (Fernandina) - Urvina Bay
(Isabella) - Vicente Roca Point (Isabella) - Bartolome Island
- Las Bachas (Santa Cruz) - Daphne Island - El Barranco
(Genovesa) - Darwin Bay - Puerto Ayora (Santa Cruz) - Baltra
Where untamed
wildlife outnumbers the
pampered travellers
25
Call now to book: 0800 082 2170 or visit