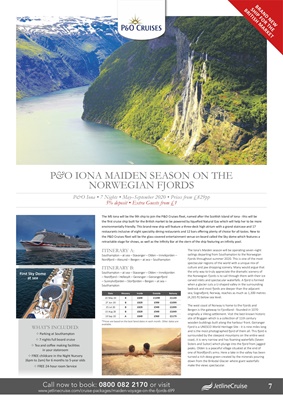 ITINERARY A:
Southampton - at sea - Stavanger - Olden - Innvikjorden -
Nordfjord - Alesund - Bergen - at sea - Southampton
ITINERARY B:
Southampton - at sea - Stavanger - Olden - Innvikjorden
- Nordfjord - Hellesylt - Geiranger - Geirangerfjord
- Sunnylvsfjorden - Storfjorden - Bergen - at sea -
Southampton
P&O IONA MAIDEN SEASON ON THE
NORWEGIAN FJORDS
P&O Iona • 7 Nights • May-September 2020 • Prices from £829pp
5% deposit • Extra Guests from £1
WHAT'S INCLUDED:
✥ Parking at Southampton
✥ 7 nights full board cruise
✥ Tea and coffee making facilities
in your stateroom
✥ FREE childcare in the Night Nursery
(6pm to 2am) for 6 months to 5-year olds
✥ FREE 24-hour room Service
The MS Iona will be the 9th ship to join the P&O Cruises fleet, named after the Scottish Island of Iona - this will be
the first cruise ship built for the British market to be powered by liquefied Natural Gas which will help her to be more
environmentally friendly. This brand-new ship will feature a three-deck high atrium with a grand staircase and 17
restaurants inclusive of eight speciality dining restaurants and 12 bars offering plenty of choice for all tastes. New to
the P&O Cruises fleet will be the glass covered entertainment venue on-board called the Sky dome which features a
retractable stage for shows, as well as the Infinity Bar at the stern of the ship featuring an infinity pool.
Date Itinerary Inside Outside Balcony
23 May 20 B £849 £1099 £1149
27 Jun 20 B £829 £999 £1099
25 Jul 20 B £829 £949 £1099
15 Aug 20 B £829 £949 £1049
19 Sep 20 A £849 £969 £1179
*Prices are based on the best fared dates in each month. Other dates are
available.
First Sky Dome
at sea
BRAND NEW
SHIP FOR THE
BRITISH MARKET
The Iona's Maiden season will be operating seven-night
sailings departing from Southampton to the Norwegian
Fjords throughout summer 2020. This is one of the most
spectacular regions of the world with a unique mix of
culture and jaw dropping scenery. Many would argue that
the only way to truly appreciate the dramatic scenery of
the Norwegian Fjords is to sail through them with their ice
carved inlets and spectacular waterfalls. A fjord is formed
when a glacier cuts a U-shaped valley in the surrounding
bedrock and most fjords are deeper than the adjacent
sea; Sognefjord, Norway, reaches as much as 1,300 metres
(4,265 ft) below sea level.
The west coast of Norway is home to the Fjords and
Bergen is the gateway to Fjordland - founded in 1070
originally a Viking settlement. Visit the best known historic
site of Bryggen which is a collection of 11th century
wooden buildings built along the harbour front. Geiranger
Fjord is a UNESCO World Heritage Site - it is nine miles long
and is the most photographed fjord of them all. This fjord is
surrounded by the steepest mountains on the entire west
coast, it is very narrow and has foaming waterfalls (Seven
Sisters and Suitor) which plunge into the fjord from jagged
peaks. Olden is a peaceful village situated at the end of
one of Nordfjord's arms. Here a lake in the valley has been
turned a rich deep green created by the minerals pouring
down from the Briksdal Glacier where giant waterfalls
make the views spectacular.
7
Call now to book: 0800 082 2170 or visit
www.jetlinecruise.com/cruise-packages/maiden-voyage-on-the-fjords-699