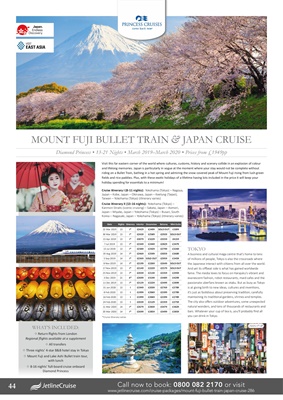 TOKYO
A business and cultural mega centre that's home to tens
of millions of people, Tokyo is also the crossroads where
the Japanese interact with citizens from all over the world.
And yet its offbeat side is what has gained worldwide
fame. The media loves to focus on Harajuku's vibrant and
evanescent fashion, robot restaurants, maid cafes and the
passionate uberfans known as otaku. But as busy as Tokyo
is at giving birth to new ideas, cultures and inventions,
it's just as fastidious about preserving tradition, carefully
maintaining its traditional gardens, shrines and temples.
The city also offers outdoor adventures, some unexpected
natural wonders, and tens of thousands of restaurants and
bars. Whatever your cup of tea is, you'll probably find all
you can drink in Tokyo.
MOUNT FUJI BULLET TRAIN & JAPAN CRUISE
Diamond Princess • 13-21 Nights • March 2019-March 2020 • Prices from £1949pp
WHAT'S INCLUDED:
✥ Return flights from London
Regional flights available at a supplement
✥ All transfers
✥ Three nights' 4-star B&B hotel stay in Tokyo
✥ Mount Fuji and Lake Ashi Bullet train tour,
with lunch
✥ 8-16 nights' full-board cruise onboard
Diamond Princess
Visit this far eastern corner of the world where cultures, customs, history and scenery collide in an explosion of colour
and lifelong memories. Japan is particularly in vogue at the moment where your stay would not be complete without
riding on a Bullet Train, bathing in a hot spring and admiring the snow covered peak of Mount Fuji rising from lush green
fields and rice paddies. Plus, with these exotic holidays of a lifetime having lots included in the price it will keep your
holiday spending for essentials to a minimum!
Cruise itinerary I (8-11 nights): Yokohama (Tokyo) - Nagoya,
Japan - Kobe, Japan - Okinawa, Japan - Keelung (Taipei),
Taiwan - Yokohama (Tokyo) (itinerary varies)
Cruise itinerary II (13-16 nights): Yokohama (Tokyo) -
Kanmon Straits (scenic cruising) - Sakata, Japan - Aomori,
Japan - Miyako, Japan - Yokohama (Tokyo) - Busan, South
Korea - Nagasaki, Japan - Yokohama (Tokyo) (itinerary varies)
Date Nights Itinerary Interior Oceanview Balcony Mini-Suite
22 Mar 2019 13 I* £2429 £2499 SOLD OUT £3399
30 Mar 2019 13 I* £2439 £2589 £2929 SOLD OUT
15 Apr 2019 13 I* £3079 £3229 £3559 £4159
7 Jul 2019 13 I* £2349 £2449 £2829 £3479
15 Jul 2019 13 I* £2389 £2429 £2799 £3269
19 Aug 2019 14 I* £2469 £2599 £3059 £3689
5 Sep 2019 14 I* £2369 SOLD OUT £2959 £3459
8 Nov 2019 14 I* £2199 £2269 £2649 SOLD OUT
17 Nov 2019 13 I* £2149 £2229 £2579 SOLD OUT
25 Nov 2019 13 I* £2039 £2139 £2359 £2959
3 Dec 2019 21 II* £2699 £3199 £3489 £4299
11 Dec 2019 13 I* £2129 £2229 £2499 £2899
31 Jan 2020 13 I £1949 £2039 £2769 £2789
8 Feb 2020 13 I £1999 £2069 £2399 £2789
16 Feb 2020 13 I £1999 £2069 £2399 £2789
24 Feb 2020 13 I £2039 £2129 £2359 £2759
11 Mar 2020 14 I* £2679 £2839 £3479 £3829
20 Mar 2020 14 I* £2699 £2859 £3499 £3859
*Cruise itinerary varies
44 Call now to book: 0800 082 2170 or visit
www.jetlinecruise.com/cruise-packages/mount-fuji-bullet-train-japan-cruise-286