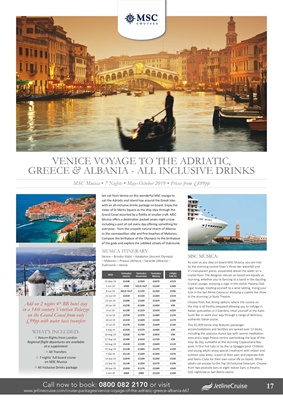 WHAT'S INCLUDED:
✥ Return flights from London
Regional flight departures are available
at a supplement
✥ All Transfers
✥ 7 nights' full board cruise
on MSC Musica
✥ All Inclusive Drinks package
MSC MUSICA:
As soon as you step on board MSC Musica, you are met
by the stunning central foyer's three-tier waterfall and
it's transparent piano, suspended above the water on a
crystal floor. The designer venues on board are equally as
stunning, whether you're dancing to a band in the dazzling
Crystal Lounge, enjoying a cigar in the stylish Havana Club
cigar lounge, treating yourself to a wine tasting, trying your
luck in the San Remo Casino or enjoying a superb live show
in the stunning La Scala Theatre.
Choose from five dining options where the cuisine on
the ship is all freshly prepared allowing you to indulge in
Italian specialities in Il Giardino, treat yourself at the Kaito
Sushi Bar or work your way through a range of delicious,
authentic Italian pizzas.
This 92,409 tonne ship features passenger
accommodations and facilities are spread over 13 decks;
including the spacious Aurea Spa with serene meditation
area and a large fitness centre overlooking the bow of the
ship. By day, sunbathe at the stunning Copacobana Bay
pool, in four hot tubs or by the La Spiaggia pool. Children
and young adults enjoy special treatment with indoor and
outdoor play areas, a pool of their own and separate Kids
and Teens Clubs for their own social life on board. While
adults can escape to the Top 16 Exclusive Solarium. Choose
from two poolside bars or eight indoor bars, a theatre,
Q32 nightclub or San Remo casino.
VENICE VOYAGE TO THE ADRIATIC,
GREECE & ALBANIA - ALL INCLUSIVE DRINKS
MSC Musica • 7 Nights • May-October 2019 • Prices from £899pp
MUSICA ITINERARY:
Venice - Brindisi (Italy) - Katakolon (Ancient Olympia)
- Mykonos - Pireaus (Athens) - Sarande (Albania) -
Dubrovnik - Venice.
Add on 2 nights 4* BB hotel stay
in a 14th century Venetian Palazzo
on the Grand Canal from only
£99pp with water taxi transfers
Set sail from Venice on this wonderful MSC voyage to
sail the Adriatic and island hop around the Greek Isles
with an all-inclusive drinks package on board. Enjoy the
views of St Marks Square as the ship slips through the
Grand Canal escorted by a flotilla of smaller craft. MSC
Musica offers a destination packed seven night cruise
including a port of call every day offering something for
everyone - from the unspoilt natural charm of Albania
to the cosmopolitan vibe and fine beaches of Mykonos.
Compare the birthplace of the Olympics to the birthplace
of the gods and explore the cobbled streets of Dubrovnik.
2019
Fantastica
Interior
Fantastica
Oceanview
Fantastica
Balcony
2 Night
Add On
25 May 19 £1449 £1559 £1679 £219
1 Jun 19 £999 SOLD OUT £1249 £269
8 Jun 19 SOLD OUT £1159 £1269 £256
15 Jun 19 £1019 £1159 £1269 £319
22 Jun 19 £1099 £1199 £1329 £289
29 Jun 19 £1239 £1349 £1469 £99
6 Jul 19 £1199 £1319 £1439 £229
13 Jul 19 £1259 £1379 £1489 £139
20 Jul 19 £1319 £1429 £1549 £179
27 Jul 19 £1479 £1599 £1699 £149
3 Aug 19 £1459 £1579 £1689 £99
10 Aug 19 £1629 £1749 £1859 £99
17 Aug 19 £1499 £1619 £1739 £99
24 Aug 19 £1419 £1539 £1649 £119
31 Aug 19 £1149 £1269 £1379 £199
7 Sep 19 £1119 £1239 £1349 £279
14 Sep 19 £1079 £1199 £1299 £249
21 Sep 19 £1149 £1259 £1379 £199
28 Sep 19 £1059 £1179 £1289 £269
5 Oct 19 £899 £999 £1129 £199
17
Call now to book: 0800 082 2170 or visit
www.jetlinecruise.com/cruise-packages/venice-voyage-of-the-adriatic-greece-albania-667