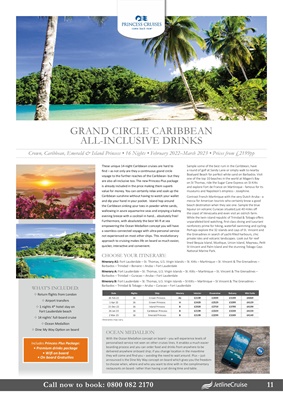 Call now to book: 0800 082 2170 11
GRAND CIRCLE CARIBBEAN
ALL-INCLUSIVE DRINKS
Crown, Caribbean, Emerald & Island Princess • 16 Nights • February 2022-March 2023 • Prices from £2199pp
CHOOSE YOUR ITINERARY:
Itinerary A1: Fort Lauderdale - St. Thomas, U.S. Virgin Islands - St. Kitts - Martinique - St. Vincent & The Grenadines -
Barbados - Trinidad - Bonaire - Aruba - Fort Lauderdale
Itinerary A: Fort Lauderdale - St. Thomas, U.S. Virgin Islands - St. Kitts - Martinique - St. Vincent & The Grenadines -
Barbados - Trinidad - Curacao - Aruba - Fort Lauderdale
Itinerary B: Fort Lauderdale - St. Thomas, U.S. Virgin Islands - St Kitts - Martinique - St Vincent & The Grenadines -
Barbados - Trinidad & Tobago - Aruba - Curacao - Fort Lauderdale
These unique 14-night Caribbean cruises are hard to
find - as not only are they a continuous grand circle
voyage to the further reaches of the Caribbean- but they
are also all-inclusive too. The new Princess Plus package
is already included in the price making them superb
value for money. You can certainly relax and soak up the
Caribbean sunshine without having to watch your wallet
and dip your hand in your pocket. Island hop around
the Caribbean sinking your toes in powder white sands,
wallowing in azure aquamarine seas and enjoying a balmy
evening breeze with a cocktail in hand… absolutely free!
Furthermore, with absolutely the best Wi-fi at sea
empowering the Ocean Medallion concept you will have
a seamless connected voyage with ultra-personal service
not experienced on most other ships. This revolutionary
approach to cruising makes life on board so much easier,
quicker, interactive and convenient.
Sample some of the best rum in the Caribbean, have
a round of golf at Sandy Lane or simply walk to nearby
Boatyard Beach for perfect white sand on Barbados. Visit
one of the top 10 beaches in the world at Magen's Bay
on St Thomas, ride the Sugar Cane Express on St Kitts
and explore Fort de France on Martinique - famous for its
museums and Napoleon's empress - Josephine.
Contrast French Martinique with the very Dutch Aruba - a
mecca for American tourists who certainly know a good
beach destination when they see one. Sample the blue
liqueur on volcanic Curacao situated just 40 miles off
the coast of Venezuela and even visit an ostrich farm.
While the twin-island republic of Trinidad & Tobago offers
unparalleled bird watching, first-class diving and luxuriant
rainforests prime for hiking, waterfall swimming and cycling.
Perhaps explore the 32 islands and cays of St. Vincent and
the Grenadines in search of yacht-filled harbours, chic
private isles and volcanic landscapes. Look out for reef
lined Bequia Island, Mustique, Union Island, Mayreau, Petit
St Vincent and Palm Island and the stunning Tobago Cays
National Marine Park.
WHAT'S INCLUDED:
✥ Return flights from London
✥ Airport transfers
✥ 1 nights 4* hotel stay on
Fort Lauderdale beach
✥ 14 nights' full-board cruise
✥ Ocean Medallion
✥ Dine My Way Option on board
Date Nights Ship Itinerary Interior Oceanview Balcony Mini Suite
26 Feb 22 16 Crown Princess A1 £2199 £2499 £3199 £4069
1 Apr 22 16 Crown Princess A £2429 £2529 £3299 £4129
21 Dec 22 16 Island Princess B £2929 £2759 £3799 £4199
26 Jan 23 16 Caribbean Princess B £2199 £2329 £3239 £4159
2 Mar 23 16 Emerald Princess B £2199 £2299 £3249 £4149
Itineraries may vary.
Includes Princess Plus Package:
• Premium drinks package
• Wifi on board
• On board Gratuities
OCEAN MEDALLION
With the Ocean Medallion concept on board - you will experience levels of
personalised service not seen on other cruises lines. It enables a much easier
boarding process and you can order food and drinks from anywhere to be
delivered anywhere onboard ship; if you change location in the meantime
they will come and find you - avoiding the need to wait around. Plus - just
announced is the Dine My Way concept on-board which gives you the freedom
to choose when, where and who you want to dine with in the complimentary
restaurants on board- rather than having a set dining time and table.