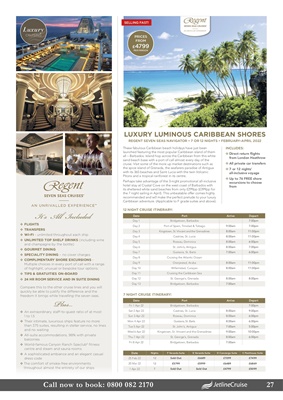 Call now to book: 0800 082 2170 27
It's All Included
✥ FLIGHTS
✥ TRANSFERS
✥ WI-FI - unlimited throughout each ship
✥ UNLIMITED TOP SHELF DRINKS (including wine
and champagne by the bottle)
✥ GOURMET DINING
✥ SPECIALITY DINING - no cover charges
✥ COMPLIMENTARY SHORE EXCURSIONS -
Multiple choices in every port of call with a range
of highlight, unusual or bespoke tour options.
✥ TIPS & GRATUITIES ON-BOARD
✥ 24 HR ROOM SERVICE AND IN SUITE DINING
Compare this to the other cruise lines and you will
quickly be able to justify the difference and the
freedom it brings while travelling the seven seas.
Plus...✥ An extraordinary staff-to-guest ratio of at most
1 to 1.5
✥ Their intimate, luxurious ships feature no more
than 375 suites, resulting in stellar service, no lines
and no waiting
✥ All-suite accommodations, 98% with private
balconies
✥ World-famous Canyon Ranch Spaclub® fitness
centre and steam and sauna rooms
✥ A sophisticated ambiance and an elegant casual
dress code
✥ The comfort of smoke-free environments
throughout almost the entirety of our ships
Date Nights F Veranda Suite E Veranda Suite D Concierge Suite C Penthouse Suite
25 Feb 22 12 Sold Out £6689 £7299 £7499
20 Mar 22 12 £5799 £5999 £6489 £6869
1 Apr 22 7 Sold Out Sold Out £4799 £5099
LUXURY LUMINOUS CARIBBEAN SHORES
REGENT SEVEN SEAS NAVIGATOR • 7 OR 12 NIGHTS • FEBRUARY-APRIL 2022
These fabulous Caribbean beach holidays have just been
launched featuring the most popular Caribbean island of them
all - Barbados. Island hop across the Caribbean from this white
sand beach base with a port of call almost every day of the
cruise. Visit some of the more up market destinations such as
the spice island of Grenada, the seafarers paradise of Antigua
with its 365 beaches and Saint Lucia with the twin Volcanic
Pitons and a tropical rainforest in its centre.
Perhaps take advantage of the 3-night promotional all-inclusive
hotel stay at Crystal Cove on the west coast of Barbados with
its sheltered white sand beaches from only £299pp (£399pp for
the 7 night sailing in April). This unbeatable offer comes highly
recommended and will make the perfect prelude to your luxury
Caribbean adventure. (Applicable to F grade suites and above).
INCLUDES:
✥ Direct return flights
from London Heathrow
✥ All private car transfers
✥ 7 or 12 nights'
all-inclusive voyage
✥ Up to 76 FREE shore
excursions to choose
from
SELLING FAST!
PRICES
FROM
£4799 PER PERSON
Date Port Arrive Depart
Day 1 Bridgetown, Barbados 7:00pm
Day 2 Port of Spain, Trinidad & Tobago 9:00am 7:00pm
Day 3 Kingstown, St. Vincent and the Grenadines 8:00am 11:00pm
Day 4 Castries, St. Lucia 8:00am 11:00pm
Day 5 Roseau, Dominica 8:00am 6:00pm
Day 6 St. John's, Antigua 8:00am 7:00pm
Day 7 Gustavia, St. Barts 7:00am 6:00pm
Day 8 Cruising the Atlantic Ocean
Day 9 Oranjestad, Aruba 8:00am 11:00pm
Day 10 Willemstad, Curaçao 8:00am 11:00pm
Day 11 Cruising the Caribbean Sea
Day 12 St. George's, Grenada 8:00am 8:00pm
Day 13 Bridgetown, Barbados 7:00am
12 NIGHT CRUISE ITINERARY:
Luxury
CRUISING
Date Port Arrive Depart
Fri 1 Apr 22 Bridgetown, Barbados 7:00pm
Sat 2 Apr 22 Castries, St. Lucia 8:00am 9:00pm
Sun 3 Apr 22 Roseau, Dominica 8:00am 6:00pm
Mon 4 Apr 22 Gustavia, St. Barts 8:00am 6:00pm
Tue 5 Apr 22 St. John's, Antigua 7:00am 5:00pm
Wed 6 Apr 22 Kingstown, St. Vincent and the Grenadines 9:00am 10:00pm
Thu 7 Apr 22 St. George's, Grenada 8:00am 6:00pm
Fri 8 Apr 22 Bridgetown, Barbados 7:00am
7 NIGHT CRUISE ITINERARY: