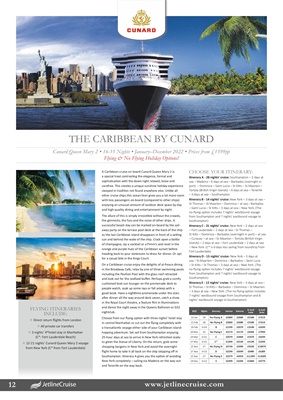 12
FLYING ITINERARIES
INCLUDE:
✥ Direct return flights from London
✥ All private car transfers
✥ 3 nights' 4*hotel stay in Manhattan
(C*: Fort Lauderdale Beach)
✥ 12-21 nights' Cunard Queen Mary 2 voyage
from New York (C* from Fort Lauderdale)
A Caribbean cruise on board Cunard Queen Mary 2 is
a special treat contrasting the elegance, formal and
sophistication with the down-right relaxed, loose and
carefree. This creates a unique sunshine holiday experience
steeped in tradition not found anywhere else. Unlike all
other cruise ships this ocean liner gives you a lot more room
with less passengers on-board (compared to other ships)
enjoying an unusual amount of outdoor deck space by day
and high-quality dining and entertainment by night.
The allure of this is simply irresistible without the crowds,
the gimmicks, the fuss and the noise of other ships. A
successful beach day can be marked on-board by the sailaway
party on the terrace pool deck at the back of the ship
as the last Caribbean Island disappears in front of a setting
sun and behind the wake of the ship. Crack open a bottle
of champagne, sip a cocktail or a Pimm's and revel in the
orange and purple hues of the Caribbean sunset before
heading back to your stateroom to dress for dinner. Or opt
for a casual bite in the Kings Court.
On a Caribbean cruise enjoy the delights of al-fresco dining
in the Broadway Cafe, relax by one of three swimming pools
including the Pavilion Pool with the glass roof retracted
and look out for the seafood buffet. Perhaps grab a comfy
cushioned teak sun lounger on the promenade deck to
people watch, soak up some rays or fall asleep with a
good book. Have a nighttime promenade under the stars
after dinner all the way around deck seven, catch a show
in the Royal Court theatre, a feature film in Illuminations
and dance the night away in the Queens Ballroom or G32
nightclub.
Choose from our flying option with three nights' hotel stay
in central Manhattan or cut out the flying completely with
a transatlantic voyage either side of your Caribbean islandhopping
adventure. Set sail from Southampton enjoying
25-hour days at sea to arrive in New York refreshed ready
to greet the Statue of Liberty. On the return, grab some
shopping bargains in New York and avoid the overnight
flight home to take it all back on the ship stepping off in
Southampton. Itinerary A gives you the option of avoiding
New York completely - sailing via Madeira on the way out
and Tenerife on the way back.
2022 Nights Itinerary Interior Balcony Pr Grill
Suite
Q Grill
Suite
14 Jan 28 No Flying A £2889 £2889 £5589 £7219
15 Feb 28 No Flying B £2889 £2889 £5589 £7219
19 Feb 3+14 B £1599 £2079 £3549 £4399
20 Mar 35 No Flying C £3179 £3179 £6069 £7999
24 Mar 3+21 C £2079 £2869 £5079 £6399
27 Mar 3+15 C* £1999 £2539 £4199 £5299
13 Nov 27 No Flying D £2749 £3999 £9339 £10979
17 Nov 3+13 D £2299 £3099 £5499 £6289
15 Dec 27 No Flying E £3279 £4959 £11299 £13289
19 Dec 3+12 E £2499 £3269 £5869 £6779
THE CARIBBEAN BY CUNARD
Cunard Queen Mary 2 • 16-35 Nights • January-December 2022 • Prices from £1599pp
Flying & No Flying Holiday Options!
CHOOSE YOUR ITINERARY:
Itinerary A - 28 nights' cruise: Southampton - 3 days at
sea - Madeira - 6 days at sea - Barbados (overnight in
port) - Dominica - Saint Lucia - St Kitts - St Maarten -
Tortola (British Virgin Islands) - 6 days at sea - Tenerife
- 3 days at sea - Southampton
Itinerary B - 14 nights' cruise: New York - 3 days at sea -
St Thomas - St Maarten - Dominica - at sea - Barbados
- Saint Lucia - St Kitts - 3 days at sea - New York. (The
no-flying option includes 7 nights' westbound voyage
from Southampton and 7 nights' eastbound voyage to
Southampton)
Itinerary C - 21 nights' cruise: New York - 2 days at sea
- Fort Lauderdale - 2 days at sea - St Thomas -
St Kitts - Dominica - Barbados (overnight in port) - at sea
- Curacao - at sea - St Maarten - Tortola (British Virgin
Islands) - 2 days at sea - Fort Lauderdale - 2 days at sea
- New York. (C* is 6 days less sailing from roundtrip from
Fort Lauderdale)
Itinerary D - 13 nights' cruise: New York - 3 days at
sea - St Maarten - Dominica - Barbados - Saint Lucia
- St Kitts - St Thomas - 3 days at sea - New York. (The
no-flying option includes 7 nights' westbound voyage
from Southampton and 7 nights' eastbound voyage to
Southampton)
Itinerary E - 12 nights' cruise: New York - 3 days at sea -
St Thomas - St Kitts - Barbados - Dominica - St Maarten
- 3 days at sea - New York. (The no-flying option includes
7 nights' westbound voyage from Southampton and 8
nights' eastbound voyage to Southampton)