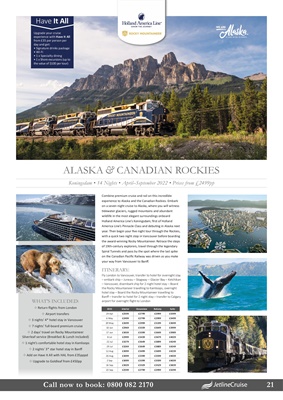 Call now to book: 0800 082 2170 21
ITINERARY:
Fly London to Vancouver, transfer to hotel for overnight stay
- embark ship - Juneau - Skagway - Glacier Bay - Ketchikan
- Vancouver, disembark ship for 2 night hotel stay - Board
the Rocky Mountaineer travelling to Kamloops, overnight
hotel stay - Board the Rocky Mountaineer travelling to
Banff - transfer to hotel for 2 night stay - transfer to Calgary
airport for overnight flight to London
ALASKA & CANADIAN ROCKIES
Koningsdam • 14 Nights • April-September 2022 • Prices from £2499pp
WHAT'S INCLUDED:
✥ Return flights from London
✥ Airport transfers
✥ 3 nights' 4* hotel stay in Vancouver
✥ 7 nights' full-board premium cruise
✥ 2 days' travel on Rocky Mountaineer
Silverleaf service (Breakfast & Lunch included)
✥ 1 night's comfortable hotel stay in Kamloops
✥ 2 nights' 3* star hotel stay in Banff
✥ Add on Have It All with HAL from £35pppd
✥ Upgrade to Goldleaf from £450pp
Combine premium cruise and rail on this incredible
experience to Alaska and the Canadian Rockies. Embark
on a seven-night cruise to Alaska, where you will witness
tidewater glaciers, rugged mountains and abundant
wildlife in the most elegant surroundings onboard
Holland America Line's Koningsdam; first of Holland
America Line's Pinnacle Class and debuting in Alaska next
year. Then begin your five night tour through the Rockies,
with a quick two night stop in Vancouver before boarding
the award-winning Rocky Mountaineer. Retrace the steps
of 19th-century explorers, travel through the legendary
Spiral Tunnels and pass by the spot where the last spike
on the Canadian Pacific Railway was driven as you make
your way from Vancouver to Banff.
2022 Interior Oceanview Balcony Suite
29 Apr £2599 £2799 £2999 £3399
6 May £2499 £2799 £2999 £3499
20 May £2699 £2999 £3199 £3699
10 Jun £2969 £3339 £3649 £3999
17 Jun £3039 £3399 £3649 £3989
8 Jul £2999 £3439 £3679 £4029
22 Jul £3279 £3649 £3899 £4249
29 Jul £3269 £3649 £3889 £4249
12 Aug £3099 £3499 £3699 £4239
26 Aug £3099 £3399 £3599 £4039
2 Sep £3099 £3399 £3599 £4039
16 Sep £3029 £3329 £3529 £3839
23 Sep £2599 £2799 £2999 £3299
Upgrade your cruise
experience with Have It All
from £35 per person per
day and get:
• Signature drinks package
• Wi-Fi
• 1 x Specialty dining
• 1 x Shore excursions (up to
the value of $100 per tour)
Have It All