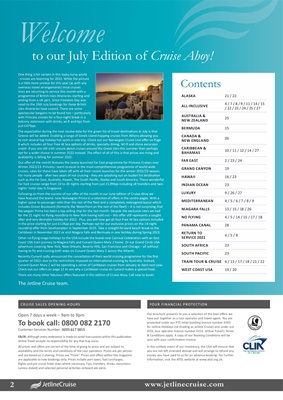 2 Open 7 days a week - 9am to 9pm
To book call: 0800 082 2170
Customer Services Number: 0203 617 5815
E&OE: Although every endeavour is made to avoid inaccuracies within this publication
Jetline Travel accepts no responsibility for any that may occur.
All prices and offers are correct at the time of going to press and are subject to
availability and the terms and conditions of the tour operators. Prices are per person
and are based on 2 sharing. Prices are "From". Prices and offers within this magazine
are applicable to new bookings only. Prices include port taxes, fuel surcharges,
flights and pre cruise hotel stays where necessary. Tips, transfers, drinks, excursions
(unless stated) and selected personal activities onboard are extra.
CRUISE SALES OPENING HOURS
Our brochure presents to you a selection of the best offers we
have put together as a tour operator and travel agent. You are
protected under our PTS retail bonding licence number 5593
for Jetline Holidays Ltd (trading as Jetline Cruise) and under our
ATOL tour operator licence number 6153. Jetline Travel's Terms
& Conditions apply. A copy of our Booking Conditions will be
sent with your confirmation invoice.
In the unlikely event of our insolvency, the CAA will ensure that
you are not left stranded abroad and will arrange to refund any
money you have paid to us for an advance booking. For further
information, visit the ATOL website at www.atol.org.uk.
YOUR FINANCIAL PROTECTION
One thing is for certain in this topsy turvy world
- cruises are booming for 2022. While the picture
is a little more unclear for this year (as with any
overseas travel arrangements) most cruises
lines are returning to service this month with a
programme of British Isles itineraries starting and
ending from a UK port. Since Freedom Day was
reset to the 19th July bookings for these British
isles itineraries have soared. There are some
spectacular bargains to be found too - particularly
with Princess cruises for a four-night break in a
balcony stateroom with drinks, wi-fi and tips from
just £479pp.
The expectation during the next review date for the green list of travel destinations in July is that
Greece will be added. Enabling a range of Greek island-hopping cruises from Athens allowing you
to visit several top holiday hot spots in one trip. Check out our Norwegian Cruise Line offer on Page
8 which includes all four Free At Sea options of drinks, specialty dining, Wi-fi and shore excursion
credit. If you are still a bit unsure about cruises around the Greek Isles this summer then perhaps
opt for a wider choice in summer 2022 instead. The effect of all of this is that prices are rising and
availability is falling for summer 2022.
Our offer of the month features the newly launched Far East programme for Princess Cruises over
Winter 2022/23. Princess- seem to excel in the most comprehensive programme of world-wide
cruises, sales for these have taken off with all their recent launches for the winter 2022/23 season.
For many people - after two years of not cruising - they are splashing out on bucket list destination
such as the Far East, Australia, Hawaii, The South Pacific, Alaska and South America. These wonderful
Far East cruises range from 10 to 20 nights starting from just £1299pp including all transfers and twonights'
hotel stay in Singapore.
Following on from the success of our offer of the month in our June edition of Cruise Ahoy we
have featured the brand- new Norwegian Prima in a selection of offers in the centre pages. With a
higher space to passenger ratio than the rest of the fleet and a completely redesigned layout which
includes Ocean Boulevard (formerly the Waterfront on the rest of the fleet) - it is not surprising that
Norwegian Prima has been a top selling ship for the last month. Despite the exclusive rates we had
for the 21 night no flying roundtrip to New York having sold out - this offer still represents a sought
after and very desirable holiday for 2022. Plus, you will now get all four Free At Sea options included
in the price starting for just £124pp per day. Perhaps opt for our exclusive prices on the 14-night
roundtrip offer from Southampton in September 2023. Take a straight-forward beach break to the
Caribbean in November 2022 or visit Niagara Falls and Bermuda in one holiday during Spring 2023.
Other no flying mega holidays to the USA include the brand-new Carnival Celebration with an East
Coast USA train journey to Niagara Falls and Cunard Queen Mary 2 home. Or our Grand Circle USA
adventure covering New York, New Orleans, Beverly Hills, San Francisco and Chicago - all without
having to fly and cruising both ways on Cunard Queen Mary 2 across the Atlantic.
Recently Cunard sadly announced the cancellation of their world cruising programme for the first
quarter of 2022- due to the restrictions imposed on international cruising by Australia. Instead,
Cunard Queen Mary 2 will be operating a series of Caribbean cruises from January to April next year.
Check out our offers on page 12 to see why a Caribbean cruise on Cunard makes a special treat.
There are many other fabulous offers featured in this edition of Cruise Ahoy. Call now to book!
The Jetline Cruise team.
to our July Edition of Cruise Ahoy!
Welcome
ALASKA 21 / 22
ALL-INCLUSIVE
4 / 7 / 8 / 9 / 11 / 14 / 15
/ 22 / 23 / 24 / 25 / 27
AUSTRALIA &
NEW ZEALAND
25
BERMUDA 15
CANADA &
NEW ENGLAND
26
CARIBBEAN &
BAHAMAS
10 / 11 / 12 / 14 / 27
FAR EAST 2 / 23 / 24
GRAND CANYON 19
HAWAII 16 / 23
INDIAN OCEAN 23
LUXURY 9 / 26 / 27
MEDITERRANEAN 4 / 5 / 6 / 7 / 8 / 9
NIAGARA FALLS 13 / 15 / 18 / 26
NO FLYING 4 / 5 / 14 / 15 / 17 / 18
PANAMA CANAL 28
RETURN TO
SERVICE 2021
4 / 5 / 8
SOUTH AFRICA 23
SOUTH PACIFIC 23
TRAIN TOUR & CRUISE 6 / 13 / 17 / 18 / 21 / 22
WEST COAST USA 19 / 20
Contents