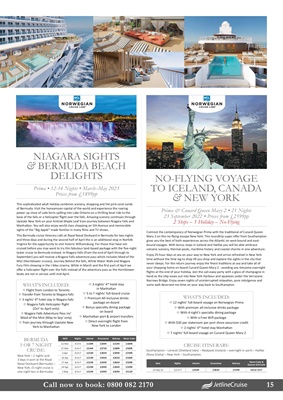 Call now to book: 0800 082 2170 15
NIAGARA SIGHTS
& BERMUDA BEACH
DELIGHTS
Prima • 12-14 Nights • March-May 2023
Prices from £1899pp
BERMUDA
5 OR 7 NIGHT
CRUISE:
This sophisticated adult holiday combines scenery, shopping and the pink coral sands
of Bermuda. Visit the honeymoon capital of the world and experience the roaring
power up close of Lake Eerie spilling into Lake Ontario on a thrilling boat ride to the
base of the falls or a helicopter flight over the falls. Amazing scenery continues through
Upstate New York on your Amtrak Maple Leaf train journey between Niagara Falls and
Manhattan. You will also enjoy world class shopping on 5th Avenue and memorable
sights of the "Big Apple" made familiar in many films and TV shows.
This Bermuda cruise itinerary calls at Royal Naval Dockyard in Bermuda for two nights
and three days and during the second half of April the is an additional stop in Norfolk
Virginia for the opportunity to visit historic Williamsburg. For those that have not
cruised before you may want to try this fabulous land-based package with the five-night
taster cruise to Bermuda instead. In Niagara Falls (from the end of April through to
September) you will receive a Niagara Falls adventure pass which includes Maid of the
Mist (Hornblower cruises), Journey Behind the falls, White Water Walk and Niagara
Fury Film showing in the I-Max cinema. While in March and the first part of April we
offer a helicopter flight over the Falls instead of the adventure pass as the Hornblower
boats are not in service until mid-April.
WHAT'S INCLUDED:
✥ Flight from London to Toronto
✥ Transfer from Toronto to Niagara Falls
✥ 3 nights' 4* hotel stay in Niagara Falls
✥ Niagara Falls Helicopter flight
(Oct' to April only)
✥ Niagara Falls Adventure Pass inc'
Maid of the Mist (May to Sep' only)
✥ Train journey through Upstate New
York to Manhattan
✥ 3 nights' 4* hotel stay
in Manhattan
✥ 5 to 7 nights' full-board cruise
✥ Premium All-Inclusive drinks
package on-board
✥ Bonus specialty dining package
on board
✥ Manhattan port & airport transfers
✥ Direct overnight flight from
New York to London
2023 Nights Interior Oceanview Balcony Haven Suite
22 Mar 3+3+5 £1899 £2099 £2199 £3899
27 Mar 3+3+7 £2449 £2739 £2899 £5899
3 Apr 3+3+7 £2549 £2839 £2999 £5999
10 Apr 3+3+7 £2199 £2469 £2639 £5069
17 Apr 3+3+7 £2249 £2499 £2669 £5099
24 Apr 3+3+7 £2249 £2499 £2669 £5099
1 May 3+3+7 £2249 £2499 £2699 £5129
New York - 2 nights and
3 days in port at the Royal
Naval Dockyard (Bermuda) -
New York. (5 night cruise is
one night less in Bermuda)
NO-FLYING VOYAGE
TO ICELAND, CANADA
& NEW YORK
Prima & Cunard Queen Mary 2 • 21 Nights
23 September 2022 • Prices from £2599pp
2 Ships - 1 Holiday - No-Flying
Contrast the contemporary of Norwegian Prima with the traditional of Cunard Queen
Mary 2 on this no-flying escape New York. This roundtrip super offer from Southampton
gives you the best of both experiences across the Atlantic on west-bound and eastbound
voyages. With bonus stops in Iceland and Halifax you will be able embrace
volcanic scenery, thermal pools, maritime history and coastal charms in one adventure.
Enjoy 25-hour days at sea on your way to New York and arrive refreshed in New York
time without the time lag to shop till you drop and explore the sights in the city that
never sleeps. For the return journey enjoy the finest traditions at sea and take all of
your shopping home on board Cunard Queen Mary 2 - avoiding any tiresome overnight
flights at the end of your holiday. Join the sail-away party with a glass of champagne in
hand as the ship eases out into New York Harbour and squeezes under the Verrazano
Narrows Bridge. Enjoy seven nights of uninterrupted relaxation, pure indulgence and
some well-deserved me-time on your way back to Southampton.
WHAT'S INCLUDED:
✥ 12 nights' full-board voyage on Norwegian Prima
✥ With premium all-inclusive drinks package
✥ With 4 night's specialty dining package
✥ With a Free Wifi package
✥ With $50 per stateroom per port shore excursion credit
✥ 2 nights' 4* hotel stay Manhattan
✥ 7 nights' full-board voyage on Cunard Queen Mary 2
CRUISE ITINERARY:
Southampton - Lerwick (Shetland Isles) - Reykjavik (Iceland - overnight in port) - Halifax
(Nova Scotia) - New York - Southampton.
Date Nights Interior Oceanview Balcony
Haven Suite &
Queens Grill Suite
23 Sep 22 12+2+7 £2599 £3649 £3799 SOLD OUT