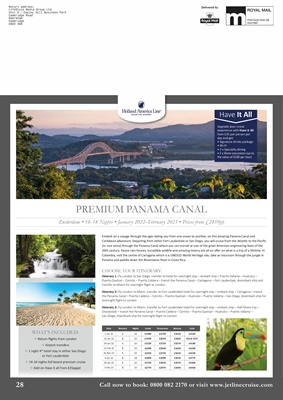 Call now to book: 0800 082 2170 or visit www.jetlinecruise.com
28 Call now to book: 0800 082 2170 or visit www.jetlinecruise.com
Return address:
LifeStyle Media Group Ltd
Unit D - Copley Hill Business Park
Cambridge Road
Babraham
Cambridge
CB22 3GN
WHAT'S INCLUDED:
✥ Return flights from London
✥ Airport transfers
✥ 1 night 4* hotel stay in either San Diego
or Fort Lauderdale
✥ 14-16 nights full-board premium cruise
✥ Add on Have it all from £35pppd
Embark on a voyage through the ages taking you from one ocean to another, on this amazing Panama Canal and
Caribbean adventure. Departing from either Fort Lauderdale or San Diego, you will cruise from the Atlantic to the Pacific
(or vice versa) through the Panama Canal where you can marvel at one of the great American engineering feats of the
20th century. Dense rain-forests, incredible wildlife and amazing history are all on offer on what is a trip of a lifetime. In
Colombia, visit the centre of Cartagena which is a UNESCO World Heritage site, take an excursion through the jungle in
Panama and paddle down the Reventazon River in Costa Rica.
Date Itinerary Nights Inside Oceanview Balcony Suite
1 Jan 22 1 16 £2489 £2769 £3329 £4329
15 Jan 22 2 16 £2459 £2659 £3369 SOLD OUT
29 Jan 22 1 16 £2529 £2729 £3279 £4189
12 Feb 22 2 16 £2499 £2699 £3249 £4299
16 Nov 22 1 16 £2559 £2759 £3229 £4229
4 Jan 23 3 18 £2899 £3099 £3639 £4779
20 Jan 23 1 16 £2729 £2929 £3379 £4389
3 Feb 23 2 16 £2779 £2979 £3449 £4459
CHOOSE YOUR ITINERARY:
Itinerary 1: Fly London to San Diego, transfer to hotel for overnight stay - embark ship - Puerto Vallarta - Huatulco -
Puerto Quetzal - Corinto - Puerto Caldera - transit the Panama Canal - Cartagena - Fort Lauderdale, disembark ship and
transfer to Miami for overnight flight to London
Itinerary 2: Fly London to Miami, transfer to Fort Lauderdale hotel for overnight stay - embark ship - Cartagena - transit
the Panama Canal - Puerto Caldera - Corinto - Puerto Quetzal - Huatulco - Puerto Vallarta - San Diego, disembark ship for
overnight flight to London
Itinerary 3: Fly London to Miami, transfer to Fort Lauderdale hotel for overnight stay - embark ship - Half Moon Cay -
Oranjestad - transit the Panama Canal - Puerto Caldera - Corinto - Puerto Quetzal - Huatulco - Puerto Vallarta -
San Diego, disembark ship for overnight flight to London
PREMIUM PANAMA CANAL
Zuiderdam • 16-18 Nights • January 2022-February 2023 • Prices from £2459pp
Upgrade your cruise
experience with Have It All
from £35 per person per
day and get:
• Signature drinks package
• Wi-Fi
• 2 x Specialty dining
• 2 x Shore excursions (up to
the value of $100 per tour)
Have It All