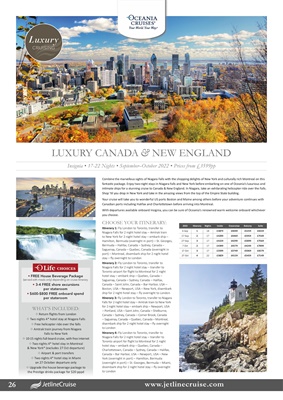 26
WHAT'S INCLUDED:
✥ Return flights from London
✥ Two nights 4* hotel stay at Niagara Falls
✥ Free helicopter ride over the falls
✥ Amtrak train journey from Niagara
Falls to New York
✥ 10-15 nights full-board cruise, with free internet
✥ Two nights 4* hotel stay in Montreal
& New York* (excludes 27 Oct departure)
✥ Airport & port transfers
✥ Two nights 4* hotel stay in Miami
on 27 October departure only
✥ Upgrade the house beverage package to
the Prestige drinks package for $20 pppd
Combine the marvellous sights of Niagara Falls with the shopping delights of New York and culturally rich Montreal on this
fantastic package. Enjoy two-night stays in Niagara Falls and New York before embarking on one of Oceania's luxurious and
intimate ships for a stunning cruise to Canada & New England. In Niagara, take an exhilarating helicopter ride over the Falls.
Shop 'til you drop in New York and take in the amazing views from the top of the Empire State building.
Your cruise will take you to wonderful US ports Boston and Maine among others before your adventure continues with
Canadian ports including Halifax and Charlottetown before arriving into Montreal.
With departures available onboard Insignia, you can be sure of Oceania's renowned warm welcome onboard whichever
you choose.
LUXURY CANADA & NEW ENGLAND
Insignia • 17-22 Nights • September-October 2022 • Prices from £3599pp
CHOOSE YOUR ITINERARY:
Itinerary 1: Fly London to Toronto, transfer to
Niagara Falls for 2 night hotel stay - Amtrak train
to New York for 2 night hotel stay - embark ship -
Hamilton, Bermuda (overnight in port) - St. Georges,
Bermuda - Halifax, Canada - Sydney, Canada -
Saguenay, Canada - Quebec, Canada (overnight in
port) - Montreal, disembark ship for 2 night hotel
stay - fly overnight to London
Itinerary 2: Fly London to Toronto, transfer to
Niagara Falls for 2 night hotel stay - transfer to
Toronto airport for flight to Montreal for 2 night
hotel stay - embark ship - Quebec, Canada -
Saguenay, Canada - Sydney, Canada - Halifax,
Canada - Saint John, Canada - Bar Harbor, USA -
Boston, USA - Newport, USA - New York, disembark
ship for 2 night hotel stay - fly overnight to London
Itinerary 3: Fly London to Toronto, transfer to Niagara
Falls for 2 night hotel stay - Amtrak train to New York
for 2 night hotel stay - embark ship - Newport, USA
- Portland, USA - Saint John, Canada - Shelburne,
Canada - Sydney, Canada - Corner Brook, Canada
- Saguenay, Canada - Quebec, Canada - Montreal,
disembark ship for 2 night hotel stay - fly overnight
to London
Itinerary 4: Fly London to Toronto, transfer to
Niagara Falls for 2 night hotel stay - transfer to
Toronto airport for flight to Montreal for 2 night
hotel stay - embark ship - Quebec, Canada -
Charlottetown, Canada - Sydney, Canada - Halifax,
Canada - Bar Harbor, USA - Newport, USA - New
York (overnight in port) - Hamilton, Bermuda
(overnight in port) - St. Georges, Bermuda - Miami,
disembark ship for 2 night hotel stay - fly overnight
to London
2022 Itinerary Nights Inside Oceanview Balcony Suite
6 Sep 1 18 £3879 £4049 £5259 £6559
17 Sep 2 17 £4299 £4469 £5959 £7549
27 Sep 3 17 £4159 £4299 £5899 £7569
7 Oct 2 17 £4399 £4579 £4249 £7899
17 Oct 3 17 £3599 £3749 £5069 £6579
27 Oct 4 22 £3829 £4159 £5459 £7149
Luxury
CRUISING
• FREE House Beverage Package
(served with meals only) depending on cruise itinerary
• 3-4 FREE shore excursions
per stateroom
• $600-$800 FREE onboard spend
per stateroom
CHOICES