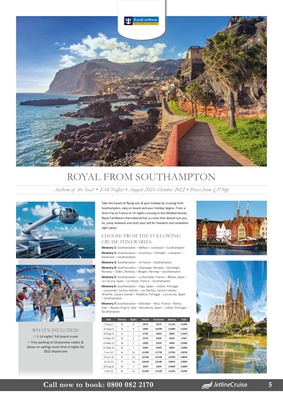 Call now to book: 0800 082 2170 5
ROYAL FROM SOUTHAMPTON
Anthem of the Seas® • 2-14 Nights • August 2021-October 2022 • Prices from £379pp
WHAT'S INCLUDED:
✥ 2-14 nights' full-board cruise
✥ Free parking on Oceanview cabins &
above on sailings more than 6 nights for
2022 departures
Take the hassle of flying out of your holiday by cruising from
Southampton, step on board and your holiday begins. From a
short trip to France to 14 nights cruising to the Mediterranean,
Royal Caribbean International has a cruise that should suit you.
So, jump onboard and start your bid for freedom and relaxation
right away!
Date Itinerary Nights Interior Oceanview Balcony Suite
7 Aug 21 2 8 £879 £879 £1129 £1489
15 Aug 21 2 8 £869 £1039 £1089 £1569
29 Aug 21 1 7 £729 £829 £869 £1329
13 May 22 3 2 £379 £429 £429 £769
15 May 22 4 7 £699 £929 £989 £1989
22 May 22 5 7 £689 £849 £889 £1889
5 Jun 22 6 12 £1499 £1729 £1769 £3239
24 Jun 22 7 14 £2189 £2549 £2599 £4869
22 Jul 22 7 14 £2629 £3249 £3059 £4969
28 Aug 22 4 7 £829 £849 £1089 £1889
5 Oct 22 6 12 £1349 £1529 £1559 £1969
CHOOSE FROM THE FOLLOWING
CRUISE ITINERARIES:
Itinerary 1: Southampton - Belfast - Liverpool - Southampton
Itinerary 2: Southampton - Inverness - Kirkwall - Liverpool -
Greenock - Southampton
Itinerary 3: Southampton - Le Havre - Southampton
Itinerary 4: Southampton - Stavanger, Norway - Geiranger,
Norway - Olden, Norway - Bergen, Norway - Southampton
Itinerary 5: Southampton - La Rochelle, France - Bilbao, Spain -
La Coruna, Spain - Le Havre, France - Southampton
Itinerary 6: Southampton - Vigo, Spain - Lisbon, Portugal
- Lanzarote, Canary Islands - Las Palmas, Canary Islands -
Tenerife, Canary Islands - Madeira, Portugal - La Coruna, Spain
- Southampton
Itinerary 7: Southampton - Gibraltar - Nice, France - Rome,
Italy - Naples (Capri), Italy - Barcelona, Spain - Lisbon, Portugal -
Southampton