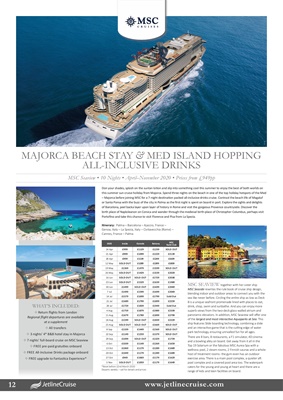 12 MAJORCA BEACH STAY & MED ISLAND HOPPING
ALL-INCLUSIVE DRINKS
MSC Seaview • 10 Nights • April-November 2020 • Prices from £949pp
WHAT'S INCLUDED:
✥ Return flights from London
Regional flight departures are available
at a supplement
✥ All transfers
✥ 3 nights' 4* B&B hotel stay in Majorca
✥ 7 nights' full-board cruise on MSC Seaview
✥ FREE pre-paid gratuities onboard
✥ FREE All-Inclusive Drinks package onboard
✥ FREE upgrade to Fantastica Experience*
Don your shades, splash on the suntan lotion and slip into something cool this summer to enjoy the best of both worlds on
this summer sun cruise holiday from Majorca. Spend three nights on the beach in one of the top holiday hotspots of the Med
- Majorca before joining MSC for a 7-night destination packed all-inclusive drinks cruise. Contrast the beach life of Magaluf
or Santa Ponsa with the buzz of the city in Palma as the first night is spent on board in port. Explore the sights and delights
of Barcelona, peel backa layer upon layer of history in Rome and visit the gorgeous Provence countryside. Discover the
birth place of Naploleanon on Corsica and wander through the medieval birth-place of Christopher Columbus, perhaps visit
Portofino and take this chance to visit Florence and Pisa from La Spezia.
MSC SEAVIEW together with her sister ship
MSC Seaside rewrites the rule book of cruise ship design,
blending indoor and outdoor areas to connect you with the
sea like never before. Circling the entire ship as low as Deck
8 is a unique seafront promenade lined with places to eat,
drink, shop, swim and sunbathe. And you can enjoy more
superb views from the two-deck glass-walled atrium and
panoramic elevators. In addition, MSC Seaview will offer one
of the largest and most interactive Aquaparks at Sea. This
ship features Slide boarding technology, combining a slide
and an interactive game that is the cutting edge of water
park technology, ensuring unrivalled fun for all ages.
There are 8 bars, 8 restaurants, a F1 simulator, 4D cinema
and a bowling alley on board. Get away from it all in the
Top 19 Solarium or the fabulous MSC Aurea Spa with a
wellness pool, 2 steam rooms, 2 Finnish saunas and a whole
host of treatment rooms- the gym even has an outdoor
exercise area. There is a main pool complex, a quieter aft
pool complex and a covered pool area too. The waterpark
caters for the young and young at heart and there are a
range of kids and teen facilities on board.
Itinerary: Palma - Barcelona - Ajaccio, France -
Genoa, Italy - La Spezia, Italy - Civitavecchia (Rome) -
Cannes, France - Palma
2020 Inside Outside Balcony MSC
Yacht Club
14 Apr £999 £1129 £1239 SOLD OUT
21 Apr £999 £1099 £1229 £2139
28 Apr £999 £1139 £1249 £1639
12 May SOLD OUT £1289 £1399 £1839
19 May £1369 £1479 £1599 SOLD OUT
26 May SOLD OUT £1429 £1539 £2029
16 Jun SOLD OUT SOLD OUT £1729 £2038
23 Jun SOLD OUT £1529 £1639 £1989
30 Jun £1499 SOLD OUT £1699 £2069
7 Jul £1499 £1599 £1699 £2069
14 Jul £1579 £1699 £1799 Sold Out
21 Jul £1689 £1799 £1899 £2259
28 Jul £1729 £1839 £1949 Sold Out
4 Aug £1759 £1879 £1989 £2339
11 Aug £1679 £1789 £1899 £2799
18 Aug £1599 SOLD OUT £1839 £2229
25 Aug SOLD OUT SOLD OUT £1669 SOLD OUT
8 Sep £1339 £1449 £1569 SOLD OUT
22 Sep £1149 £1259 £1379 SOLD OUT
29 Sep £1099 SOLD OUT £1329 £1729
6 Oct £1039 £1149 £1269 £1659
13 Oct £1069 £1179 £1289 £1689
20 Oct £1049 £1179 £1289 £1689
27 Oct £949 £1069 £1179 £1629
3 Nov SOLD OUT £1059 £1179 £1649
*Book before 22nd March 2020
Departs weekly - call for details and prices