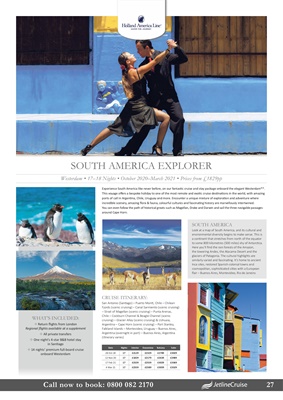 Call now to book: 0800 082 2170 27
WHAT'S INCLUDED:
✥ Return flights from London
Regional flights available at a supplement
✥ All private transfers
✥ One night's 4-star B&B hotel stay
in Santiago
✥ 14 nights' premium full-board cruise
onboard Westerdam
Experience South America like never before, on our fantastic cruise and stay package onboard the elegant Westerdam**.
This voyage offers a bespoke holiday to one of the most remote and exotic cruise destinations in the world, with amazing
ports of call in Argentina, Chile, Uruguay and more. Encounter a unique mixture of exploration and adventure where
incredible scenery, amazing flora & fauna, colourful cultures and fascinating history are marvellously intertwined.
You can even follow the path of historical greats such as Magellan, Drake and Darwin and sail the three navigable passages
around Cape Horn.
CRUISE ITINERARY:
San Antonio (Santiago) - Puerto Montt, Chile - Chilean
Fjords (scenic cruising) - Canal Sarmiento (scenic cruising)
- Strait of Magellan (scenic cruising) - Punta Arenas,
Chile - Cockburn Channel & Beagle Channel (scenic
cruising) - Glacier Alley (scenic cruising) & Ushuaia,
Argentina - Cape Horn (scenic cruising) - Port Stanley,
Falkland Islands - Montevideo, Uruguay - Buenos Aires,
Argentina (overnight in port) - Buenos Aires, Argentina
(itinerary varies)
SOUTH AMERICA EXPLORER
Westerdam • 17-18 Nights • October 2020-March 2021 • Prices from £1829pp
SOUTH AMERICA
Look at a map of South America, and its cultural and
environmental diversity begins to make sense. This is
a continent that stretches from north of the equator
to some 800 kilometres (500 miles) shy of Antarctica.
Here you'll find the rain forests of the Amazon,
the towering Andes, the Atacama Desert and the
glaciers of Patagonia. The cultural highlights are
similarly varied and fascinating. It's home to ancient
Inca sites, restored Spanish-colonial towns and
cosmopolitan, sophisticated cities with a European
flair - Buenos Aires, Montevideo, Rio de Janeiro.
Date Nights Interior Oceanview Balcony Suite
28 Oct 20 17 £2129 £2329 £2789 £3029
12 Nov 20 17 £1829 £2179 £2639 £2989
17 Feb 21 17 £2329 £2559 £3029 £3369
4 Mar 21 17 £2359 £2589 £3059 £3529
*Itinerary varies and operates in reverse. **Itinerary varies.