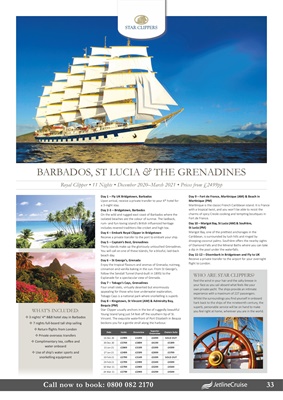 Call now to book: 0800 082 2170 33
BARBADOS, ST LUCIA & THE GRENADINES
Royal Clipper • 11 Nights • December 2020-March 2021 • Prices from £2499pp
WHAT'S INCLUDED:
✥ 3 nights' 4* B&B hotel stay in Barbados
✥ 7 nights full-board tall ship sailing
✥ Return flights from London
✥ Private overseas transfers
✥ Complimentary tea, coffee and
water onboard
✥ Use of ship's water sports and
snorkelling equipment
Day 1 - Fly UK Bridgetown, Barbados
Upon arrival, receive a private transfer to your 4* hotel for
a 3-night stay.
Day 2-3 - Bridgetown, Barbados
On the wild and rugged east coast of Barbados where the
isolated beaches are the colour of sunrise. The laidback,
rum- and fun-loving island's British influenced heritage
includes revered traditions like cricket and high tea.
Day 4 - Embark Royal Clipper in Bridgetown
Receive a private transfer to the port to embark your ship.
Day 5 - Captain's Best, Grenadines
Thirty islands make up the gloriously untouched Grenadines.
You will call on one of these Islands, for a blissful, laid-back
beach day.
Day 6 - St George's, Grenada
Enjoy the tropical flavours and aromas of Grenada; nutmeg,
cinnamon and vanilla baking in the sun. From St George's,
follow the Sendall Tunnel (hand-built in 1895) to the
Esplanade for a spectacular view of Grenada.
Day 7 - Tobago's Cays, Grenadines
Four small islets, virtually deserted but enormously
appealing for those who love underwater exploration,
Tobago Cays is a national park where snorkelling is superb.
Day 8 - Kingstown, St Vincent (AM) & Admiralty Bay,
Bequia (PM)
Star Clipper usually anchors in the lee of ruggedly beautiful
Young Island lying just 54 feet off the southern tip of St.
Vincent. The exquisite waterfront of Port Elizabeth in Bequia
beckons you for a gentle stroll along the harbour.
Day 9 - Fort de France, Martinique (AM) & Beach in
Martinique (PM)
Martinique is the classic French Caribbean island. It is France
with a tropical twist, and you won't be able to resist the
charms of spicy Creole cooking and tempting boutiques in
Fort de France.
Day 10 - Marigot Bay, St Lucia (AM) & Soufrière,
St Lucia (PM)
Marigot Bay, one of the prettiest anchorages in the
Caribbean, is surrounded by lush hills and ringed by
drooping coconut palms. Soufrière offers the nearby sights
of Diamond Falls and the Mineral Baths where you can take
a dip in the pool under the waterfalls.
Day 11-12 - Disembark in Bridgetown and Fly to UK
Receive a private transfer to the airport for your overnight
flight to London.
WHO ARE STAR CLIPPERS?
Feel the wind in your hair and the salty breeze in
your face as you sail aboard what feels like your
own private yacht. The ships provide an intimate
experience with a maximum of 227 passengers.
Whilst the surroundings you find yourself in onboard
hark back to the ships of the nineteenth century, the
superb, personable service will be on hand to make
you feel right at home, wherever you are in the world.
Date Inside Oceanview Superior
Oceanview Owners Suite
16 Dec 20 £2999 £3299 £3499 SOLD OUT
30 Dec 20 £3749 £3899 £4199 £5399
13 Jan 21 £2849 £3199 £3399 £4599
27 Jan 21 £2499 £2599 £2899 £3799
10 Feb 21 £2799 £3149 £3399 SOLD OUT
24 Feb 21 £2799 £2999 £3349 £4599
10 Mar 21 £2799 £2949 £3299 £4549
24 Mar 21 £2799 £2949 £3299 £4549
*Itinerary varies and operates in reverse. **Itinerary varies.