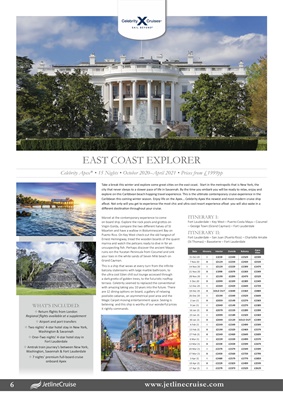 6
Marvel at the contemporary experience to come
on board ship. Explore the rock pools and grottos on
Virgin Gorda, compare the two different halves of St
Maarten and have a wallow in Bioluminescent Bay on
Puerto Rico. On Key West check out the old hangout of
Ernest Hemingway, tread the wooden boards of the quaint
marina and watch the pelicans ready to dive in for an
unsuspecting fish. Perhaps discover the ancient Mayan
ruins ion the Yucatan Peninsula from Cozumel and sink
your toes in the white sands of Seven Mile beach on
Grand Cayman.
This is a ship that wows at every turn from the infinite
balcony staterooms with large marble bathroom, to
the ultra cool Eden chill out lounge accessed through
a dark grotto of golden trees, to the futuristic rooftop
terrace. Celebrity seemed to replaced the conventional
with amazing taking you 10 years into the future. There
are 12 dining options on board, a gallery of relaxing
poolside cabanas, an asymmetrical pool area and the
Magic Carpet moving entertainment space. Seeing is
believing and this ship is worthy of our wonderful prices
it rightly commands.
ITINERARY I:
Fort Lauderdale - Key West - Puerto Costa Maya - Cozumel
- George Town (Grand Cayman) - Fort Lauderdale
ITINERARY II:
Fort Lauderdale - San Juan (Puerto Rico) - Charlotte Amalie
(St Thomas) - Basseterre - Fort Lauderdale
Take a break this winter and explore some great cities on the east coast. Start in the metropolis that is New York, the
city that never sleeps to a slower pace of life in Savannah. By the time you embark you will be ready to relax, enjoy and
explore on this Caribbean beach hopping travel experience. This is the ultimate contemporary cruise experience in the
Caribbean this coming winter season. Enjoy life on the Apex... Celebrity Apex the newest and most modern cruise ship
afloat. Not only will you get to experience the most chic and ultra cool resort experience afloat you will also wake in a
different destination throughout your cruise.
EAST COAST EXPLORER
Celebrity Apex® • 15 Nights • October 2020-April 2021 • Prices from £1999pp
WHAT'S INCLUDED:
✥ Return flights from London
Regional flights available at a supplement
✥ Airport and port transfers
✥ Two nights' 4-star hotel stay in New York,
Washington & Savannah
✥ One-Two nights' 4-star hotel stay in
Fort Lauderdale
✥ Amtrak train journey's between New York,
Washington, Savannah & Fort Lauderdale
✥ 7 nights' premium full-board cruise
onboard Apex
Date Itinerary Interior Outside Balcony Aqua
Class
31 Oct 20 I £2239 £2349 £2529 £2599
7 Nov 20 II £2129 £2259 £2439 £2539
14 Nov 20 I £2129 £2229 £2399 £2479
21 Nov 20 II £1999 £2079 £2269 £2349
28 Nov 20 I £2199 £2299 £2479 £2529
5 Dec 20 II £2099 £2199 £2389 £2349
12 Dec 20 I £2269 £2429 £2649 £2729
18 Dec 20 II SOLD OUT £3049 £3369 £3889
26 Dec 20 I £3199 £3349 £3529 £3649
2 Jan 21 II £2059 £2149 £2279 £2369
9 Jan 21 I £2049 £2149 £2279 £2389
16 Jan 21 II £2079 £2159 £2289 £2399
23 Jan 21 I £2099 £2189 £2329 £2369
30 Jan 21 II £2049 £2129 SOLD OUT £2399
6 Feb 21 I £2249 £2349 £2499 £2599
13 Feb 21 II £2199 £2329 £2469 £2579
27 Feb 21 II £2349 £2469 £2649 £2699
6 Mar 21 I £2239 £2339 £2499 £2579
13 Mar 21 II £2339 £2439 £2599 £2679
20 Mar 21 I £2279 £2379 £2549 £2599
27 Mar 21 II £2459 £2569 £2739 £2799
3 Apr 21 I £2489 £2579 £2779 £2859
10 Apr 21 II £2229 £2329 £2499 £2599
17 Apr 21 I £2279 £2379 £2529 £2629