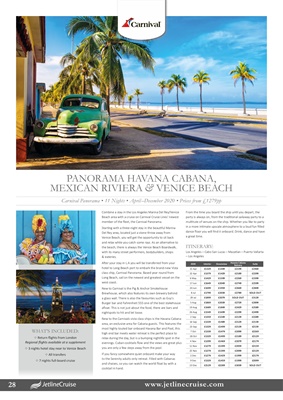 28
PANORAMA HAVANA CABANA,
MEXICAN RIVIERA & VENICE BEACH
Carnival Panorama • 11 Nights • April-December 2020 • Prices from £1279pp
WHAT'S INCLUDED:
✥ Return flights from London
Regional flights available at a supplement
✥ 3 nights hotel stay near to Venice Beach
✥ All transfers
✥ 7 nights full-board cruise
Combine a stay in the Los Angeles Marina Del Rey/Venice
Beach area with a cruise on Carnival Cruise Lines' newest
member of the fleet, the Carnival Panorama.
Starting with a three-night stay in the beautiful Marina
Del Rey area, located just a stone throw away from
Venice Beach, you will get the opportunity to sit back
and relax while you catch some rays. As an alternative to
the beach, there is always the Venice Beach Boardwalk,
with its many street performers, bodybuilders, shops
& eateries.
After your stay in L.A you will be transferred from your
hotel to Long Beach port to embark the brand-new Vista
class ship, Carnival Panorama. Based year round from
Long Beach, sail on the newest and greatest vessel on the
west coast.
New to Carnival is the Pig & Anchor Smokehouse
Brewhouse, which also features its own brewery behind
a glass wall. There is also the favourites such as Guy's
Burger bar and Fahrenheit 555 one of the best stakehouse
afloat. This is not just about the food, there are bars and
nightspots to hit and let loose.
New to the Carnivals vista class ships is the Havana Cabana
area, an exclusive area for Cabana guests. This features the
most highly touted bar onboard Havana Bar and Pool, this
high end bar meets water retreat is the perfect place to
relax during the day, but is a bumping nightlife spot in the
evenings. Cuban cocktails flow and the views are great plus
you are only a few steps away from the pool.
If you fancy somewhere quiet onboard make your way
to the Serenity adults only retreat. Filled with Cabanas
and chaises, so you can watch the world float by with a
cocktail in hand.
From the time you board the ship until you depart, the
party is always on, from the traditional sailaway party to a
multitute of venues on the ship. Whether you like to party
in a more intimate upscale atmosphere to a loud fun filled
dance floor you will find it onboard. Drink, dance and have
a great time.
ITINERARY:
Los Angeles - Cabo San Lucas - Mazatlan - Puerto Vallarta
- Los Angeles
2020 Interior Oceanview Havana Cabana
Balcony Suite
15 Apr £1329 £1449 £2199 £2469
22 Apr £1379 £1429 £2189 £2299
6 May £1429 £1599 £2269 £2399
17 Jun £1649 £2049 £2749 £2599
24 Jun £1699 £1959 £2669 £2849
8 Jul £1799 £2039 £2789 SOLD OUT
29 Jul £1899 £2079 SOLD OUT £3129
5 Aug £1869 £2039 £2729 £2899
19 Aug £1689 £1849 £2429 £2589
26 Aug £1549 £1699 £2299 £2499
2 Sep £1359 £1549 £2139 £2289
16 Sep £1339 £1489 £2129 £2139
23 Sep £1329 £1499 £2139 £2159
7 Oct £1339 £1479 £2099 £2269
28 Oct £1329 £1499 £2189 £2129
4 Nov £1299 £1469 £2079 £2179
11 Nov £1279 £1399 £2059 £2159
25 Nov £1279 £1399 £2099 £2129
2 Dec £1279 £1429 £1999 £2179
9 Dec £1329 £1459 £1999 £2099
23 Dec £2129 £2289 £3039 SOLD OUT