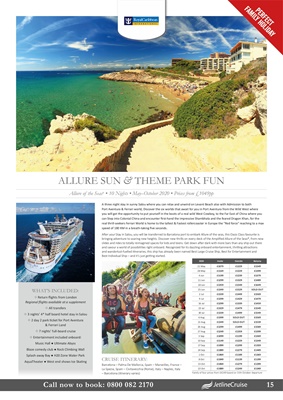 Call now to book: 0800 082 2170 15
ALLURE SUN & THEME PARK FUN
Allure of the Seas® • 10 Nights • May-October 2020 • Prices from £1049pp
WHAT'S INCLUDED:
✥ Return flights from London
Regional flights available at a supplement
✥ All transfers
✥ 3 nights' 4* half board hotel stay in Salou
✥ 2 day 2 park ticket for Port Aventura
& Ferrari Land
✥ 7 nights' full-board cruise
✥ Entertainment included onboard:
Music Hall ● Ultimate Abyss
Blaze comedy club ● Rock Climbing Wall
Splash-away Bay ● H20 Zone Water Park
AquaTheater ● West end shows Ice Skating
A three night stay in sunny Salou where you can relax and unwind on Levant Beach also with Admission to both
Port Aventura & Ferrari world, Discover the six worlds that await for you in Port Aventura from the Wild West where
you will get the opportunity to put yourself in the boots of a real wild West Cowboy, to the Far East of China where you
can Step into Colonial China and encounter first-hand the impressive Shambhala and the feared Dragon Khan, for the
real thrill-seekers Ferrari World is home to the tallest & Fastest rollercoaster in Europe the "Red force" reaching to a max
speed of 180 KM in a breath-taking five seconds.
After your Stay in Salou, you will be transferred to Barcelona port to embark Allure of the seas, this Oasis Class favourite is
bringing adventure to soaring new heights. Discover new thrills on every deck of the Amplified Allure of the Seas®, from new
slides and rides to totally reimagined spaces for kids and teens. Get down after dark with more bars than any ship out there
and savour a world of possibilities right onboard. Recognized for its dazzling onboard entertainment, thrilling attractions
and wanderlust-fuelled itineraries, this ship has already been named Best Large Cruise Ship, Best for Entertainment and
Best Individual Ship - and it's just getting started.
CRUISE ITINERARY:
Barcelona - Palma De Mallorca, Spain - Marseilles, France -
La Spezia, Spain - Civitavecchia (Rome), Italy - Naples, Italy
- Barcelona (itinerary varies)
2020 Inside Outside Balcony
21 May £1079 £1229 £1349
28 May £1169 £1229 £1399
4 Jun £1199 £1239 £1379
11 Jun £1299 £1329 £1489
18 Jun £1359 £1549 £1649
25 Jun £1349 £1529 SOLD OUT
2 Jul £1339 £1449 £1569
9 Jul £1299 £1429 £1479
16 Jul £1299 £1339 £1459
23 Jul £1329 £1479 £1549
30 Jul £1339 £1499 £1549
6 Aug £1399 SOLD OUT £1569
13 Aug £1349 SOLD OUT £1539
20 Aug £1299 £1499 £1589
27 Aug £1249 £1359 £1399
3 Sep £1099 £1199 £1369
10 Sep £1149 £1229 £1349
17 Sep £1099 £1299 £1359
24 Sep £1089 £1279 £1449
1 Oct £1069 £1189 £1269
8 Oct £1049 £1139 £1199
15 Oct £1069 £1279 £1299
22 Oct £1089 £1249 £1349
Family of four prices from £4249 based on 15th October departure
PERFECT
FAMILY HOLIDAY