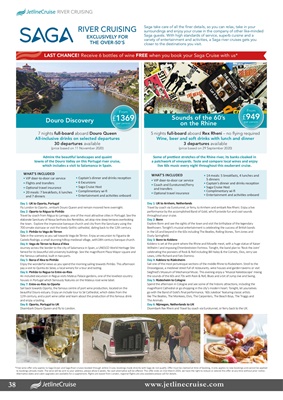 38
Saga take care of all the finer details, so you can relax, take in your
surroundings and enjoy your cruise in the company of other like-minded
Saga guests. With high standards of service, superb cuisine and a
variety of entertainment and activities, a Saga river cruises gets you
closer to the destinations you visit.
* Free wine offer only applies to Saga Ocean and Saga River cruises booked through Jetline Cruise, bookings made directly with Saga do not qualify. Offer must be claimed at time of booking, it only applies to new bookings and cannot be applied
to bookings already made. The wine will be sent to your address, please allow 6 weeks. No cash alternative will be offered. This offer ends on 31st March 2020, we have the right to reduce or extend this offer at any time without prior notice.
Alternative dates and cabin upgrades are available for a supplement, flights are based from London, regional flights are also available please call for details.
RIVER CRUISING
RIVER CRUISING
EXCLUSIVELY FOR
THE OVER-50'S
LAST CHANCE! Receive 6 bottles of wine FREE when you book your Saga Cruise with us*
7 nights full-board aboard Douro Queen
All-inclusive drinks on selected departures
30 departures available
(price based on 11 November 2020)
5 nights full-board aboard Rex Rheni - no flying required
Wine, beer and soft drinks with lunch and dinner
3 departures available
(price based on 29 September 2020)
Day 1: UK to Oporto, Portugal
Fly London to Oporto , embark Douro Queen and remain moored here overnight.
Day 2: Oporto to Régua to Pinhão
Travel by coach from Régua to Lamego, one of the most attractive cities in Portugal. See the
elaborate Sanctuary of Nossa Senhora dos Remédios, set atop nine steep terraces overlooking
the town. Explore the impressive baroque church and city from the Sanctuary using the
700 ornate staircase or visit the lovely Gothic cathedral, dating back to the 12th century.
Day 3: Pinhão to Vega de Térron
Take in the scenery as you sail towards Vega de Térron. Enjoy an excursion to Figueira de
Castelo Rodrigo, a small stunning hilltop medieval village, with18th-century baroque church.
Day 4: Vega de Térron to Barca d'Alva
Journey across the border to the city of Salamanca in Spain, a UNESCO World Heritage Site
famed for its beautiful old university buildings. See the magnificent Plaza Mayor square and
the famous cathedral, built in two parts.
Day 5: Barca d'Alva to Pinhão
Enjoy the wonderful views as you spend the morning sailing towards Pinhão. This afternoon
pay a visit to Quinta do Seixo, a local winery for a tour and tasting.
Day 6: Pinhão to Regua to Entre-os-Rios
An included excursion in Regua visits Mateus Palace gardens, one of the loveliest country
houses in Portugal which famously features on the Mateus rosé wine label.
Day 7: Entre-os-Rios to Oporto
Sail back towards Oporto, the famous centre of port wine production, located on the
beautiful Douro estuary. Enjoy an include tour to Sé Cathedral, which dates from the
12th century, and a port wine cellar and learn about the production of this famous drink
and enjoy a tasting.
Day 8: Oporto, Portugal to UK
Disembark Douro Queen and fly to London.
Day 1: UK to Arnhem, Netherlands
Travel by coach via Eurotunnel, or ferry, to Arnhem and embark Rex Rheni. Enjoy a live
performance by the accomplished Band of Gold, who'll provide fun and cool sounds
throughout your cruise.
Day 2: Bonn
Explore Bonn and see the sights of the town and visit the birthplace of the legendary
Beethoven. Tonight's musical entertainment is celebrating the success of British bands
in the US and beyond in the 60s including The Beatles, Rolling Stones, Tom Jones and
Dusty Springfield.
Day 3: Bonn to Koblenz
Koblenz is set at the point where the Rhine and Moselle meet, with a huge statue of Kaiser
Wilhelm l and imposing Ehrenbreitstein Fortress. Tonight, the band plan to 'Rock the Joint'
celebrating the pioneers of Rock & Roll including Bill Haley & the Comets, Elvis, Jerry Lee
Lewis, Little Richard and Fats Domino.
Day 4: Koblenz to Rüdesheim
Sail one of the most picturesque sections of the middle Rhine to Rüdesheim. Stroll to the
Drosselgasse, a medieval street full of restaurants, wine houses and garden taverns or visit
Siegfried's Museum of Mechanical Music. This evening enjoy a 'Musical Kaleidoscope' mixing
the sounds of the 60s and 70s with Rock & Roll, Blues and a bit of Jump Jive and Swing.
Day 5: Rüdesheim to Cologne
Spend the afternoon in Cologne and see some of the historic attractions, including the
magnificent Cathedral or go shopping in the city's modern heart. Tonight, let yourselves
go with the Band of Gold's final performance, '60s Jukebox' featuring classic artists
like The Beatles, The Monkees, Elvis, The Carpenters, The Beach Boys, The Troggs and
The Animals.
Day 6: Nijmegen, Netherlands to UK
Disembark Rex Rheni and Travel by coach via Eurotunnel, or ferry back to the UK.
Sounds of the 60's
on the Rhine
Douro Discovery
Some of prettiest stretches of the Rhine river, its banks cloaked in
a patchwork of vineyards. Taste and compare local wines and enjoy
live 60s music every night throughout this exuberant cruise.
Admire the beautiful landscapes and quaint
towns of the Douro Valley on this Portugal river cruise,
which includes a visit to Salamanca in Spain.
• VIP door-to-door car service
• Flights and transfers
• Optional travel insurance
• 20 meals: 7 breakfasts, 6 lunches
and 7 dinners
• Captain's dinner and drinks reception
• 6 Excursions
• Saga Cruise Host
• Complimentary wi-fi
• Entertainment and activities onboard
WHAT'S INCLUDED
• VIP door-to-door car service
• Coach and Eurotunnel/Ferry
and transfers
• Optional travel insurance
• 14 meals: 5 breakfasts, 4 lunches and
5 dinners
• Captain's dinner and drinks reception
• Saga Cruise Host
• Complimentary wi-fi
• Entertainment and activities onboard
WHAT'S INCLUDED
From
£949 per person
From
£1369 per person