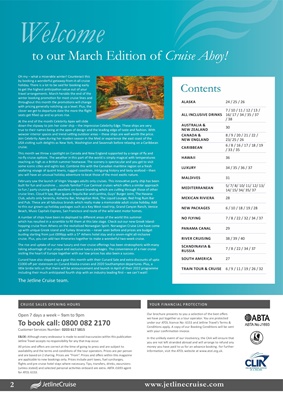 2 Open 7 days a week - 9am to 9pm
To book call: 0800 082 2170
Customer Services Number: 0203 617 5815
E&OE: Although every endeavour is made to avoid inaccuracies within this publication
Jetline Travel accepts no responsibility for any that may occur.
All prices and offers are correct at the time of going to press and are subject to
availability and the terms and conditions of the tour operators. Prices are per person
and are based on 2 sharing. Prices are "From". Prices and offers within this magazine
are applicable to new bookings only. Prices include port taxes, fuel surcharges,
flights and pre cruise hotel stays where necessary. Tips, transfers, drinks, excursions
(unless stated) and selected personal activities onboard are extra. ABTA J1693 agent
for ATOL 6153.
CRUISE SALES OPENING HOURS
Our brochure presents to you a selection of the best offers
we have put together as a tour operator. You are protected
under our ATOL licence No: 6153 and Jetline Travel's Terms &
Conditions apply. A copy of our Booking Conditions will be sent
with your confirmation invoice.
In the unlikely event of our insolvency, the CAA will ensure that
you are not left stranded abroad and will arrange to refund any
money you have paid to us for an advance booking. For further
information, visit the ATOL website at www.atol.org.uk.
YOUR FINANCIAL PROTECTION
Oh my - what a miserable winter! Counteract this
by booking a wonderful getaway-from-it-all cruise
holiday. There is a lot to be said for booking early
to get the highest anticipation value out of your
travel arrangements. March heralds the end of the
winter booking promotion for most cruise lines and
throughout this month the promotions will change
with pricing generally notching up a level. Plus, the
closer we get to departure date the more the flight
seats get filled up and so prices rise.
At the end of the month Celebrity Apex will slide
down the slipway to join her sister ship - the impressive Celebrity Edge. These ships are very
true to their names being at the apex of design and the leading edge of taste and fashion. With
wowzer interior spaces and trend setting outdoor areas - these ships are well worth the price.
Join Celebrity Apex during her maiden season in the Med or experience the east coast of the
USA visiting such delights as New York, Washington and Savannah before relaxing on a Caribbean
cruise.
This month we throw a spotlight on Canada and New England supported by a range of fly and
no-fly cruise options. The weather in this part of the world is simply magical with temperatures
reaching as high as a British summer heatwave. The scenery is spectacular and you get to visit
some iconic cities and sights too. Combine this with the Canadian maritime region on a fresh
seafaring voyage of quaint towns, rugged coastlines, intriguing history and tasty seafood - then
you will have an unusual holiday adventure to beat those of the most exotic nature.
February saw the launch of Virgin Voyages adults only cruises. This innovative party ship has been
built for fun and sunshine … sounds familiar? Cue Carnival cruises which offers a similar approach
to fun / party cruising with excellent on-board branding which are cutting through those of other
cruise lines. Cloud 9 Spa, Blue Iguana Tequila Bar and cantina, Guys' Burger Joint, The Havana
Club, adults only Serenity, Alchemy Bar, Mongolian Wok, The Liquid Lounge, Red Frog Rum Bar
and Pub. These are all fabulous brands which really make a memorable adult cruise holiday. Add
to this our grown-up holiday packages such as a Key West road trip, Grand Canyon Ranch, Venice
Beach, Music Capitals Express, San Francisco and route of the wild west motor homes.
A number of ships have been re-deployed to different areas of the world this summer
which has resulted in a scramble to fill them at this late stage. Check out our new Greek Islandhopping cruise from
Athens on the revitalised Norwegian Spirit. Norwegian Cruise Line have come
up with unique Greek island and Turkey itineraries - never seen before and prices are budget
busting starting from just £899pp with a 5* Athens hotel stay and a seven-night all-inclusive
cruise. Plus, you can add two itineraries together to make a wonderful two-week cruise.
The rise and uptake of our new luxury and river cruise offerings has been stratospheric with many
taking advantage of our unique and exclusive luxury packages. The convenience of a river cruise
visiting the heart of Europe together with our low prices has also been a success.
Cunard have also stepped up a gear this month with their Cunard Sale and extra discounts of upto
£1000 off per stateroom on Cunard Alaska cruises and 2020 Southampton departures. Plus, a
little birdie tells us that there will be announcement and launch in April of their 2022 programme
including their much anticipated fourth ship with an industry leading first - we can't wait!
The Jetline Cruise team.
to our March Edition of Cruise Ahoy!
Welcome
ALASKA 24 / 25 / 26
ALL INCLUSIVE DRINKS 7 / 10 / 11 / 12 / 13 /
16/ 17 / 34 / 35 / 37
/ 38
AUSTRALIA &
NEW ZEALAND
30
CANADA &
NEW ENGLAND
8 / 9 / 20 / 21 / 22 /
23/ 25 / 26
CARIBBEAN
6 / 8 / 16 / 17 / 18 / 19
/ 33 / 35
HAWAII 36
LUXURY 34 / 35 / 36 / 37
MALDIVES 31
MEDITERRANEAN
5/ 7/ 8/ 10/ 11/ 12/ 13/
14/ 15/ 34/ 35/ 37
MEXICAN RIVIERA 28
NEW PACKAGES 6 / 10 / 18 / 19 / 28
NO FLYING 7 / 8 / 22 / 32 / 34 / 37
PANAMA CANAL 29
RIVER CRUISING 38 / 39 / 40
SCANDINAVIA &
RUSSIA
7 / 8 / 22 / 34 / 37
SOUTH AMERICA 27
TRAIN TOUR & CRUISE 6 / 9 / 11 / 19 / 26 / 32
Contents