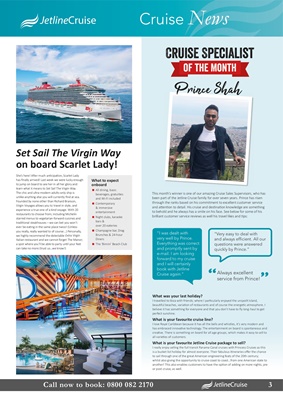 Call now to book: 0800 082 2170 3
Set Sail The Virgin Way
on board Scarlet Lady!
This month's winner is one of our amazing Cruise Sales Supervisors, who has
been part of the Jetline Cruise family for over seven years. Prince has risen
through the ranks based on his commitment to excellent customer service
and attention to detail. His cruise and destination knowledge are something
to behold and he always has a smile on his face. See below for some of his
brilliant customer service reviews as well his travel likes and tips:
Cruise News
Cruise Specialist
of the Month
What was your last holiday?
I travelled to Ibiza with friends; where I particularly enjoyed the unspoilt Island,
beautiful beaches, variation of restaurants and of course the energetic atmosphere. I
believe it has something for everyone and that you don't have to fly long-haul to get
perfect sunshine.
What is your favourite cruise line?
I love Royal Caribbean because it has all the bells and whistles, it's very modern and
has embraced innovative technology. The entertainment on board is spontaneous and
creative. There is something on board for all age groups, which makes it easy to sell to
all varieties of customers.
What is your favourite Jetline Cruise package to sell?
I really enjoy selling the full transit Panama Canal cruises with Princess Cruises as this
is a bucket list holiday for almost everyone. Their fabulous itineraries offer the chance
to sail through one of the great American engineering feats of the 20th century;
whilst also giving the opportunity to cruise coast to coast…from one American state to
another! This also enables customers to have the option of adding on more nights, pre
or post cruise, as well.
"I was dealt with
very well by Prince.
Everything was correct
and promptly sent by
e-mail. I am looking
forward to my cruise
and I will certainly
book with Jetline
Cruise again."
"Very easy to deal with
and always efficient. All our
questions were answered
quickly by Prince."
Prince Shah
Always excellent
service from Prince!
She's here! After much anticipation, Scarlet Lady
has finally arrived! Last week we were lucky enough
to jump on board to see her in all her glory and
learn what it means to Set Sail The Virgin Way.
The chic and ultra-modern adults-only ship is
unlike anything else you will currently find at sea.
Founded by none other than Richard Branson,
Virgin Voyages allows you to travel in style, and
experience a true one of a kind voyage. With 20
restaurants to choose from; including Michelin
starred menus to vegetarian-forward cuisines and
traditional steakhouses - we can bet you won't
ever be eating in the same place twice! (Unless
you really, really wanted to of course…) Personally,
we highly recommend the delectable Extra Virgin
Italian restaurant and we cannot forget The Manor;
a spot where you'll be able to party until your feet
can take no more (trust us…we know!)
What to expect
onboard
 All dining, basic
beverages, gratuities
and Wi-Fi included
 Contemporary
& immersive
entertainment
 Night clubs, karaoke
bars &
over 20 eateries
 Champagne bar, Drag
Brunches & 24-hour
Diners
 The 'Bimini' Beach Club