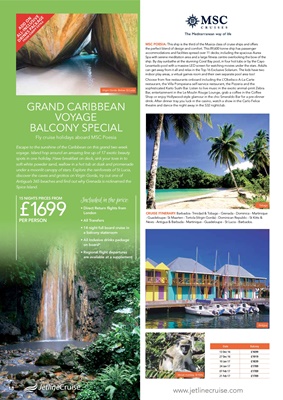 MSC POESIA: This ship is the third of the Musica class of cruise ships and offers
the perfect blend of design and comfort. This 89,600 tonne ship has passenger
accommodations and facilities spread over 11 decks; including the spacious Aurea
Spa with serene meditation area and a large fitness centre overlooking the bow of the
ship. By day sunbathe at the stunning Coral Bay pool, in four hot tubs or by the Cayo
Levantado pool with a massive LED screen for watching movies under the stars. Adults
can get away from it all and relax in the Top 16 Exclusive Solarium. The kids have two
indoor play areas, a virtual games room and their own separate pool area too!
Choose from five restaurants onboard including the L'Obelisco A-La-Carte
restaurant, the Villa Pompeiana self-service restaurant, the Pizzeria and the
sophisticated Kaito Sushi Bar. Listen to live music in the exotic animal-print Zebra
Bar, entertainment in the Le Moulin Rouge Lounge, grab a coffee in the Coffee
Shop or enjoy Hollywood-style glamour in the chic Smeraldo Bar for a pre-dinner
drink. After dinner tray you luck in the casino, watch a show in the Carlo Felice
theatre and dance the night away in the S32 nightclub.
Date Balcony
13 Dec 16 £1699
27 Dec 16 £1919
10 Jan 17 £1839
24 Jan 17 £1789
07 Feb 17 £1789
21 Feb 17 £1789
GRAND CARIBBEAN
VOYAGE
BALCONY SPECIAL
Fly cruise holidays aboard MSC Poesia
Escape to the sunshine of the Caribbean on this grand two week
voyage. Island hop around an amazing line up of 17 exotic beauty
spots in one holiday. Have breakfast on deck, sink your toes in to
soft white powder sand, wallow in a hot tub at dusk and promenade
under a moonlit canopy of stars. Explore the rainforests of St Lucia,
discover the caves and grottos on Virgin Gorda, try out one of
Antigua's 365 beaches and find out why Grenada is nicknamed the
Spice Island.
15 NIGHTS PRICES FROM
£1699PER PERSON
18
Virgin Gorda. Below: St Lucia
Antigua
Vervet monkey, St Kitts
Tobago
CRUISE ITINERARY: Barbados- Trinidad & Tobago - Grenada - Dominica - Martinique
- Guadeloupe- St Maarten - Tortola (Virgin Gorda) - Dominican Republic - St Kitts &
Nevis - Antigua & Barbuda - Martinique - Guadeloupe - St Lucia - Barbados.
ADD ON
ALL-INCLUSIVE
DRINKS PACKAGE
FROM £280PP EXTRA
Included in the price:
• Direct Return flights from
London
• All Transfers
• 14 night full board cruise in
a balcony stateroom
• All Inclusive drinks package
on board*
• Regional flight departures
are available at a supplement