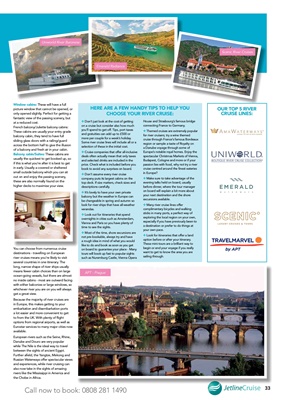 33
Window cabins: These will have a full
picture window that cannot be opened, or
only opened slightly. Perfect for getting a
fantastic view of the passing scenery, but
at a reduced cost.
French balcony/Juliette balcony cabins:
These cabins are usually your entry grade
balcony cabin, they tend to have full
sliding glass doors with a railing/guard
across the bottom half to give the illusion
of a balcony and fresh air in your cabin.
Balcony cabin/Suites: These cabins are
usually the quickest to get booked up, so
if this is what you're after it is best to get
in early. Usually a covered or sheltered
small outside balcony which you can sit
out on and enjoy the passing scenery,
these are also normally found on the
higher decks to maximise your view.
❖ Don't just look at the cost of getting
on a cruise but consider also how much
you'll spend to get off. Tips, port taxes
and gratuities can add up to £500 or
more per couple for a week's holiday.
Some river cruise lines will include all or a
selection of these in the initial cost.
❖ Cruise companies that offer all-inclusive
deals often actually mean that only taxes
and selected drinks are included in the
price. Check what is included before you
book to avoid any surprises on board.
❖ Don't assume every river cruise
company puts its largest cabins on the
top deck. If size matters, check sizes and
descriptions carefully.
❖ It's lovely to have your own private
balcony but the weather in Europe can
be changeable in spring and autumn so
look for river ships that have all-weather
verandas.
❖ Look out for itineraries that spend
overnights in cities such as Amsterdam,
Vienna and Paris so you have plenty of
time to see the sights.
❖ Most of the time, shore excursions are
not pre-bookable, always try and have
a rough idea in mind of what you would
like to do and book as soon as you get
on board to guarantee your place - Many
tours will book up fast to popular sights
such as Nuremburg Castle, Vienna Opera
House and Strasbourg's famous bridge
connecting France to Germany.
❖ Themed cruises are extremely popular
for river cruisers; try a wine themed
cruise through France's famous Bordeaux
region or sample a taste of Royalty on
a Danube voyage through some of
Europe's notable royal homes. Enjoy the
spectacular Christmas Markets of Vienna,
Budapest, Cologne and more or if your
passion lies with food, why not try a river
cruise centred around the finest eateries
in Europe?
❖ Make sure to take advantage of the
evening talks held on board, usually
before dinner, where the tour manager
on board will explain a bit more about
your next destination and the shore
excursions available.
❖ Many river cruise lines offer
complimentary bicycles and walking
sticks in many ports, a perfect way of
exploring the local region on your own,
especially if you have previously been to
a destination or prefer to do things at
your own pace.
❖ Look for itineraries that offer a land
option before or after your itinerary.
These mini-tours are a brilliant way to
begin or end your voyage if you really
want to get to know the area you are
sailing through.
APT - Prague
Uniworld River Baroness
Emerald Radiance
Scenic River Cruises
Call now to book: 0808 281 1490
EMERALD
WATERWAYS
HERE ARE A FEW HANDY TIPS TO HELP YOU
CHOOSE YOUR RIVER CRUISE:
OUR TOP 5 RIVER
CRUISE LINES:
You can choose from numerous cruise
destinations - travelling on European
river cruises means you're likely to visit
several countries in one itinerary. The
long, narrow shape of river ships usually
means fewer cabin choices than on large
ocean-going vessels, but there are almost
no inside cabins - most are outward facing
with either balconies or large windows, so
whichever river you are on you will always
get a great view.
Because the majority of river cruises are
in Europe, this makes getting to your
embarkation and disembarkation ports
a lot easier and more convenient to get
to from the UK. With plenty of flight
options from regional airports, as well as
Eurostar services to many major cities now
available.
European rivers such as the Seine, Rhine,
Danube and Douro are very popular
while The Nile is the ideal way to travel
between the sights of ancient Egypt.
Further afield, the Yangtze, Mekong and
Russian Waterways offer spectacular views
and experiences, while river cruising can
also now take in the sights of amazing
rivers like the Mississippi in America and
the Chobe in Africa.