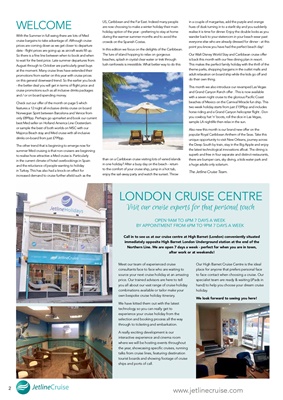 2 WELCOME
With the Summer in full swing there are lots of Med
cruise bargains to take advantage of. Although cruise
prices are coming down as we get closer to departure
date - flight prices are going up as aircraft seats fill up.
So there is a fine line between when to book and when
to wait for the best price. Late summer departures from
August through to October are particularly great buys
at the moment. Many cruise lines have extended their
promotions from earlier on this year with cruise prices
on this general downward trend. So the earlier you book
- the better deal you will get in terms of flight price and
cruise promotions such as all inclusive drinks packages
and / or on board spending money.
Check out our offer of the month on page 5 which
features a 12 night all-inclusive drinks cruise on board
Norwegian Spirit between Barcelona and Venice from
only £899pp. Perhaps go upmarket and book our current
best Med seller on Holland America Line Oosterdam
or sample the best of both worlds on MSC with our
Majorca Beach stay and Med cruise with all-inclusive
drinks on-board from just £799pp.
The other trend that is beginning to emerge now for
summer Med cruising is that non-cruisers are beginning
to realise how attractive a Med cruise is. Particularly
in the current climate of hotel overbookings in Spain
and the reluctance of people wanting to holiday
in Turkey. This has also had a knock-on effect for
increased demand to cruise further afield such as the
US, Caribbean and the Far East. Indeed many people
are now choosing to make a winter holiday their main
holiday option of the year - preferring to stay at home
during the warmer summer months and to avoid the
crowds on the Spanish Costas.
In this edition we focus on the delights of the Caribbean.
The lure of island hopping to relax on gorgeous
beaches, splash in crystal clear water or trek through
lush rainforests is irresistible. What better way to do this
than on a Caribbean cruise visiting lots of varied islands
in one holiday? After a busy day on the beach - return
to the comfort of your cruise ship, jump in a hot tub,
enjoy the sail-away party and watch the sunset. Throw
in a couple of margaritas, add the purple and orange
hues of dusk turning in to a starlit sky and you suddenly
realise it is time for dinner. Enjoy the double looks as you
wander back to your stateroom in your beach wear past
everyone else who are already dressed for dinner - at this
point you know you have had the perfect beach day!
Our Walt Disney World Stay and Caribbean cruise offer
is back this month with our free dining plan in resort.
This makes the perfect family holiday with the thrill of the
theme parks, shopping bargains in the outlet malls and
adult relaxation on board ship while the kids go off and
do their own thing.
This month we also introduce our revamped Las Vegas
and Grand Canyon Ranch offer . This is now available
with a seven night cruise to the glorious Pacific Coast
beaches of Mexico on the Carnival Miracle fun ship. This
two week holiday starts from just £1599pp and includes
horse riding and a Grand Canyon helicopter flight . Don
you cowboy hat 'n' boots, roll the dice in Las Vegas,
sample LA nightlife then relax in the sun.
Also new this month is our brand new offer on the
popular Royal Caribbean Anthem of the Seas. Take this
unique opportunity to visit New Orleans, journey across
the Deep South by train, stay in the Big Apple and enjoy
the latest technological innovations afloat. The dining is
superb and free in four separate and distinct restaurants,
there are bumper cars, sky diving, a kids water park and
a huge adults only solarium.
The Jetline Cruise Team.
Call in to see us at our cruise centre at High Barnet (London) conveniently situated
immediately opposite High Barnet London Underground station at the end of the
Northern Line. We are open 7 days a week - perfect for when you are in town,
after work or at weekends!
Meet our team of experienced cruise
consultants face to face who are waiting to
source your next cruise holiday at an amazing
price. Our trained advisors are here to tell
you all about our vast range of cruise holiday
combinations available or tailor make your
own bespoke cruise holiday itinerary.
We have kitted them out with the latest
technology so you can really get to
experience your cruise holiday from the
selection and booking process all the way
through to ticketing and embarkation.
A really exciting development is our
interactive experience and cinema room
where we will be hosting events throughout
the year, showcasing specific cruises, running
talks from cruise lines, featuring destination
tourist boards and showing footage of cruise
ships and ports of call.
Our High Barnet Cruise Centre is the ideal
place for anyone that prefers personal face
to face contact when choosing a cruise. Our
specialist team are ready & waiting (iPads in
hand) to help you choose your dream cruise
holiday.
We look forward to seeing you here!
OPEN 9AM TO 6PM 7 DAYS A WEEK
BY APPOINTMENT FROM 6PM TO 9PM 7 DAYS A WEEK
LONDON CRUISE CENTRE
Visit our cruise experts for that personal touch