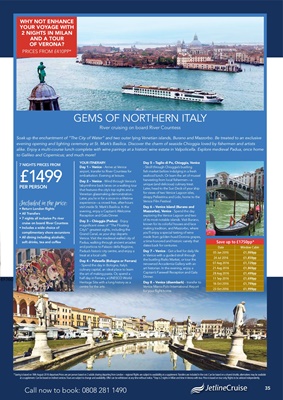 493609927
GEMS OF NORTHERN ITALY
River cruising on board River Countess
Soak up the enchantment of "The City of Water" and two outer lying Venetian islands, Burano and Mazzorbo. Be treated to an exclusive
evening opening and lighting ceremony at St. Mark's Basilica. Discover the charm of seaside Chioggia loved by fishermen and artists
alike. Enjoy a multi-course lunch complete with wine pairings at a historic wine estate in Valpolicella. Explore medieval Padua, once home
to Galileo and Copernicus; and much more!
Included in the price:
• Return London flights
• All Transfers
• 7 nights all inclusive Po river
cruise on board River Countess
• Includes a wide choice of
complimentary shore excursions
• All dining including alcoholic,
soft drinks, tea and coffee
7 NIGHTS PRICES FROM
£1499PER PERSON
35
Call now to book: 0808 281 1490
*Saving is based on 18th August 2016 departure.prices are per person based on 2 adults sharing departing from London - regional flights are subject to availability at a supplement. Transfers are included in the cost. Can be based on a shared shuttle, alternatives may be available
at a supplement. Can be based on indirect services. Tours are subject to change and availability. Offer can be withdrawn at any time without notice. *Stay is 2 nights in Milan and time in Verona with tour. Price is based on tour only, flights to be advised independently.
WHY NOT ENHANCE
YOUR VOYAGE WITH
2 NIGHTS IN MILAN
AND A TOUR
OF VERONA?
PRICES FROM £410PP*
YOUR ITINERARY:
Day 1 - Venice - Arrive at Venice
airport, transfer to River Countess for
embarkation. Evening at leisure.
Day 2 - Venice - Wind through Venice's
labyrinthine back lanes on a walking tour
that features the city's top sights and a
Venetian glassmaking demonstration.
Later, you're in for a once-in-a-lifetime
experience-a crowd-free, after-hours
visit inside St. Mark's Basilica. In the
evening, enjoy a Captain's Welcome
Reception and Gala Dinner.
Day 3 - Chioggia (Padua) - Enjoy
magnificent views of "The Floating
City's" greatest sights, including the
Grand Canal, as your ship departs
Venice. Visit the medieval walled city of
Padua, walking through ancient arcades
and porticos to Palazzo della Ragione,
Padua's historic city centre, and enjoy a
treat at a local café.
Day 4 - Polesella (Bologna or Ferrara)
- Spend the day in Bologna, Italy's
culinary capital, an ideal place to learn
the art of making pasta. Or, spend a
half day in Ferrara, a UNESCO World
Heritage Site with a long history as a
centre for the arts.
Day 5 - Taglio di Po, Chioggia, Venice
- Stroll through Chioggia's bustling
fish market before indulging in a fresh
seafood lunch. Or learn the art of mussel
harvesting from local fishermen-a
unique (and delicious) culinary treat.
Later, head to the Sun Deck of your ship
for views of two Venice Lagoon isles,
sleepy Pellestrina and Lido, home to the
Venice Film Festival.
Day 6 - Venice Island (Burano and
Mazzorbo), Venice - Spend the day
exploring the Venice Lagoon and two
of its most notable islands. Visit Burano,
known for its colorful houses and lace
making tradition, and Mazzorbo, where
you'll enjoy a special tasting of wine
made from golden-hued Dorona grapes,
a time-honored and historic variety that
dates back for centuries.
Day 7 - Venice - Get a feel for daily life
in Venice with a guided stroll through
the bustling Rialto Market, or tour the
renowned Accademia Gallery with an
art historian. In the evening, enjoy a
Captain's Farewell Reception and Gala
Dinner.
Day 8 - Venice (disembark) - transfer to
Venice Marco Polo International Airport
for your flight home.
Save up to £1750pp*
Date Window Cabin
05 Jun 2016 £1,999pp
24 Jul 2016 £1,859pp
07 Aug 2016 £1,729pp
21 Aug 2016 £1,869pp
28 Aug 2016 £1,499pp
11 Sep 2016 £1,699pp
16 Oct 2016 £1,799pp
23 Oct 2016 £1,999pp