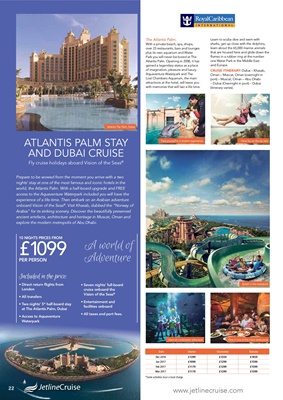 ATLANTIS PALM STAY
AND DUBAI CRUISE
Fly cruise holidays aboard Vision of the Seas®
Prepare to be wowed from the moment you arrive with a two
nights' stay at one of the most famous and iconic hotels in the
world, the Atlantis Palm. With a half-board upgrade and FREE
access to the Aquaventure Waterpark included you will have the
experience of a life-time. Then embark on an Arabian adventure
onboard Vision of the Seas®. Visit Khasab, dubbed the "Norway of
Arabia" for its striking scenery. Discover the beautifully preserved
ancient artefacts, architecture and heritage in Muscat, Oman and
explore the modern metropolis of Abu Dhabi.
The Atlantis Palm:
With a private beach, spa, shops,
over 23 restaurants, bars and lounges
plus its own aquarium and Water
Park you will never be bored at The
Atlantis Palm. Opening in 2008, it has
gained a legendary status as a place
of imagination, pleasure and luxury.
Aquaventure Waterpark and The
Lost Chambers Aquarium, the main
attractions at the hotel, will leave you
with memories that will last a life time.
Learn to scuba dive and swim with
sharks, get up close with the dolphins,
learn about the 65,000 marine animals
that are housed here and glide down the
flumes in a rubber ring at the number
one Water Park in the Middle East
and Europe.
CRUISE ITINERARY: Dubai - Khasab,
Oman - Muscat, Oman (overnight in
port) - Muscat, Oman - Abu Dhabi
- Dubai (Overnight in port) - Dubai
(itinerary varies).
Atlantis The Palm, Dubai
Treat yourself to a dolphin experience Have fun on the zip wire
Splash in the waterpark
Date Interior Oceanview Balcony
Dec 2016 £1399 £1559 £1859
Jan 2017 £1099 £1299 £1599
Feb 2017 £1179 £1299 £1599
Mar 2017 £1179 £1299 £1599
*Some activities incur a local charge.
Have an underwater adventure Dine in one of the many restaurants
Included in the price:
• Direct return flights from
London
• All transfers
• Two nights' 5* half-board stay
at The Atlantis Palm, Dubai
• Access to Aquaventure
Waterpark
10 NIGHTS PRICES FROM
£1099PER PERSON
A world of
Adventure
• Seven nights' full-board
cruise onboard the
Vision of the Seas®
• Entertainment and
facilities onboard
• All taxes and port fees.
22