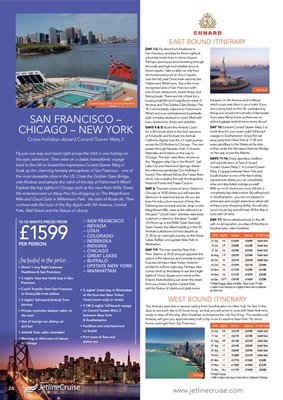 SAN FRANCISCO -
CHICAGO - NEW YORK
Cruise holidays aboard Cunard Queen Mary 2
Fly just one way and travel right across the USA in one holiday on
this epic adventure. Then relax on a classic transatlantic voyage
back to the UK on board the impressive Cunard Queen Mary 2.
Soak up the charming homely atmosphere of San Francisco - one of
the most desirable cities in the US. Cross the Golden Gate Bridge,
visit Alcatraz and sample the catch of the day at Fisherman's Wharf.
Explore the top sights of Chicago such as the view from Willis Tower,
the entertainment on Navy Pier, the shopping on The Magnificent
Mile and Cloud Gate in Millennium Park - the start of Route 66. Then
contrast with the buzz of the Big Apple with 5th Avenue, Central
Park, Wall Street and the Statue of Liberty.
Included in the price:
• Direct 1 way flight between
Heathrow & San Francisco.
• 3 nights' four-star hotel stay in San
Francisco
• Coach Transfer from San Francisco
to Emeryville train station
• 3 nights' full-board Amtrak Train
journey
• Private roomette sleeper cabin on
the train
• Use of lounge car, dining car
and bar
• Amtrak Train cabin attendant
• Morning or afternoon at leisure
in Chicago
15-18 NIGHTS PRICES FROM
£1599PER PERSON
DAY 1-3: Fly direct from Heathrow to
San Francisco and stay for three nights at
a four-star hotel close to Union Square.
Perhaps spend your time browsing through
the malls and high-end retailers around
Union square. Take a cable car ride from
the turnaround point at Union Square
over the hill, past China town and into the
Fisherman's Wharf area. This is the most
recognised area of San Francisco with
lots of bars, restaurants, tourist shops and
fishing boats. There are lots of bars for a
buzzing nightlife and magnificent views of
Alcatraz and The Golden Gate Bridge. Pier
39 is immediately adjacent to Fisherman's
Wharf and is an entertainment boardwalkstyle complex situated on a pier filled with
bars, restaurants, shops and activities.
DAYS 4 & 5: Board the Amtrak Coach
for a 30 minute drive to the train terminus
at Emeryville and Embark the Amtrak
California Zephyr train for a 2 night journey
across the US Rockies to Chicago. The train
passes through Nevada, Utah, Colorado,
Nebraska and Indiana on the way to
Chicago. The train visits Reno, known as
the "Biggest Little City in the World", Salt
Lake City and Glenwood Springs, where
the infamous gunslinger Doc Holliday is
buried. The railroad follows the Fraser River
which cuts a swathe through the Arapahoe
National Forest and Fraser Canyon.
DAY 6: The train arrives at Union Station in
Chicago at 14:50 where you will have the
afternoon to spend at leisure. As you are
here for only a short amount of time, the
following are must see and do: shop on the
Magnificent Mile, stare at the reflections in
the giant "Cloud Gate" stainless steel bean
sculpture or stand on the glass "Ledge"
103 floors up in the Willis Tower (formerly
Sears Tower), the tallest building in the US.
Amtrak's Lakeshore Ltd train departs at
21:30 for an overnight journey via the Great
Lakes, Buffalo and upstate New York to
Manhattan.
DAY 7-9: The train reaches New York
Penn Station at 18:35 and just opposite the
station is the fabulous and centrally located
four-star Art Deco New Yorker Hotel (or
similar) for a three night stay. Perhaps take
a short stroll up Broadway to see the bright
lights of Times Square and marvel at the
Empire State Building just down the street
from your hotel. Explore Central Park,
visit the Statue of Liberty and grab some
bargains on 5th Avenue and in Macys
which is just next door to your hotel. If you
are cruising back to the UK - perhaps buy
things you would not normally contemplate
if you were flying home as there are no
airline luggage restrictions to worry about!
DAY 10: Embark Cunard Queen Mary 2 at
lunch time for your seven night full board
voyage to Southampton. Enjoy the sail
away party from New York at 17:00 and
wave goodbye to the States as the ship
inches under the Verrazano Narrows Bridge
on her way across the Atlantic.
DAYS 11-16: Enjoy grandeur, tradition
and sophistication at Sea on board
Cunard Queen Mary 2. A Cunard Queen
Mary 2 voyage between New York and
Southampton is one of the few holiday
experiences where you can completely
relax and absolutely indulge yourself.
With so much choice you soon fall into a
completely lazy daily routine. By sailing back
to Southampton - you are not subject to
airline size and weight restrictions which will
enhance your shopping ability. You will also
avoid any jet lag and will step off the ship in
tune with UK time.
DAY 17: Arrive refreshed back to the UK
with no jet lag when you step off the ship in
Southampton after breakfast.
Cunard Queen Mary 2 leaving New York
- SAN FRANCISCO
- NEVADA
- UTAH
- COLORADO
- NEBRASKA
- INDIANA
- CHICAGO
- GREAT LAKES
- BUFFALO
- UPSTATE NEW YORK
- MANHATTAN
2016 Nights Interior Balcony Pr Grill Suite
27 Jun 16 £2439 £2699 Sold Out
15 Jul 17B £2089 £2299 Sold Out
31 Jul 16 £2299 £2559 Sold Out
30 Aug 17B £2079 £2360 Sold Out
02 Oct 16 £2319 £2659 Sold Out
16 Oct 16 £1979 £2179 £2899
03 Nov 16 £1739 £1999 £2789
29 Nov 16 £1729 £1879 £2649
26 Dec 15NYR £1679 £1829 £2589
B 8 Night Voyage calling at Halifax - Nova Scotia. NYR with
2 nights in San Francisco & 3 nights in New York to celebrate
the New Year.
Chicago
New York
• 3 nights' hotel stay in Manhattan
at the four-star New Yorker
Hotel (room only) or similar
• 7 OR 8 nights' full-board voyage
on Cunard Queen Mary 2
between New York
& Southampton
• Facilities and entertainment
on board
• Port taxes & fees and
airline tax.
EAST BOUND ITINERARY
WEST BOUND ITINERARY
The itinerary operates in reverse sailing from Southampton to New York. for five of the
days at sea each day is 25 hours long.- so that you will arrive in tune with New York time
ready to step off the ship after breakfast and explore the city first thing. This westbound
itinerary will give you approximately half a day more to explore New York. Fly direct
home overnight from San Francisco.
26
2016 Nights Interior Balcony Pr Grill Suite
23 Jun 18A £2239 £2599 Sold Out
17 Jul 17 £2219 £2399 Sold Out
01 Aug 18A £2149 £2329 Sold Out
01 Sep 17 £2149 £2649 Sold Out
20 Sep 17 £2649 £3059 Sold Out
18 Oct 17 £1899 £2229 Sold Out
05 Nov 7 £1719 £1949 £2489
19 Nov 17 £1599 £1849 £2439
15 Dec 18+ £1774 £1899 £2689
A 8 Night Voyage.
+ With 4 nights hotel stay in New York to Celebrate Christmas.