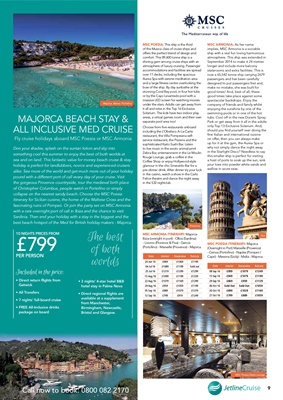 9
Call now to book: 0800 082 2170
MAJORCA BEACH STAY &
ALL INCLUSIVE MED CRUISE
Fly cruise holidays aboard MSC Poesia or MSC Armonia
Don your shades, splash on the suntan lotion and slip into
something cool this summer to enjoy the best of both worlds at
sea and on land. This fantastic value for money beach cruise & stay
holiday is perfect for landlubbers, novice and experienced cruisers
alike. See more of the world and get much more out of your holiday
pound with a different port of call every day of your cruise. Visit
the gorgeous Provence countryside, tour the medieval birth place
of Christopher Columbus, people watch in Portofino or simply
collapse on the nearest sandy beach. Choose the MSC Poesia
itinerary for Sicilian cuisine, the home of the Maltese Cross and the
fascinating ruins of Pompeii. Or join the party set on MSC Armonia
with a rare overnight port of call in Ibiza and the chance to visit
Sardinia. Then end your holiday with a stay in the biggest and the
best beach hotspot of the Med for British holiday makers - Majorca.
Included in the price:
• Direct return flights from
Gatwick
• All Transfers
• 7 nights' full-board cruise
• FREE All-Inclusive drinks
package on board
10 NIGHTS PRICES FROM
£799PER PERSON
MSC POESIA: This ship is the third
of the Musica class of cruise ships and
offers the perfect blend of design and
comfort. This 89,600 tonne ship is a
shining gem among cruise ships with an
atmosphere of luxury cruising. Passenger
accommodations and facilities are spread
over 11 decks; including the spacious
Aurea Spa with serene meditation area
and a large fitness centre overlooking the
bow of the ship. By day sunbathe at the
stunning Coral Bay pool, in four hot tubs
or by the Cayo Levantado pool with a
massive LED screen for watching movies
under the stars. Adults can get away from
it all and relax in the Top 16 Exclusive
Solarium. The kids have two indoor play
areas, a virtual games room and their own
separate pool area too!
Choose from five restaurants onboard
including the L'Obelisco A-La-Carte
restaurant, the Villa Pompeiana selfservice restaurant,
the Pizzeria and the
sophisticated Kaito Sushi Bar. Listen
to live music in the exotic animal-print
Zebra Bar, entertainment in the Le Moulin
Rouge Lounge, grab a coffee in the
Coffee Shop or enjoy Hollywood-style
glamour in the chic Smeraldo Bar for a
pre-dinner drink. After dinner try your luck
in the casino, watch a show in the Carlo
Felice theatre and dance the night away
in the S32 nightclub.
MSC ARMONIA: As her name
implies, MSC Armonia is a sociable
ship with a real fun loving harmonious
atmosphere. This ship was extended in
September 2014 to make it 24 metres
longer and include more balcony
staterooms and extra facilities. This is
now a 65,542 tonne ship carrying 2679
passengers and has been carefully
designed to put passengers first and,
make no mistake, she was built for
good times! And, best of all, these
good times take place against some
spectacular backdrops. Enjoy the
company of friends and family whilst
enjoying the sunshine by one of the
swimming pools or in one of the hot
tubs. Cool off in the new Doremi Spray
Park or get away from it all in the adults
only Top 13 Exclusive Solarium. And,
should you find yourself over doing the
fine Italian and international cuisine
on offer, then you can always make
up for it at the gym, the Aurea Spa or
why not simply dance the night away
in the Starlight Disco? Needless to say
this smaller ship is perfect for visiting
a host of ports to soak up the sun, sink
your toes into powder white sands and
wallow in azure seas.
9
Call now to book: 0800 082 2170
Majorca. Below: Portofino
The best
of both
worlds
Provence
Pisa
MSC ARMONIA ITINERARY: MajorcaIbiza (overight in port) - Olbia (Sardinia)
- Livorno (Florence & Pisa) - Genoa
(Portofino) - Marseille (Provence) - Majorca.
MSC POESIA ITINERARY: Majorca
(Overnight in Port) Marseille (Provence)
- Genoa (Portofino) - Naples (Pompeii /
Capri) - Messina (Sicily) - Malta - Majorca.
Date Interior Oceanview Balcony
20 Jun 16 £969 £1069 £1749
04 Jul 16 £1089 £1199 Sold out
25 Jul 16 £1219 £1299 £1299
15 Aug 16 £1099 £1199 £1339
22 Aug 16 £1079 £1169 £1299
29 Aug 16 £959 £1059 £1199
05 Sep 16 £989 £1079 £1379
12 Sep 16 £799 £919 £1249
Date Interior Oceanview Balcony
08 Sep 16 £999 £1079 £1249
15 Sep 16 £949 £1079 £1199
29 Sep 16 £869 £959 £1129
06 Oct 16 Sold Out Sold Out £1059
20 Oct 16 £899 £1029 £1169
27 Oct 16 £799 £889 £1059
MSC Poesia Zebra Lounge
• 3 nights' 4-star hotel B&B
hotel stay in Palma Nova
• Direct regional flights are
available at a supplement
from Manchester,
Birmingham, Newcastle,
Bristol and Glasgow.