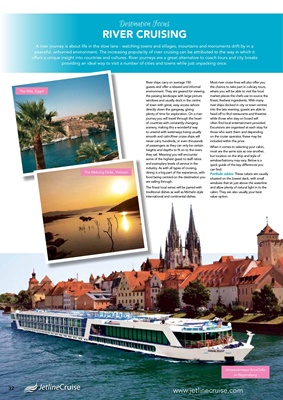 32
River ships carry on average 150
guests and offer a relaxed and informal
environment. They are geared for viewing
the passing landscape with large picture
windows and usually dock in the centre
of town with great, easy access ashore
directly down the gangway, giving
plenty of time for exploration. On a river
journey you will travel through the heart
of countries with constantly changing
scenery, making this a wonderful way
to unwind with waterways being usually
smooth and calm.river cruise ships will
never carry hundreds, or even thousands
of passengers as they can only be certain
heights and depths to fit on to the rivers
they sail. Meaning you will encounter
some of the highest guest to staff ratios
and exemplary levels of service in the
industry. As with all types of cruising,
dining is a big part of the experience, with
food being centred on the destination you
are sailing through.
The finest local wines will be paired with
traditional dishes as well as Michelin style
international and continental dishes.
Destination Focus
RIVER CRUISING
A river journey is about life in the slow lane - watching towns and villages, mountains and monuments drift by in a
peaceful, unhurried environment. The increasing popularity of river cruising can be attributed to the way in which it
offers a unique insight into countries and cultures. River journeys are a great alternative to coach tours and city breaks
providing an ideal way to visit a number of cities and towns while just unpacking once.
The Mekong Delta, Vietnam
The Nile, Egypt
Most river cruise lines will also offer you
the chance to take part in culinary tours,
where you will be able to visit the local
market places the chefs use to source the
finest, freshest ingredients. With many
river ships docked in city or town centres
into the late evening, guests are able to
head off to find restaurants and theatres
while those who stay on board will
often find local entertainment provided.
Excursions are organised at each stop for
those who want them and depending
on the cruise operator, these may be
included within the price
When it comes to selecting your cabin,
most are the same size as one another,
but location on the ship and style of
window/balcony may vary. Below is a
quick guide of the key differences you
can find:
Porthole cabins: These cabins are usually
situated on the lowest deck, with small
windows that sit just above the waterline
and allow plenty of natural light in to the
cabin. They are also usually your best
value option.
Amawaterways AmaCello
in Regensburg